Practice Essentials
Meningiomas are the second most common tumor in the intradural extramedullary location, second only to tumors of the nerve sheath. Meningiomas account for approximately 25% of all spinal tumors. Approximately 80% of spinal meningiomas are located in the thoracic spine, followed by the cervical spine (15%), lumbar spine (3%), and foramen magnum (2%). Most intradural spinal tumors are benign and potentially resectable. The prognosis after surgical resection is excellent. [1, 2, 3, 4, 5, 6] From 2004 to 2010, there were 7,148 newly diagnosed cases of spinal meningioma (age adjusted incidence, 0.33/100,000 population). The highest incidence was in 75 to 84 year olds, and females were more greatly affected than men. [7] In the United States, meningioma accounts for 37% of primary brain tumors, and cancerous meningiomas constitute approximately 1% of all primary brain tumors. An estimated 31,990 people will be diagnosed with meningiomas in 2019. [8]
(Images of spinal menigioma are provided below.)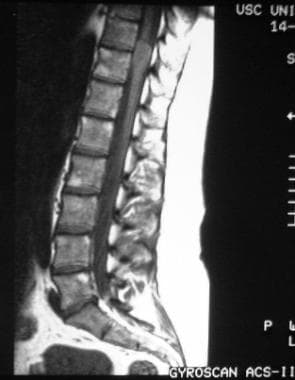 Intradural extramedullary meningioma in the lower thoracic region. Sagittal nonenhanced T1-weighted MRI demonstrates an isointense mass compressing the lower spinal cord.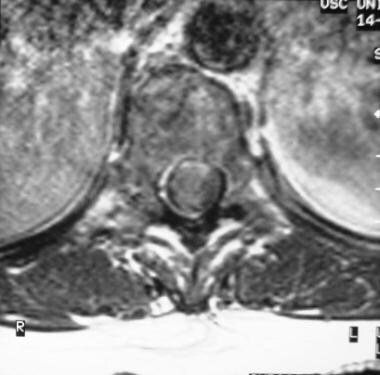 Axial T1-weighted contrast-enhanced MRI shows a right-sided intradural extramedullary enhancing mass compressing and displacing the cord to the left.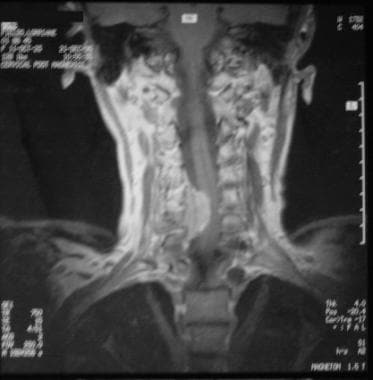 Coronal T1-weighted MRI shows a dural-based enhancing mass lesion with a small component extending into the right neuroforamen.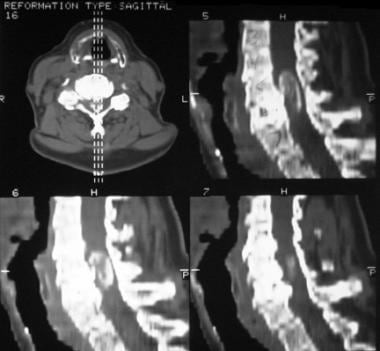 Sagittal reformation nonenhanced CT scan shows a calcified mass in the spinal canal.
Preferred examination
Magnetic resonance imaging (MRI) with intravenous injection of gadolinium-based contrast agent is the preferred examination for spinal meningiomas. If MRI is not available, computed tomography (CT) myelography may demonstrate the lesion. [9, 10, 11]
MRI can provide information regarding tumor signal intensity and contrast enhancement. Because MRI has multiplanar imaging capability, the extra-axial location of a meningioma is illustrated clearly.
Gadolinium-based contrast agents have been linked to the development of nephrogenic systemic fibrosis (NSF) or nephrogenic fibrosing dermopathy (NFD). The disease has occurred in patients with moderate to end-stage renal disease after being given a gadolinium-based contrast agent to enhance MRI or MRA scans. NSF/NFD is a debilitating and sometimes fatal disease. Characteristics include red or dark patches on the skin; burning, itching, swelling, hardening, and tightening of the skin; yellow spots on the whites of the eyes; joint stiffness with trouble moving or straightening the arms, hands, legs, or feet; pain deep in the hip bones or ribs; and muscle weakness.
MRI is contraindicated in patients with pacemakers, certain types of aneurysm clips, and metallic foreign bodies in the eye and elsewhere. Patients with claustrophobia may have difficulty holding still in the MRI unit long enough to complete the examination.
Plain radiographic findings are usually normal. On occasion, localized widening of the canal may be seen. In rare cases, spinal meningiomas may have an extradural component, which can cause enlargement of the neuroforamen. [12] Calcifications are rarely visible on plain radiographs (1-5%) and usually psammomatous in nature. On plain images, the degree of confidence is low.
Spinal angiography usually shows a hypervascular lesion with tumor blush. More important, spinal angiography is performed to identify the location of the artery of Adamkiewicz, which is usually in the lower thoracic region, most frequently on the left side. Care must be taken not to damage the artery during surgery because the artery supplies the spinal cord. Spinal angiography is performed for surgical planning if the meningioma is in the lower thoracic region, regardless of the side of the meningioma.
Summary of the WHO Grading Scheme for Meningiomas
The World Health Organization grades meningiomas as follows [13, 14] :
Grade I: Meningothelial, fibroblastic, transitional, angiomatous, microcystic, secretory, lymphoplasmacytic, metaplastic, psammomatous; does not fulfill criteria for grade II or III.

Grade II: Chordoid, clear cell, atypical; increased mitoses (4-19 mitoawa/10 hpd); brain invasion; at least 3 of the following: increased cellularity, small cells with high nuclear-to-cytoplasmic ratio, prominent nucleoli; sheeting, foci of spontaneous necrosis.

Grade III: Papillary, rhabdoid, anaplastic (malignant); overt malignant cytology (resembling carcinoma, melanoma, high-grade sarcoma); markedly increased mitoses (≥20 mitoses/10 hpf).
Computed Tomography
CT scans obtained without the intravenous injection of contrast material occasionally demonstrate a hyperattenuating lesion resulting from psammomatous calcification or dense tumor tissue. CT scans obtained with the intravenous injection of contrast material may show a homogeneous enhancing tumor.
Myelography or CT myelography is required to demonstrate the intradural extramedullary location of the mass. [15]
The spinal cord is displaced away from the lesion and usually compressed. A sharp meniscus is seen where the contrast agent caps the lesion from above and below. The subarachnoid space on the side of the lesion is widened.
In a CT study of 150 meningiomas by Nakasu et al, slower growth of tumors was found to be related to degree of calcification (N= 61, P=0.0042), and tumors with decelerating growth more frequently showed calcification and higher mean Hounsfield units than those with exponential growth. [16]
(CT image of spinal meningioma is provided below.)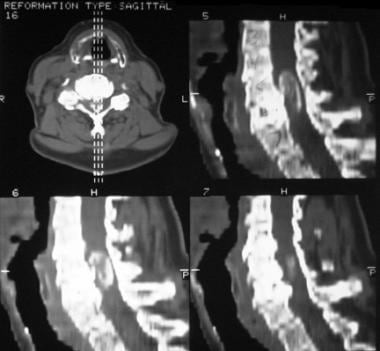 Sagittal reformation nonenhanced CT scan shows a calcified mass in the spinal canal.
Magnetic Resonance Imaging
MRI demonstrates the intradural extramedullary location of meningiomas. Lesions are usually isointense to spinal cord on both T1-weighted and T2-weighted images. Lesions are sometimes hypointense on T1-weighted images and hyperintense on T2-weighted images. Homogeneous intense enhancement of the lesion is seen after an intravenous injection of gadolinium-based contrast agent. [17, 18, 19]
Most spinal meningiomas demonstrate broad-based dural attachment. On occasion, a densely calcified meningioma may demonstrate hypointensity on T1-weighted and T2-weighted images. The spinal cord is displaced away from the lesion and usually compressed. The subarachnoid space above and below the lesion is widened, and a meniscus capping the lesion may be seen.
A meningioma with intradural and extradural components occasionally mimic a nerve sheath tumor, or a nerve sheath tumor with a predominant intradural component may mimic a meningioma. However, nerve sheath tumors usually have hyperintensity on T2-weighted images, whereas meningiomas usually are isointense to the spinal cord on T2-weighted images. Most meningiomas are lateral or dorsal, whereas most nerve sheath tumors are ventral. [20] Furthermore, a mass lesion with both intradural and extradural components is most likely to be a nerve sheath tumor.
(MRI images of spinal meningioma are provided below.)
What would you like to print?