Practice Essentials
Although pineal region neoplasms constitute only 0.3-2.7% of intracranial tumors, they are considered an important clinical entity because of their strategic location. Pineal region neoplasms can be classified into 3 major groups according to their cellular origin: (1) tumors of germ cell origin, (2) tumors of pineal cell origin, and (3) tumors of other cell origin. Tumors of germ cell origin include germinoma, mature teratoma, malignant teratoma, embryonal cell carcinoma, endodermal sinus tumor, choriocarcinoma, and mixed germ cell tumors. In addition, synchronous pineal and suprasellar germinomas are found in 5-10% of cases. Pineal germinomas are seen predominantly in males from infancy to 20 years of age. [1]
MRI is the preferred imaging modality. MRI enables the accurate delineation of pineal masses before surgery and allows true pineal masses to be distinguished from parapineal masses that impinge on the pineal gland. [2, 3] MRI is not perfect in the detection of calcifications. Computed tomography (CT) scanning may be needed to evaluate a calcified pineal gland that is associated with a pineal germinoma or tumor calcification associated with other neoplasms in the pineal region. [4] MRI scans of pineal germinomas are presented below. [5, 6, 7, 8]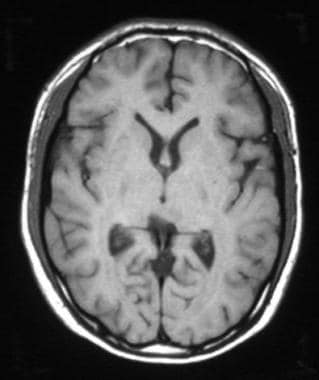 Pineal germinoma in a 19-year-old man. Axial T1-weighted MRI shows an isointense lesion in the pineal region.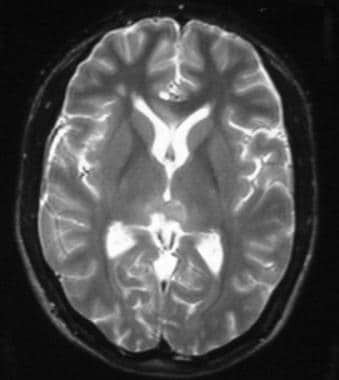 Pineal germinoma in a 19-year-old man. Axial T2-weighted MRI shows an isointense mass in the pineal region.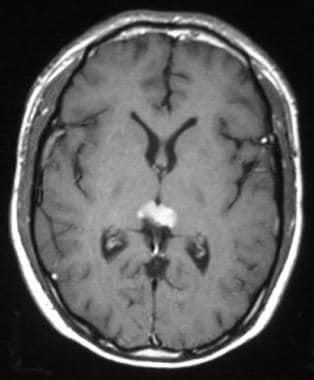 Pineal germinoma in a 19-year-old man. Axial T1-weighted contrast-enhanced MRI shows a homogeneously enhancing mass in the pineal region.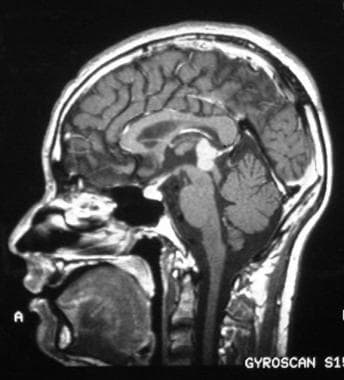 Pineal germinoma in a 19-year-old man. Sagittal T1-weighted contrast-enhanced MRI image demonstrates an enhancing mass in the pineal region. Compression of the quadrigeminal plate and aqueduct is shown.
Radiography
Germinomas are associated with a high incidence of pineal gland calcification. The tumor does not calcify, but it may engulf a calcified pineal gland. A calcified pineal gland on plain radiographs in a boy younger than 10 years suggests pineal germinoma.
The degree of confidence with radiographs is low. A normal pineal gland can become calcified, but in children younger than 10 years, physiologic calcification of a healthy pineal gland is usually not detectable on plain radiographs. Furthermore, pineal calcification can be seen in patients with pineal cell tumors.
Computed Tomography
Nonenhanced CT scans typically demonstrate a slightly hyperattenuating mass that engulfs a prominent calcified pineal gland. Contrast-enhanced CT scanning demonstrates homogeneous and intense enhancement. (See the image below.)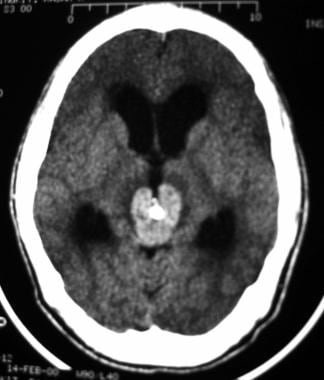 Axial, post-contrast CT demonstrates an enhancing mass in the pineal region, which engulfs a calcified pineal gland
CT scanning is more sensitive than plain radiography in depicting pineal calcification. Small speckles of calcification can be seen in children as young as 6 years and are considered a normal finding. In general, pineal calcification in children younger than 6 years is suggestive of pineal neoplasm. Some authors believe that pineal calcification is uncommon in children younger than 10 years and that pineal calcifications should be less than 1 cm in diameter in size.
Zhang et al have reported on the use of 16-slice helical CT perfusion imaging for assessing germinomas and other intracranial neoplasms. [9] Germinoma was notable for a high permeability surface value and a rapid escalated time-density curve with a slowly and continuously elevated platform.
Magnetic Resonance Imaging
Germinomas are usually isointense relative to cerebral gray matter on both T1-weighted images and T2-weighted images. [5] Occasionally, tumors may be hypointense on T1-weighted images and hyperintense on T2-weighted images. After the intravenous injection of gadolinium-based contrast material, homogeneous and intense enhancement is seen. For this reason, contrast-enhanced MRI is particularly useful for evaluating the subarachnoid seeding of germinomas.
The degree of confidence is high with MRI. MRI enables the accurate anatomic delineation of the tumoral mass and the determination of its relationship with the surrounding structures. Thus, MRI can provide adequate information with which the neurosurgeon can plan a biopsy.
Gadolinium-based contrast agents have been linked to the development of nephrogenic systemic fibrosis (NSF) or nephrogenic fibrosing dermopathy (NFD). The disease has occurred in patients with moderate to end-stage renal disease after being given a gadolinium-based contrast agent to enhance MRI or MRA scans. NSF/NFD is a debilitating and sometimes fatal disease. Characteristics include red or dark patches on the skin; burning, itching, swelling, hardening, and tightening of the skin; yellow spots on the whites of the eyes; joint stiffness with trouble moving or straightening the arms, hands, legs, or feet; pain deep in the hip bones or ribs; and muscle weakness.
Pineal germinomas predominantly involve the pineal gland, but involvement of the medial aspect of the pulvinar of the thalamus frequently is seen.
In contrast to pineal germinomas, benign cysts in the pineal gland, which have been found in almost a quarter of healthy young adults, are sharply delineated and ovoid shaped, without intracystic trabeculations and with signal intensity similar to ventricular CSF on both T1- and T2-weighted images. A study of pineal cysts found a mean largest inner cross-sectional diameter of 4.3 mm (range, 2–14 mm). [10] Pineal cysts are usually an incidental finding but may rarely become symptomatic. [11]
Occasionally, small cystic changes may be seen in a germinoma. Moon et al have reported that the tumoral response to radiation therapy is negatively correlated with the presence of cystic changes in the germinoma. [12]
Papillary tumor of the pineal region (PTPR), which is a newly recognized tumor type, differs from pineal germinoma in that PTPR has been found to have intrinsic T1 hyperintensity; the presence of such a mass in the posterior commissure or pineal region, in the imaging absence of fat, hemorrhage, melanin, or calcification, suggests the diagnosis of PTPR. [13]
(Pineal germinomas are depicted in the MRI scans below.)
Angiography
No abnormality is seen on arterial-phase cerebral angiograms. In the venous phase, superior and posterior displacement of the internal cerebral veins and the vein of Galen may be seen on lateral projections. A larger pineal region mass can cause posterior bowing of the precentral cerebellar vein. On anteroposterior projections, the posterior portion of the 2 internal cerebral veins may be slightly separated.
What would you like to print?