Overview
Overview
An aneurysm is a section of defective wall that bulges outward. A ventricular aneurysm is a defect in the left (or right) ventricle of the heart, usually produced by transmural infarction. (See the images below.)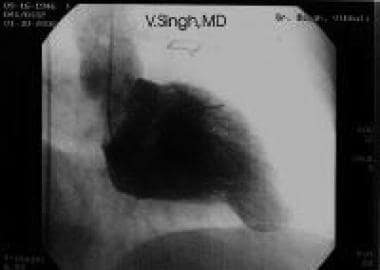 Left ventricular (LV) cineangiogram obtained during diastole depicts a large true aneurysm involving the anterior and apical walls of the LV in an elderly man. This LV angiocardiogram was obtained in the right anterior oblique (RAO) view by injecting 40 mL of iodinated contrast material at a rate of 14 mL/s with 600 lb/in2 of pressure and 1-second rise. This enhancement was accomplished by using a 6F pigtail catheter positioned in the midventricular area by means of retrograde catheterization across the aortic valve.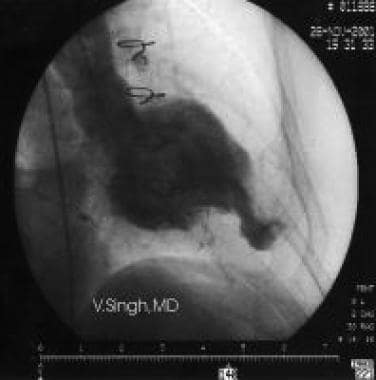 Systolic phase of a left ventricular angiocardiogram in a 78-year-old woman who just had a large anteroapical myocardial infarction clearly depicts an apical aneurysm (true type, involving all 3 layers).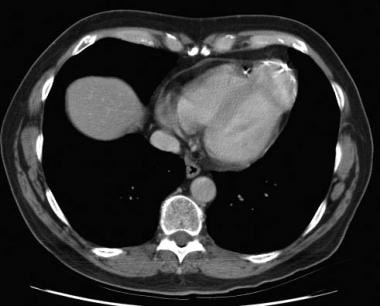 Contrast-enhanced CT image demonstrates an apical aneurysm. Image courtesy of Eugene Lin, MD.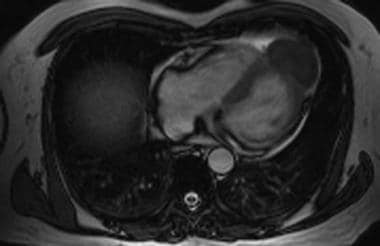 Axial gradient echo MRI demonstrates interval thrombus formation in an aneurysm. Image courtesy of Eugene Lin, MD.
The 2 types of aneurysms are true and false. A true aneurysm is made of damaged myocardial wall. A false aneurysm is actually a rupture, whereby the wall of the aneurysm is not myocardium but rather an external containing boundary (eg, pericardium). A functional left ventricular (LV) aneurysm, a forme fruste variant of a true aneurysm, protrudes during ventricular systole but not during diastole; it consists of fibrous tissue, with or without myocardial fibers.
Aneurysms bulge outward when other sections contract; they interfere with ventricular performance by diminishing contractile function and subtraction. Aneurysms that are largely made up of a mixture of scar tissue and viable myocardium or thin scar tissue alone impair LV function by causing paradoxical expansion and loss of effective contraction.
False aneurysms represent localized myocardial rupture in which pericardial adhesions limit the hemorrhage. False aneurysms usually have a mouth that is considerably smaller than its maximal diameter. True and false aneurysms may coexist, though the combination is rare. [1, 2, 3]
Coronary revascularization is frequently performed along with aneurysmectomy, especially in patients in whom angina accompanies heart failure.
Preferred examination
A ventricular aneurysm may be noninvasively diagnosed by means of echocardiography, magnetic resonance imaging (MRI), radionuclide ventriculography, or dynamic gated computed tomography (CT) scanning. [4, 5, 6, 7, 8, 9, 10] It may also be recognized during cardiac catheterization by means of left ventriculography. Echocardiography is commonly performed after myocardial infarction (MI) to assess the patient's cardiac status; however, with echocardiography, the apex is sometimes missed, even when windows (access through lungs) appear to be good.
MRI is good for imaging the apex because it enables accurate cardiac-oriented views that are not limited by the lungs. Typical indications for MRI are unexpected hypotension; heart failure of unexpected severity; a new murmur; or poor windows for echocardiography. MRI is also good for detecting other complications of MI, including ruptured chordae, septal defect, fistulae, and pericarditis. In addition, MRI may be used to evaluate myocardial scarring. In this application, a double dose of gadolinium-based contrast material is administered, and MRI is performed 10-20 minutes later to assess delayed enhancement. Findings may be helpful in clarifying a difficult case of pseudoaneurysm and in evaluating tissue viability (scar less than one third of the wall thickness). MRI may also be used to compute the volume of ventricle after the aneurysm is excised.
Gadolinium-based contrast agents (gadopentetate dimeglumine [Magnevist], gadobenate dimeglumine [MultiHance], gadodiamide [Omniscan], gadoversetamide [OptiMARK], gadoteridol [ProHance]) have been linked to the development of nephrogenic systemic fibrosis (NSF) or nephrogenic fibrosing dermopathy (NFD). For more information, see the eMedicine topic, Nephrogenic Systemic Fibrosis. The disease has occurred in patients with moderate to end-stage renal disease after being given a gadolinium-based contrast agent to enhance MRI or MRA scans.
NSF/NFD is a debilitating and sometimes fatal disease. Characteristics include red or dark patches on the skin; burning, itching, swelling, hardening, and tightening of the skin; yellow spots on the whites of the eyes; joint stiffness with trouble moving or straightening the arms, hands, legs, or feet; pain deep in the hip bones or ribs; and muscle weakness.
Limitations of techniques
Ultrasonography is limited by the availability of a good window. In patients who are obese or who have chronic emphysema, transthoracic echocardiography may fail to provide details. In addition, echocardiography may fail to distinguish layered thrombus from myocardium.
Radiography
A characteristic bulge of the silhouette of the LV is frequently seen on chest radiographs. Marked calcification of the LV silhouette may be present. Deposition of calcium in myocardial tissue is related to the production of carbon dioxide in slowly metabolizing tissue. As a consequence, the development of relative alkalinity and reduced solubility of calcium leads to the deposition of soft tissue. [11]
True aneurysms
Myocardial calcification most frequently occurs in true LV aneurysms that are localized to the apical and anterolateral aspects of the LV wall. The calcium deposits that occur in association with LV aneurysms are located in the periphery of the infarct or aneurysm. They are usually curvilinear; in cases in which an entire infarcted area is calcified, the calcium deposits may be homogeneous.
False aneurysms
A false LV aneurysm occurs when the chamber ruptures into the pericardium, causing adhesions that contain blood. False aneurysms usually occur along the posterolateral wall of the LV.
Degree of confidence
In cases of ventricular aneurysm, radiographic findings, when clear-cut, are relatively specific, but they have limited sensitivity.
False positives/negatives
In cases of ventricular aneurysm, false-positive and false-negative findings occur frequently.
Computed Tomography
CT scanning is a reliable and noninvasive modality for identifying LV aneurysms and for assessing resectability. After an MI occurs, CT may be used to demonstrate regional wall thinning, as well as the complications of infarction, such as LV aneurysm and mural thrombus. (See the image below.) [8, 9]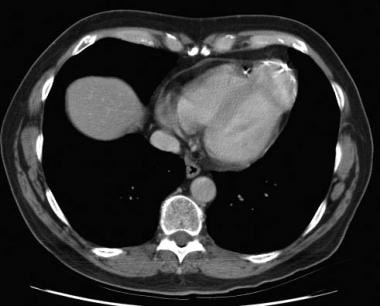 Contrast-enhanced CT image demonstrates an apical aneurysm. Image courtesy of Eugene Lin, MD.
In patients with ischemic heart disease, electron-beam CT (EBCT) may be used to assess LV segmental dysfunction; in these patients, EBCT demonstrates reductions in wall thickening and in wall motion. EBCT has also been used to monitor LV remodeling after acute MI. Multidetector-row CT (MDCT) (ie, CT in which 16-64 detectors are employed simultaneously) has now replaced EBCT. [12, 13, 14] Images depicting ventricular aneurysms are provided below.
Degree of confidence
CT is as accurate as 2-dimensional (2-D) echocardiography.
For patients with ventricular aneurysms, CT is fast and provides clear resolution of the LV; CT provides improved localization and more accurate estimation of the extent of wall thinning after infarction, as compared with projectional techniques, such as left ventriculography, and with most scintigraphic techniques. However, the iodine-based contrast material may cause renal failure, and the radiographic exposure is greater with MDCT than with cardiac catheterization (eg, 13 Sv).
The site and extent of anterior and posterior aneurysms of the LV may be well demonstrated with CT. To differentiate a true aneurysm from a pseudoaneurysm with CT requires identifying the small ostium that connects the aneurysm with the LV cavity. False aneurysms are usually substantially larger than true aneurysms; they frequently arise from the posterior or inferior wall of the LV.
False positives/negatives
False-positive and false-negative findings are infrequent in cases of ventricular aneurysm.
Magnetic Resonance Imaging
MRI is a reliable, noninvasive modality for identifying LV aneurysms and for assessing resectability. As with CT, dark-blood imaging may be employed to define the anatomy. Dynamic bright-blood imaging helps in defining blood pool motion; it is particularly useful in delineating the bulging of the aneurysm. (See the image below.) [10]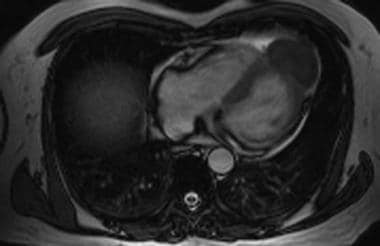 Axial gradient echo MRI demonstrates interval thrombus formation in an aneurysm. Image courtesy of Eugene Lin, MD.
MRI scar mapping with delayed enhancement shows the location and transmural extent of scar tissue. (Collagen retains the intravenously administered gadolinium-based contrast agent.) MRI strain mapping may be used to distinguish those units of myocardium in which contractile function is retained from those units in which tethering occurs. MRI stripe tagging may depict pericardial adhesions.
MRI T2* imaging helps in identifying thrombus; specific contrast agents may be used to define thrombi precisely. MRI may be performed to measure the model-independent ejection fraction and to estimate the degree of improvement after aneurysmectomy. MRI is the best modality for visualizing the pericardium. [15, 16]
The degree of confidence in MRI is high, but the rates of false-positive and false-negative findings are high as well.
Ultrasonography
Two-dimensional echocardiography often clearly demonstrates ventricular aneurysms; it may also assist in distinguishing between true and false aneurysms by demonstrating a narrow neck in relation to the size of the cavity.
Color-flow echocardiographic imaging is useful in identifying abnormal flow within the aneurysm; this information may be helpful in identifying a thrombus.
Pulsed Doppler imaging may reveal a to-and-fro pattern of flow at the mouth of the aneurysm, with characteristic respiratory variation in the peak systolic velocity.
Tomographic 3-D echocardiography allows for the calculation of LV volume and systolic function, as with MRI. [17, 18, 19]
Degree of confidence
The degree of confidence is high.
False positives/negatives
Ultrasonographic studies may be unreliable in individuals who are obese and in patients with chronic lung disease, because of attenuation of the transmitted sound waves.
Nuclear Imaging
Radionuclide ventriculography may demonstrate ventricular aneurysm. The degree of confidence in this modality is good, although false-positive and false-negative findings are not uncommon.
Angiography
Biplane left ventriculography is still the most widely used method for outlining a true LV aneurysm and for assessing septal motion. This study is performed in conjunction with selective coronary angiography to determine the extent of coronary disease. Although uncommon, the potentially high load of iodinated contrast agent may cause renal failure, especially in patients with diabetes. Therefore, noninvasive imaging is often performed in place of ventriculography. (See the images below).
Degree of confidence
The degree of confidence is high.
False positives/negatives
Projections of the mobile blood pool that do not show the wall may lead one to fail to distinguish some false aneurysms from some true aneurysms. A false aneurysm might be missed entirely if it is filled with thrombus.
What would you like to print?