Overview
Overview
Mesenteric ischemia is characterized by inadequate blood flow to or from the involved mesenteric vessels supplying a particular segment of bowel (see the images below). The organs typically affected are the small bowel or colon. The source of blood that is lacking can be arterial or venous, and hemodynamically, the cause can be occlusive or nonocclusive. Mesenteric ischemia can be acute or chronic. [1]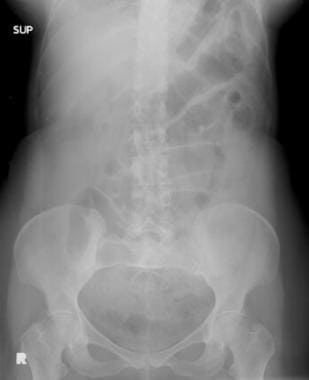 Mesenteric ischemia. Plain abdominal radiograph in a 49-year-old woman with acute bloody bowel movements shows thumbprinting of the transverse colon. Differential diagnosis included inflammatory/infectious versus ischemic disease. A CT scan was obtained (see the next image).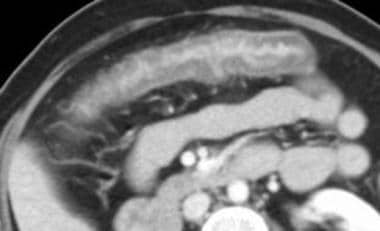 Mesenteric ischemia. CT scan in a 49-year-old woman with acute bloody bowel movements (same patient as in the previous image) shows thickening of the transverse colon, which is correlated with the plain radiographic findings. These findings suggest a distribution in the superior mesenteric artery territory.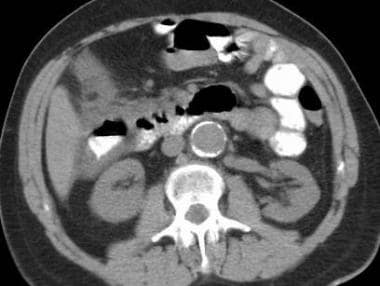 Mesenteric ischemia. CT scan in a 72-year-old man with bright-red blood per rectum and abdominal pain shows thickening of the ascending colon and hepatic flexure. The differential diagnoses included conditions with an infectious etiology versus ischemia. Magnetic resonance angiography was performed, and images showed stenosis at the origin of the superior mesenteric artery.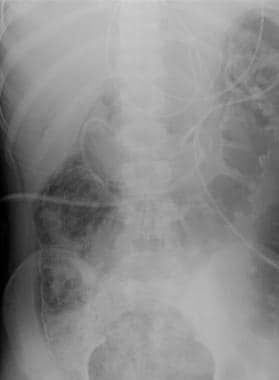 Mesenteric ischemia. Plain abdominal radiograph in a 17-year-old male patient with encephalitis reveals pneumatosis of the colon dissecting the bowel wall. CT scan revealed the extent of pneumatosis (see the next image).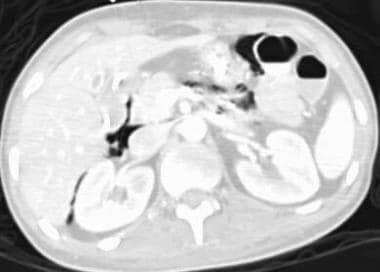 Mesenteric ischemia. CT scan obtained by using lung window parameters in a 17-year-old male patient with encephalitis reveals free retroperitoneal air (same patient as in the previous image).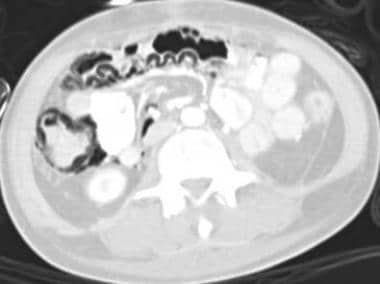 Mesenteric ischemia. CT scan in a 17-year-old male patient with encephalitis shows the true extent of the pneumatosis with curvilinear air collections in the colonic wall (same patient as in the previous 2 images). Note how the use of lung windows for abdominal CT makes the intramural air more detectable.
The diagnosis of mesenteric ischemia often is a challenge to both clinicians and radiologists. Patients with inflammatory bowel disease and infectious colitis can present with similar physical signs and symptoms, including cramping abdominal pain, diarrhea, leukocytosis, and hematochezia. Bowel wall thickening is a finding common to all 3 types of disease; however, the pattern of vascular distribution can sometimes narrow the differential diagnosis.
Preferred examination
Pertinent history and a physical examination can narrow the differential diagnosis in patients with an acute abdomen, particularly when considering the timing of the event, localizing signs and symptoms, and vascular distribution of the pain. Unless the patient is unstable, imaging is the criterion standard for diagnosis. Upright and supine plain abdominal radiographs typically should be requested first to evaluate for free air, obstruction, ileus, intussusception, or volvulus. Eventually, a computed tomography (CT) scan using oral and, preferably, intravenous contrast material may be needed if the cause is not apparent on plain radiographs. [2, 3, 4, 5, 6, 7]
Ultrasonography, barium enema study, and angiography are typically reserved for inpatient use after the patient is admitted from the emergency department, depending on the availability of resources and the findings on the CT scans. [8]
Magnetic resonance arteriography (MRA) is occasionally used to evaluate the patency of the superior mesenteric artery (SMA) and inferior mesenteric artery (IMA). However, MRI plays a limited role in the diagnosis of mesenteric ischemia of the small or large bowel. Typically, if additional imaging modalities are needed, ultrasound or angiography is the next step in the workup. [9, 10]
Limitations of techniques
Plain abdominal radiographs are helpful initial screening tools for excluding certain manifestations of disease. Although plain radiographs may be sensitive, they are typically nonspecific. For instance, the presence of mucosal edema, small-bowel dilatation, and free air on plain radiographs are sensitive findings; however, these findings are not useful in localizing or determining the etiology of the event.
CT scans are more specific regarding the cause of the findings, and CT scans may occasionally reveal additional findings, such as the presence of portal venous gas, which may be missed on plain radiographs.
Nonenhanced CT scans have an inherent limitation: CT scans obtained without oral contrast enhancement are not helpful in differentiating mucosal thickening from nonopacified bowel loops. Although CT findings may help in localizing a diseased segment of bowel, differentiating a venous origin from an arterial origin in thrombosis often is difficult, even with the proper intravenous administration of contrast material. In addition, differentiating ischemic colitis from infectious colitis often can be difficult using CT scans.
Radiography
Plain radiographic findings are often normal. Although upright and supine abdominal images are helpful screening tools for detecting free air or bowel obstruction, the findings are usually not specific for mesenteric ischemia. Findings such as thumbprinting (mucosal edema) are occasionally masked by a gasless fluid-filled abdomen (see the images below).
With barium enema examination, a decreased and irregular bowel lumen is seen. When free air, bowel obstruction, or thumbprinting is apparent, plain radiographic findings are often sensitive but not specific for the disease because many other forms of bowel disease can exhibit similar findings. Another plain radiographic finding is pneumatosis, which represents luminal gas that has dissected into the bowel wall and is seen in less than 30% of patients. Peripherally located portal venous gas in the right or left upper quadrant is a rare finding on plain radiographs that strongly suggests mesenteric ischemia.
Degree of confidence
Mesenteric ischemia is rarely, if ever, diagnosed by using plain abdominal images. Because the disease is a continuum, normal findings on abdominal radiographs should not mislead the interpreter to exclude the disease. The diagnosis often requires the use of additional imaging modalities.
False positives/negatives
A finding of thumbprinting on plain radiographs is not specific for mesenteric ischemia. Other causes of colonic or small-bowel-wall thickening include ulcerative colitis and lymphoma infiltration.
Lymphoma infiltration often mimics focal small-vessel mesenteric ischemia, particularly in the cecum and small bowel. Diffuse wall thickening commonly results from ulcerative colitis. Diagnosis of these entities has different clinical implications, since the treatment options differ. Therefore, the role of plain radiographs in mesenteric ischemia should be solely to screen for bowel perforation or obstruction.
Less frequent findings, such as wall thickening or portal venous gas, are occasionally depicted on plain radiographs; however, their absence should not exclude ischemia.
Computed Tomography
CT is the primary imaging modality (see the images below), and it has been proven to be highly accurate in the diagnosis of mesenteric ischemia; scans sometimes depict the underlying etiology. Typically, CT scans show mesenteric edema with irregular thickening of the wall of the small or large bowel that is greater than 3 mm. Large-vessel disease (superior mesenteric artery/vein [SMA/SMV]; inferior mesenteric artery/vein [IMA/IMV]) is diffuse, whereas small-vessel arterial or venous disease is more likely to be focal. [9, 2, 3, 4, 11, 12, 13, 14, 5, 6]
With proper timing of the contrast-agent bolus, a thrombus in a large vessel is seen as a soft-tissue filling defect in rare cases. Small-bowel obstruction can cause vessel obstruction and lead to ischemia, which often is apparent as dilated loops on CT scans.
With mucosal disruption and gas dissection, intramural air can be seen. This is often best appreciated by using lung window settings. This entity is called pneumatosis intestinalis.
Gas may enter the portal circulation, and it may be found in peripherally located portal vein branches, usually in the nondependent left hepatic lobe.
A reliable method to differentiate arterial causes from venous causes is depiction of the characteristic bowel-wall enhancement pattern. Arterial occlusive disease demonstrates no enhancement of the involved segment, whereas venous occlusion reveals marked contrast enhancement and retention secondary to stagnant flow.
Degree of confidence
Regardless of the cause, mesenteric ischemia produces findings that may mimic those of other inflammatory or infectious conditions. Wall thickening is the most common sign; however, the vascular territory of involvement is not always clear. This limitation reduces the interpreter's degree of confidence regarding the exact etiology. In addition, ischemic colitis can involve both the SMA and IMA in rare cases, producing wall thickening of the left and right colon.
The presence of ulcerative colitis can lead to a false-positive diagnosis of mesenteric ischemia, particularly if the sigmoid and descending segments of the colon are involved. This type of ulcerative colitis simulates ischemia caused from IMA occlusion. Ulcerative colitis involves the rectum in more than 90% of patients because the process progresses in a retrograde fashion. However, in ischemic colitis, the rectum is spared.
A false-negative diagnosis of mesenteric ischemia can result from many causes. Focal wall thickening, particularly of the cecum, can be confusing. Tumor infiltration, especially that due to lymphoma and adenocarcinoma, can mimic focal ischemic colitis caused by small colic branches of the SMA. Local lymph node enlargement may be present in infectious and neoplastic processes, allowing them to be further differentiated from ischemia.
Ultrasonography
Color Doppler and spectral waveform ultrasonography help in evaluating the patency and adequacy of flow through the celiac artery, SMA, and IMA (see the images below). Preprandial and postprandial Doppler examinations are typically performed. Sample velocities are assessed proximal to the stenosis, where flow is expected to be normal; at the stenosis, where velocity is maximal; and distal to the stenosis, where velocity is the most turbulent. [8, 15, 16]
The normal response to a meal is an increase in blood flow through the mesenteric circulation, which is measured as the peak systolic arterial flow. Stenosis or occlusion decreases normal laminar blood flow. The severity of the stenosis in the sampled artery is best correlated with the maximum peak systolic velocity.
A luminal stenosis of greater than 60-70% is usually considered severe. In response to eating, the peak systolic velocity should increase as arterioles dilate to supply the bowel segment. Published reports of highly predictive values of stenosis include a fasting peak systolic velocity of more than 275 cm/s in the SMA or 200 cm/s in the celiac artery. The normal postprandial peak systolic velocity should increase by approximately 20% or more. An abnormal postprandial response is interpreted as an increase in the peak systolic velocity of less than 20%, which is a blunted response.
Another useful parameter is the end-diastolic velocity of the sampled artery during the compliant diastolic cardiac state. The normal end diastolic velocity should increase in the postprandial state, since compliance is greater in this phase of the cardiac and systemic cycle. With stenosis, the end diastolic velocity should decrease secondary to decreased compliance.
Degree of confidence
After a meal, the peak systolic velocity does not always increase, even in patients symptomatic for mesenteric ischemia. Occlusions in the distal branches do not correlate well with postprandial velocities if sampled proximally in the larger vessels. Additionally, the velocities and ratios used to determine the percentage of stenosis are only estimates, and these are operator dependent.
False positives/negatives
Sources of error are related to the cause of the ischemia. Abnormal increases in velocity in response to meals are not specific for the diagnosis of ischemia. The findings of significant abnormalities of the celiac artery and SMA on Doppler sonograms do not necessarily indicate mesenteric ischemia. Additionally, Doppler ultrasonography is not useful in evaluating mesenteric ischemia caused by venous abnormalities. Normal findings on an arterial Doppler sonogram in a symptomatic patient do not exclude venous mesenteric ischemia.
Angiography
Angiography is the criterion standard for revealing the site of arterial occlusion of a diseased bowel segment. Images may depict attenuation, vasoconstriction, or complete arterial occlusion of the involved vessel.
Angiographic findings are highly sensitive for vascular narrowing or stenosis when the ischemia is arterial in origin. The finding of veno-occlusive disease is less sensitive in the diagnosis of mesenteric ischemia.
An inherent limitation of angiography is failure to demonstrate nonocclusive disease secondary to hypovolemia or low-output cardiac failure. However, vasospasm as a cause of nonocclusive mesenteric ischemia may occasionally be diagnosed by using angiography.
What would you like to print?