Practice Essentials
Pancreatic pseudocysts are the most common cystic lesions of the pancreas, accounting for 75-80% of such masses. A pancreatic pseudocyst is a collection of amylase-rich, lipase-rich, and enterokinase-rich fluid. It is most frequently located in the lesser peritoneal sac in proximity to the pancreas. [1]
Large pseudocysts can extend into the paracolic gutters, the pelvis, the mediastinum, and, rarely, the neck or scrotum. Some pseudocysts in the pancreatic parenchyma are loculated. The most common etiologies for pancreatic pseudocysts include chronic pancreatitis, acute pancreatitis, and pancreatic trauma. In addition, pseudocysts are associated with pancreatic ductal obstruction and pancreatic neoplasms.
Pseudocystic fluid has electrolyte concentrations similar to those in plasma. In addition, however, pseudocystic fluid has a high concentration of amylase, lipase, and enterokinases (such as trypsin). These concentrations reflect the origin of the lesion from extravasated pancreatic exocrine secretions resulting from pancreatic ductal disruption. The pancreatic secretions incite an intense inflammatory response, which eventually leads to the development of a thick, fibrous capsule surrounding the pancreatic fluid.
(The radiologic characteristics of pancreatic pseudocysts are demonstrated in the images below.)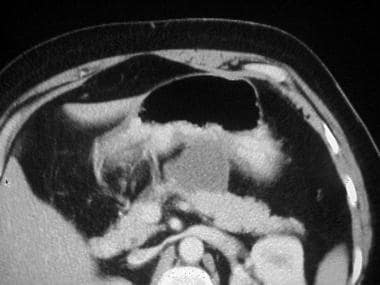 CT scan of a large symptomatic pancreatic pseudocyst abutting the posterior wall of the stomach.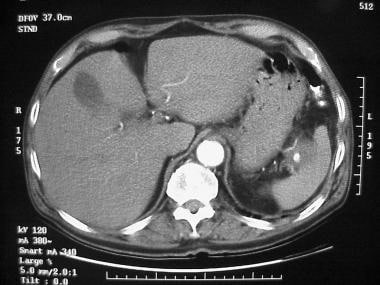 CT scan of a pancreatic pseudocyst emanating from the tail of the pancreas. Contrast enhancement in the pseudocyst demonstrates a pseudoaneurysm of the splenic artery branch that had bled into the pseudocyst.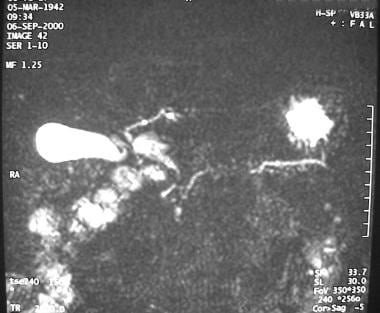 Magnetic resonance cholangiopancreatogram of a pancreatic pseudocyst demonstrates the pancreatic duct and pseudocyst well.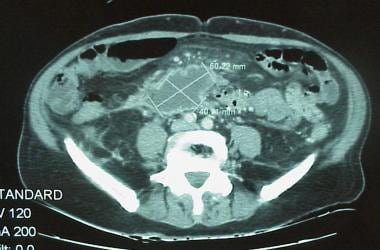 CT scan demonstrates the large size of this pseudocyst, as measured by cursors. Based on chronicity, size, and presence of symptoms, drainage of this cyst is indicated.
For the first 3-4 weeks, any fluid that is associated with an episode of acute pancreatitis is called an acute fluid collection. Typically, acute fluid collections do not have high amylase concentrations. They do not possess a thick, fibrous capsule, and they usually have an irregular shape. They may or may not be associated with peripancreatic fat necrosis. These features are in contrast to those of pancreatic pseudocysts, which have high amylase concentrations, are surrounded by a thick, fibrous capsule, and are oval or round. The reason for these differences is that acute fluid collections do not result from pancreatic ductal disruption and the subsequent leakage of pancreatic exocrine secretions.
Acute fluid collections represent an accumulation of transudative or exudative fluids from surrounding tissues in reaction to the episode of pancreatitis. An unusual form of pancreatitis called groove pancreatitis may result in an acute fluid collection or the formation of a pseudocyst between the pancreatic head and the duodenum
Not until the fluid collection has been present for 4 or more weeks is it called a pancreatic pseudocyst. By this time, the inflammatory process leads to encapsulation of the fluid collection by a rim of fibrous tissue that may contain some granulation tissue as well. The capsule usually is densely adherent to surrounding viscera, such as the stomach or duodenum.
Note that the capsule of a pancreatic pseudocyst does not possess a true epithelial lining. This is a critical point in the differentiation of pancreatic pseudocysts from cystic neoplasms of the pancreas.
Pancreatic pseudocyst-portal vein fistulization (PPVF)
Extra-pancreatic pseudocysts, although reported, are relatively uncommon. One type, pancreatic pseudocyst-portal vein fistulization (PPVF), is an extremely rare complication of pancreatitis that can lead to embolization of pancreatic fluid to the liver and subsequent hepatic pseudocyst formation. [2, 3]
Preferred examination
Abdominal computed tomography (CT) scanning is performed in virtually every patient presenting with clinically significant pancreatitis or abdominal trauma severe enough to result in pancreatic ductal disruption. Therefore, abdominal CT is commonly the initial radiologic examination used to identify an acute fluid collection related to pancreatic ductal disruption. [4, 5, 6]
The American Association for the Surgery of Trauma (AAST) has established grading classifications for all solid organs based on anatomic descriptive criteria, which can be helpful in describing blunt solid organ injuries. [7] (See Blunt Abdominal Trauma.)
Once the diagnosis is made, screening patients for resolution of the fluid collection is acceptable by using abdominal ultrasonography (US). [8] However, if a mature pseudocyst forms and does not resolve, repeat CT scanning is advised before planned percutaneous, endoscopic, or surgical interventions.
Imaging should also be used liberally in patients recovering from acute pancreatitis who present with persistent abdominal pain or in patients with chronic pancreatitis who have complaints such as nausea, vomiting, early satiety, or a sudden crescendo in the level of abdominal pain.
CT scanners enable the identification of virtually all clinically significant pancreatic pseudocysts. The major limitation is the inability to differentiate pseudocysts from cystic neoplasms by using CT.
Radiography
Plain radiographs are not a typical choice in the diagnostic armamentarium for pancreatic pseudocysts. These images may be obtained in patients undergoing a workup for nonspecific abdominal pain.
If the patient has a pancreatic pseudocyst, plain abdominal radiographs may depict its presence on the basis of the mass effect caused by the pseudocyst. In this case, findings include suggestion of a soft-tissue mass displacing or compressing surrounding hollow viscera, such as the stomach, duodenum, or transverse colon. Other diagnostic clues to the condition can include the presence of calcifications in the pancreatic duct in a patient with chronic pancreatitis.
Although plain radiographs can demonstrate soft-tissue mass effect, findings are nonspecific and must be confirmed by using other diagnostic modalities. The studies of choice include abdominal CT scanning and abdominal US.
Other cystic lesions of the pancreas may be misinterpreted as pancreatic pseudocysts. No normal anatomic variants mimic a pseudocyst.
Computed Tomography
Abdominal CT scanning is an excellent choice for imaging acute fluid collections and pancreatic pseudocysts. Most patients with clinically significant pancreatitis undergo CT scanning. Contrast-enhanced, dynamic CT scans are instrumental in determining the severity of pancreatitis (percentage of pancreatic necrosis). Therefore, they have become important predictors of the clinical course and prognosis.
(CT scan characteristics of pancreatic pseudocysts are demonstrated in the images below.)
Approximately 30-50% of patients presenting with acute pancreatitis have an associated acute fluid collection according to the work of Siegelman and colleagues and Bradley and coworkers. [9, 10] The fluid collections are found in the lesser omental sac, in other peripancreatic locations, or, occasionally, within the gland.
CT characteristics of an acute fluid collection include low attenuation and a homogeneous appearance. Occasionally, especially when associated with severe acute pancreatitis, CT attenuation values may be greater than 20-30 HU (Hounsfield units) because of the presence of necrotic pancreatic or peripancreatic debris or blood within the confines of the acute fluid collection. The presence of such material in the pseudocyst can make its appearance more heterogeneous on CT scans.
Pancreatic pseudocysts have several features that help distinguish them from acute fluid collections on CT scans. Most prominent is the presence of a well-defined, nonepithelial, fibrous wall around the pseudocyst. The wall is the result of the intense inflammatory response associated with pancreatitis and the spillage of enzyme-rich pancreatic juice into the peripancreatic tissues.
Pseudocysts are round or ovoid in configuration, whereas acute fluid collections are not well defined. A thick pseudocyst capsule may enhance with the addition of contrast. Bradley has described a time course of at least 4 weeks before an acute fluid collection matures into a pseudocyst, which occurs in as many as 50% of patients with an acute fluid collection. [11, 10]
Degree of confidence
The identification of a thick-walled, rounded, fluid-filled mass adjacent to the pancreas on an abdominal CT scan in a patient with a history of acute or chronic pancreatitis is virtually pathognomonic for pancreatic pseudocyst. Positive CT findings in this clinical situation do not require confirmation with another diagnostic modality.
Abdominal CT scanning and US are highly sensitive and specific for the diagnosis of a pancreatic pseudocyst. CT has a sensitivity of 90-100% in the detection of these lesions.
In the acute setting, a CT scan is the better choice because significant amounts of bowel gas resulting from ileus or obstruction decrease the sensitivity of US. In addition, CT scans provide more detailed information regarding the surrounding anatomy and can demonstrate additional pathology, including pancreatic duct dilatation and calcifications, common bile duct dilatation, and extension of the pseudocyst outside the lesser sac.
The major weakness of CT scanning is the relative inability to distinguish pseudocyst from cystic neoplasms, especially mucinous cystadenomas and intraductal papillary mucinous tumors (IPMT). As Cooperman stated, the clinical history provides clues to a diagnosis other than pancreatic pseudocyst. [12] If the patient has had no prior history of pancreatitis but has a cystic mass associated with the pancreas, an alternative diagnosis should be entertained.
Magnetic Resonance Imaging
Magnetic resonance imaging (MRI) and magnetic resonance cholangiopancreatography (MRCP; see the image below) are sensitive diagnostic modalities for pancreatic pseudocysts. [13] They are generally not routinely used because CT scanning typically offers all the diagnostic information that is required. However, the increased contrast provides for better characterization of fluid collections. MRI or MRCP is superior to CT in depicting debris within fluid collections and pseudocysts, as described by Chalmers and by Morgan and coworkers. [14, 15] On T2-weighted images, a fluid-filled cystic mass produces high signal intensity and appears bright on images. The pancreatic duct and biliary systems are easily visualized in detail, although interpreting the status of pancreatic duct integrity is difficult.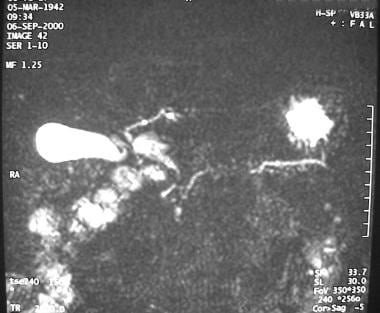 Magnetic resonance cholangiopancreatogram of a pancreatic pseudocyst demonstrates the pancreatic duct and pseudocyst well.
Degree of confidence
As with CT scanning, the detection of a cystic mass in the proper clinical context should make the examiner confident that a pancreatic pseudocyst is present.
Although MRI is more expensive than CT, it has multiplanar capabilities, it requires no ionizing radiation, and it involves non-nephrotoxic contrast agents. Its ability to depict choledocholithiasis is far superior to that of CT or US. Furthermore, MRCP techniques can also depict subtle branch-chain dilatation in chronic pancreatitis. They are also highly sensitive to blood products, such as those seen in complex hemorrhagic fluid collections or pseudocysts.
Macari et al retrospectively evaluated the sensitivity and specificity of several morphologic findings on magnetic resonance imaging (MRI) that may be seen in pancreatic cystic neoplasms or pseudocysts. Of 20 patients with pancreatic pseudocysts, 7 had pseudocysts identified at pathologic resection and 13 had a clinical history of pancreatitis, with initial CT revealing no pancreatic cysts and follow-up MRI depicting cystic lesions. Of 14 pseudocysts, 13 were found to have debris, and only 1 of 22 cystic neoplasms had debris. Septa were more likely to be identified within cystic neoplasms than within pseudocysts, and microlobulated morphology was more likely to be observed in cystic neoplasms. [13]
Megibow and coworkers and Dani and colleagues have stated that MRI offers no advantage over CT scanning in the differentiation of pancreatic pseudocysts from other pancreatic cystic lesions. [16, 17] The patient's clinical history is extremely important in this situation.
Ultrasonography
On US examination, pancreatic pseudocysts appear as anechoic structures associated with acoustic enhancement (see the images below). Pseudocysts are well defined and round or oval, and they are contained within a smooth wall. During the early phases of their development, pseudocysts can appear more complex, with varying degrees of internal echoes. Usually, this appearance results from the presence of necrotic pancreatic and peripancreatic debris and is more common in pseudocysts that form as a result of acute necrotizing pancreatitis than in other pseudocysts. The debris is cleared over time. The pseudocyst can appear more complex in 2 other instances: when hemorrhage occurs into the cyst or when infection of the cyst complicates the clinical course. Color Doppler or duplex scanning should always be performed in cystic lesions to ensure that the lesion in question is not a giant pseudoaneurysm.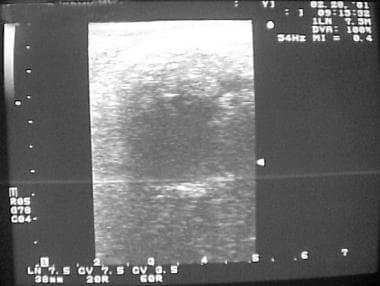 Intraoperative sonogram of a pancreatic pseudocyst.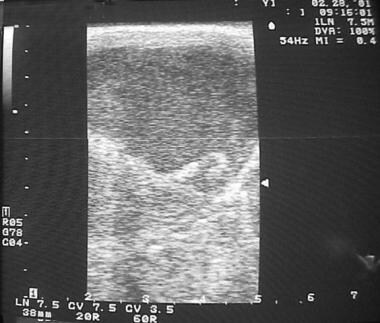 Intraoperative sonogram demonstrates internal echoes in pancreatic pseudocyst fluid. This finding suggests presence of necrotic debris or possible pus.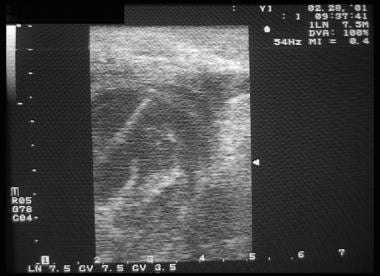 An intraoperative sonogram is used to guide needle placement through the posterior wall of the stomach and into a pancreatic pseudocyst. Fluid is aspirated to delineate placement of the cystgastrostomy site and to sample the fluid within. The needle is clearly depicted as the bright echogenic line entering the fluid-filled cavity.
Degree of confidence
Sensitivity rates for US in the detection of pancreatic pseudocysts are 75-90%, according to Pitchumoni and Agarwal; therefore, US is slightly inferior to CT, which, as previously mentioned, has a sensitivity of 90-100%. [18]
US has several limitations, as compared to CT, in the initial diagnosis of a pseudocyst: the presence of overlying bowel gas decreases the sensitivity of US, and unlike CT, US examinations are highly operator dependent. However, CT scans provide more information regarding the surrounding viscera and vasculature.
No normal anatomic variants mimic the presence of a pseudocyst; however, other cystic pancreatic masses can be misinterpreted as pseudocysts. This observation is important, because as many as 10% of cystic pancreatic lesions are neoplasms; examples of these include serous and mucinous cystadenomas and mucinous cystadenocarcinomas. Clues to the diagnosis of a neoplastic cyst include a complex nature and the presence of internal septations, which can be extremely difficult to detect with US.
Brugge states that endoscopic US is helpful in the differentiation of pancreatic fluid collections. [19] Endoscopic US is more sensitive than transcutaneous US for demonstrating the internal architecture of the lesions.
Nuclear Imaging
Radionuclide examinations are rarely used for the diagnosis of pancreatic pseudocysts. Nevertheless, they can depict the presence of a pseudocyst, which appears as a photon-deficient mass in proximity to the pancreas. [20] Tracers used in the diagnosis of a pancreatic pseudocyst include gallium-67 citrate and selenium-75 selenomethionine. Nuclear medicine scans must be considered a poor choice in the diagnosis of pancreatic pseudocysts. They depend on indirect information, such as compression or invasion of surrounding structures. The information they provide can demonstrate a mass effect but is nonspecific in aiding with an exact diagnosis.
Pseudocysts can be demonstrated scintigraphically if they dissect into the spleen, where they can be associated with subcapsular splenic hemorrhage. In these instances, case reports have been published in which a pseudocyst was imaged as a splenic defect on scanning using technetium-99m sulfur colloid.
If the presence of a pseudocyst is suggested on the basis of the results of a nuclear medicine study, the diagnosis must be confirmed by means of a more accurate examination, such as abdominal CT or abdominal US. These studies are highly accurate in the diagnosis of a pancreatic pseudocyst.
Angiography
Angiography is rarely, if ever, useful in the diagnosis of pancreatic pseudocysts. For diagnostic purposes, angiography is not a good choice, because it is invasive, it exposes the patient to contrast material, and it offers no advantages over CT, MRI, or US. Arterial pseudoaneurysms resulting from vessel erosion by pancreatic pseudocysts and acute pancreatitis are another matter. In these conditions, angiography can be used as a diagnostic technique and as a therapeutic modality.
Expectant management of pancreatic pseudocysts, including observation and waiting for their resolution, has been associated with rates of significant hemorrhage as high as 18%, according to a report by Kiviluoto and coworkers. [21] Angiographic intervention has been helpful in controlling such hemorrhage. In addition, interventional angiographic techniques have been instrumental in decreasing the mortality associated with hemorrhagic complications of acute pancreatitis by transcatheter embolization of bleeding vessels and pseudoaneurysms.
What would you like to print?