Overview
Overview
Esophageal tear is defined as a breach of the esophageal wall resulting from a mucosal tear, perforation, or rupture. Tears of the esophagus are life-threatening conditions that require prompt diagnosis and emergency treatment. The most common causes of esophageal tear, perforation, and hematoma are iatrogenic factors.
See the images of esophageal tear below.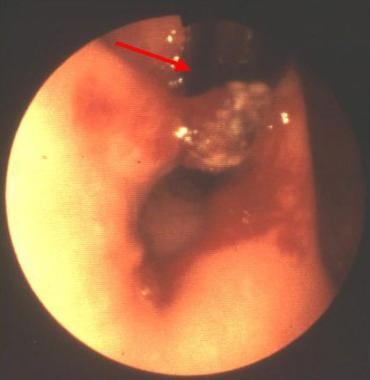 This image was taken in a 36-year-old man presenting with hematemesis after an alcoholic binge. Endoscopy shows oozing blood from the base of a clot overlying a Mallory-Weiss tear (arrow).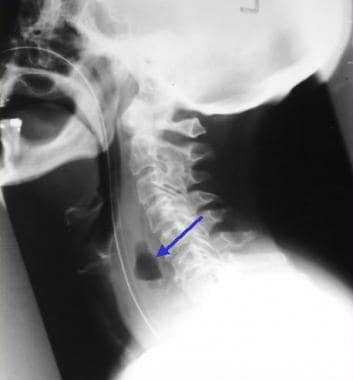 Cervical abscess following esophageal injury subsequent to endotracheal intubation. Note the increased soft tissue prevertebral space and air in the soft tissues (same patient as in previous image).
Esophageal perforations, Mallory-Weiss tears, and esophageal hematomas may result from traumatic injury to the esophagus following instrumentation, such as after gastric lavage or upper GI endoscopy. Recent increases in the use of diagnostic and therapeutic endoscopy and esophageal surgery have made endoscopic instrumentation the most common cause of esophageal rupture. [1, 2, 3, 4, 5]
Esophageal perforations allow the upper gastrointestinal (GI) contents to egress from the esophageal lumen into the soft tissues of the neck, the mediastinum and pleural space, the peritoneal cavity, and other possible sites (depending on the location of the injury). If esophagus tears remain untreated, then cervical soft tissue infections, mediastinitis, pleuritis, or peritonitis will develop, followed by systemic sepsis and death. Esophageal perforations or tears almost always require surgical correction; however, a small and contained esophageal tear may occasionally be managed expectantly. [1, 6]
For excellent patient education resources, visit eMedicineHealth's Digestive Disorders Center.
Preferred examination
Spontaneous rupture of the esophagus is a condition that is still often diagnosed late despite presentations with classic histories and/or abnormal chest radiographs. Endoscopic assessment of perforations is safe; in combination with a contrast-swallow study, the results can confidently predict the success of nonoperative management in patients with contained or controlled ruptures. [7, 8]
Conventional radiographs are generally used in the initial assessment of patients with suspected esophageal perforation; this is followed by an oral contrast-enhanced examination, which can be critical in determining the presence and precise location of an esophageal perforation. Conventional radiographs may be normal in up to 10% of patients with esophageal perforations. Endoscopy, oral contrast-enhanced studies, and angiography are invasive procedures.
Endoscopy is safe and is extremely useful, particularly if an esophageal tear is suspected. Most signs seen on conventional radiographs are better depicted on CT scans.
The use of MRI scanning and ultrasonography is anecdotal; and at the present time, these studies have little if any role in the diagnosis of esophageal perforation.
Superselective left gastric angiography can be performed as a prelude to transcatheter embolization of Mallory-Weiss tears. [9]
Many conditions can result in mediastinal fluid, esophageal thickening, mediastinitis, and extraluminal air within the mediastinum, all of which provide a potential for misdiagnosis. The angiographic diagnosis of upper GI bleeding has several pitfalls.
Radiography
Plain radiographs are noninvasive and can be obtained in most emergency situations. The images show positive signs in 80-90% of cases of esophageal tears. Esophageal tears are not directly identified on conventional radiographs; the clinician must rely on indirect signs along with a high index of suspicion. Conventional radiographs are normal in 9-12% of confirmed esophageal perforations.
See the radiographic images of esophageal tear below.
Mallory-Weiss tears are not seen on conventional radiographs and may not be visualized on contrast radiography of the esophagus. Pneumothorax, mediastinal emphysema, mediastinitis, and hydrothorax have many causes; there is a potential for false-positive and false-negative diagnosis.
Upper and mid esophageal perforations
The most frequent site of these perforations is at the level of the cricopharyngeus muscle, and most perforations are iatrogenic. The conventional radiographic findings include widening of the precervical soft tissues, air in the precervical soft tissues, widening of the superior mediastinum, and a right-sided hydrothorax.
Lower esophageal perforations
Boerhaave ruptures usually occur in the left inferior posterolateral wall of the esophagus. The tear is not directly identified on chest radiographs; the clinician must rely on indirect signs along with a high index of suspicion. These indirect signs include pneumomediastinum and left-sided pneumothorax. With Boerhaave ruptures, pleural effusions are striking, particularly on the left, where it is often associated with left lower lobe consolidation. [10]
Other findings include hydropneumothorax, hydrothorax (usually unilateral), pneumomediastinal air along the inferior descending aorta, air in the left cardiovertebral angle of the diaphragm (V sign of Naclerio), subcutaneous emphysema in the neck, and delayed mediastinal widening caused by mediastinitis.
Other findings
Widening of the mediastinum is usually the result of inflammation or abscess formation. The extent of the widening and the configuration of the widening depend upon its cause. An important sign of mediastinitis secondary to esophageal perforation is the presence of air in the mediastinum. This air may be bubbly or streaky. Air may extend into the neck or the retroperitoneum. These findings are better depicted on CT scans than on radiography. [11]
If this injury is suspected, an esophagogram obtained with nonionic contrast material is recommended. The morbidity and mortality from delayed treatment of this injury are high. About 90% of esophagograms are positive in showing a leakage of contrast agent. [12]
Double-enhanced imaging
In a study by Cassel et al of the use of double-enhanced images of the lower esophagus, 10 abnormalities were detected in 22 patients, including a Mallory-Weiss tear. Only 6 abnormalities were demonstrated on single-contrast studies. Besides having a high success rate, this technique allows for repeat imaging and, according to the authors, can be easily incorporated into routine upper GI examinations. [13]
Computed Tomography
Esophageal perforations are serious, catastrophic events, regardless of the etiology. If the history or clinical symptoms are suggestive of esophageal perforation, contrast-enhanced esophagograms can be used to assess the condition for diagnosis; however, the clinical features may be atypical, and in such cases, a CT scan is performed early in the patient's workup.
CT has dramatically changed the imaging approach to the mediastinum, as it can depict precise cross-sectional mediastinal anatomic detail defining fat, water, and near–muscle density tissues. [14, 15, 16] Many causes of extraluminal air within the mediastinum, mediastinal fluid, and esophageal thickening are reported; these provide a potential for false-positive and false-negative diagnoses. CT findings should always be interpreted in light of the patient's clinical presentation. CT findings may include extraluminal air, periesophageal fluid, esophageal thickening, and extraluminal contrast. These findings may be the first indications of esophageal perforation. [17, 18, 19]
See the CT images of esophageal tear below.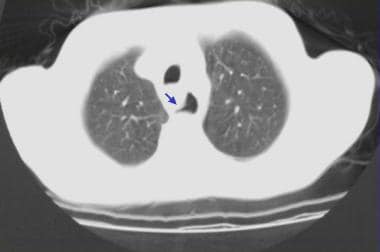 Nonenhanced CT scan through the mid esophagus in a patient with esophageal perforation after upper GI endoscopy shows a false tract emanating from the esophagus (arrow).

Nonenhanced CT scan through the mid esophagus in a patient with esophageal perforation after upper GI endoscopy shows leakage of oral contrast material (blue arrow) and air in the posterior mediastinum (red arrow).
CT findings of esophageal rupture include focal extraluminal air collections at the site of a tear and a hematoma of the mediastinal or esophageal wall. Occasionally, a tract at the site of the tear can be identified on CT scans. In the setting of severe blunt chest trauma, the esophagus can also be obstructed and entrapped by fracture-dislocations of the thoracic spine, as demonstrated on chest or thoracic spinal CT. The diagnosis of esophageal rupture is usually confirmed with a swallow study with nonionic oral contrast material. [5, 20]
CT findings in esophageal tear/perforation can be summarized as follows:
Extraluminal air in the mediastinum or surrounding the esophagus is the most reliable sign and, when taken in conjunction with the clinical presentation, has a 92% accuracy.

Gas may appear as a single or multiple discrete collections, particularly with mediastinal abscess formation.

Air fluid levels may also be seen within mediastinal abscesses.
Other findings include obliteration of fat planes in the mediastinum resulting from inflammation, periesophageal/mediastinal fluid (92% accuracy), esophageal thickening, pleural effusions (usually unilateral), extravasation of oral contrast material into the periesophageal tissues, and a tract at the site of the tear (in rare cases). [14, 15]
Magnetic Resonance Imaging
MRI scanning can depict the normal esophageal and mediastinal anatomy and has been used in the diagnosis of esophageal masses, varices, and esophagitis; however, the role in MRI in an emergency setting, particularly in the diagnosis of esophageal rupture, has not been defined.
Mediastinitis often accompanies esophageal perforation, where an expected fluid low signal intensity may be depicted on T1-weighted MRI scanning, and a high signal intensity may be depicted on T2-weighted and proton density–weighted images. [21]
Ultrasonography
Ultrasonography has not been used in the diagnosis of esophageal tears and perforations; however, transesophageal endosonography has been used to evaluate posterior mediastinitis, which is a known complication of esophageal tears.
In a study by Fritscher-Raven et al regarding the value of transesophageal endosonography with guided fine-needle aspiration in critically ill patients with suspected posterior mediastinitis, transesophageal endosonography depicted mediastinal lesions in 16 out of 18 patients (89%), and it was more accurate in supporting the diagnosis than CT scanning. The authors concluded that bedside transesophageal endosonography/fine-needle aspiration of posterior mediastinal lesions in critically ill patients was effective and noninvasive for detecting mediastinitis, and it provided material for identifying the etiologic agent. They further indicated that transesophageal endosonography is particularly useful in patients after an esophagectomy. [21]
Nuclear Imaging
Radionuclide studies have been successfully used to determine the site of GI bleeding; however, their use in evaluating esophageal bleeding from Mallory-Weiss syndrome has not been described.
Angiography
Active bleeding from Mallory-Weiss tears can be demonstrated on superselective angiography of the left gastric artery. Extravasated contrast medium from the tear may either flow cephalad in the esophagus outlining the esophageal lumen or enter the stomach. Occasionally, a linear collection of contrast may be seen in a posterior Mallory-Weiss laceration. Bleeding can be controlled by vasopressin infusion or particulate embolization. [9]
In most patients with upper GI hemorrhaging from a Mallory-Weiss tear, the bleeding ceases spontaneously, and specific therapy is not required. Patients who continue to bleed and those who rebleed present specific therapeutic problems. In this instance, superselective angiography may provide therapeutic options. GI bleeding is demonstrated only when the patient is actively bleeding at the time of angiography, although with meticulous technique, inflammation (which often accompanies Mallory-Weiss tears) may be depicted.
It is difficult to differentiate bleeding caused by a Mallory-Weiss laceration from a high gastric erosion or an ulcer on angiography alone. A false-positive diagnosis may occur in some patients in whom superselective left gastric angiography demonstrates a marked increase in size and number of vessels supplying the gastric fundus associated with an increased capillary blush. This appearance can be normal; however, gastritis, which often accompanies Mallory-Weiss tears, can have a similar appearance.
What would you like to print?