Overview
Overview
Adrenal hemorrhage is an uncommon but potentially catastrophic event observed in patients of all ages and usually occurs as a complication of physiologic stress, trauma, or a coagulopathic state. In acute adrenal hemorrhage, ultrasound (US), computed tomography (CT) scanning, and magnetic resonance imaging (MRI) all demonstrate nonspecific enlargement and hemorrhage into one or both adrenal glands. [1, 2, 3, 4, 5, 6, 7, 8] (See the images below.)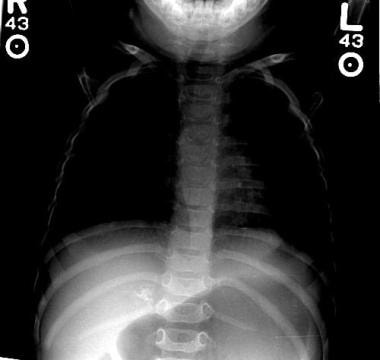 Incidental identification of soft-tissue calcifications may lead to ultrasonic evaluation to differentiate benign lesions from calcification in a neoplasm.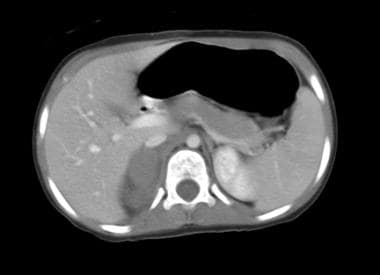 Typical enhanced computed tomography scan appearance of acute adrenal hemorrhage.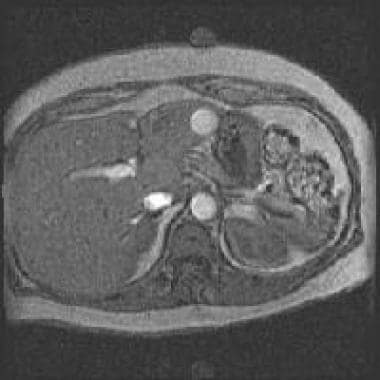 Acute hemorrhages, when compared with the adjacent liver, are iso to dark on T1, are bright on T2, and do not enhance post contrast administration.
When an incidental adrenal mass is noted on US, CT, MRI, or a nuclear medicine study for another indication, serial imaging may confirm adrenal hemorrhage by demonstrating complete resolution of the mass with or without residual calcification. Biopsy has been required to make this diagnosis in unusual cases. Complications of adrenal hemorrhage include volume loss and shock in infants, adrenal pseudocysts, and adrenal calcifications. Adrenal insufficiency can be fatal, but fatal cases have been rarely reported.
Epidemiology
Adrenal hemorrhage has been reported in 0.16% of random autopsies. The rate is likely as high as 26% of patients dying from severe thoracolumbar injuries.
The frequency of adrenal insufficiency after adrenal hemorrhage has been estimated to range up to 50% of cases. [9]
No racial or sexual predilection is reported.
Pathophysiology and anatomy
The precarious blood supply of the adrenal gland makes it very vulnerable to hemorrhage. Several dozen branches from the 3 main adrenal arteries form a subcapsular plexus that drains into the medullary sinusoids. The gland is drained by relatively few venules, resulting in a relative vascular dam.
The adrenal gland is disproportionately large in neonates, with rapid involution early in childhood. The posterior location gives them a protected position within the rib cage. The adrenal gland is supplied by more than 2 dozen branches from 3 main adrenal arteries with a single draining vein.
Preferred examination
CT scanning is the method of choice for identifying adrenal hemorrhage in all patients but neonates. CT scanning is rapid, accurate, and widely available, and it permits rapid concurrent evaluation of multiple abdominal organ systems, which also may be affected by the primary process that caused the adrenal hemorrhage.
Ultrasound imaging is preferred for neonates because the adrenals are easily identified by an experienced observer and the babies can be evaluated without radiation exposure or sedation. In the acute phase, the hemorrhage is echogenic and the gland is enlarged. Interval follow-up demonstrates simple or complex hypoechoic evolution over the next few weeks, with decreasing size and conspicuity of the glandular tissue. [10]
US, noncontrast CT scan studies, and MRI usually demonstrate the acute hematoma, but they may initially miss an underlying neoplasm. Contrast administration may demonstrate enhancement of a primary neoplasm at the time of presentation, but it must be compared with a noncontrast image to differentiate hemorrhage from neoplasm. Serial imaging of an adrenal hematoma confirms complete resolution if a primary mass is not present.
MRI is especially useful to determine the stage of the hemorrhage. In the acute phase, adrenal hemorrhage is isointense to slightly hypointense on T1-weighted images and hyperintense on T2-weighted images. During the subacute phase, both T1- and T2-weighted images are hyperintense, with the hyperintensity on T1 images progressing from the periphery to the center over time. Chronic hemorrhages show a hypointense rim on T1- and T2-weighted images, with subsequent calcifications demonstrated as blooming signal dropout on the gradient recall echo images. [11]
An underlying adrenal hemorrhage may develop into an abscess source because of hematogenous seeding during a period of sepsis. CT scan– or US-directed aspiration is useful to obtain culture material in patients with sepsis who are unresponsive to antibiotics. Percutaneous biopsy should be avoided if pheochromocytoma is part of the differential diagnosis and should be preceded by serologic studies to exclude a functioning tumor.
Consider confirmatory scintigraphic imaging or biopsy in a young child if neuroblastoma is in the differential diagnosis of a suprarenal mass; calcifications have been reported in both entities. Note that the identification of calcifications in an adrenal mass should not unduly influence the decision to sample for tissue, because neuroblastomas commonly calcify.
Radiography
Plain radiographic film images often are obtained to evaluate abdominal pain in the acute phase. Acute adrenal hemorrhage is rarely detectable on plain radiographs, but it may cause mass effect in the retroperitoneal area of the upper abdomen. Large hematomas may anteromedially displace air-filled bowel loops and displace the kidneys caudally. When intravenous (IV) contrast has been administered, the inferior displacement of the kidney and lucent focus in the region of the adrenal mass may suggest the diagnosis. (See the image below.)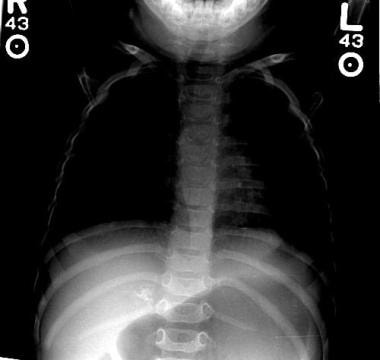 Incidental identification of soft-tissue calcifications may lead to ultrasonic evaluation to differentiate benign lesions from calcification in a neoplasm.
When adrenal hemorrhage is associated with a coexisting renal hematoma or renal vein thrombosis, the kidney may be enlarged. During the resolution phase, the adrenal hematoma may calcify, and these retroperitoneal calcifications often are peripheral and appear eggshell shaped. In neonates, calcifications have been identified as soon as 1-2 weeks after the initial trauma.
Plain radiographic films are neither sensitive nor specific for acute adrenal hemorrhage in any identifiable subgroup of patients. A large variety of retroperitoneal masses may mimic the plain radiographic film appearance of acute hemorrhage. In neonates, one should especially consider a variety of causes of renal enlargement, including hydronephrosis, multicystic renal disease, and malignancies. In general, the adrenal calcifications of resolving hemorrhages are rimlike and those observed with neuroblastoma are stippled, but several case reports demonstrate that imaging cannot reliably differentiate these 2 conditions. [12]
Neuroblastoma is the most frequent adrenal malignancy encountered in the neonatal period; thus, it should be considered in the differential diagnosis of a retroperitoneal adrenal mass. Increased serum levels of vanillylmandelic acid (VMA) are virtually diagnostic of neuroblastoma but are not a sensitive screen. Adrenal enlargement with extensive punctate calcification on plain radiographic films of the neonate may result from familial xanthomatosis (Wolman disease), an unrelentingly progressive lysosomal storage disease associated with severe failure to thrive that eventually leads to death in the first months of life.
Intra-abdominal calcifications from antepartum meconium ileus also are commonly observed and can be documented to be extra-adrenal by US. In older patients, splenic and renal masses more commonly calcify or cause retroperitoneal mass effect. Metastatic disease to the adrenal glands occurs quite commonly, but it is rarely detectable as masslike on plain radiographic films and seldom calcifies.
Computed Tomography
CT scanning is considered the criterion standard for imaging the adrenal glands in patients older than 6 months. It is quite sensitive for identifying a mass on the adrenal glands, but it cannot reliably differentiate adrenal hemorrhage from a hemorrhagic tumor. For patients who are considered most likely to have adrenal hemorrhage, which most often will show cystic changes within the first 3 weeks, the author recommends serial examinations at 3-4 weeks by CT scanning to document complete resolution of the hemorrhage. An adrenal neoplasm is unlikely to resolve and will frequently enlarge. [13]
See the CT scans of adrenal hemorrhage below.
Consider adrenal hemorrhage whenever the adrenal gland is enlarged or the chevron shape is distorted by a round or oval mass. Inflammatory stranding of the periadrenal fat is noted, usually detectable on CT scan with and without contrast administration, and can be observed both in patients with traumatic etiologies and in patients with nontraumatic etiologies. In trauma patients, the adrenal glands should be examined carefully in the presence of related upper abdominal trauma, including pneumothorax, rib fracture, and parenchymal contusion of the lung, liver, spleen, or pancreas.
Without contrast administration, acute adrenal hemorrhage causes a hyperdense (50-75 Hounsfield units [HU]) masslike distortion of the normal adrenal gland's shape on CT scans, with thickening of the adjacent diaphragmatic crura and streakiness of periadrenal fat. Further evaluation is indicated if the adrenal mass enhances, especially if the enhancement is heterogeneous.
A large adrenal mass that enhances after contrast administration is most likely neoplastic in origin. Large adrenal masses (>5 cm) must have careful follow-up and be sampled if enhancement is observed or resolution is not prompt. When adrenal carcinoma presents, it is often noted to be at least 5 cm. Central areas of necrosis and calcification can be present with adrenal cancer. Half of adrenal cancers are hormonally active (usually with Cushing disease) and can be detected serologically.
Bronchogenic carcinoma is the most common cause of hemorrhagic and enhancing adrenal metastasis. Adrenal hyperplasia causes bilateral glandular enlargement, but it enhances smoothly after contrast administration. On CT scan images, adrenal abscess is suggested if a thick-walled cystic mass with rim enhancement is observed. If fat is demonstrated within the mass, the diagnosis is more likely myelolipoma.
Magnetic Resonance Imaging
MRI is also considered a criterion standard for imaging the adrenal glands in patients older than 6 months and is quite sensitive for identifying a mass. Although MRI cannot reliably differentiate adrenal hemorrhage from a hemorrhagic tumor, it is very specific in its ability to stage hemorrhage from any cause. [5, 7]
See the magnetic resonance images of adrenal hemorrhage below.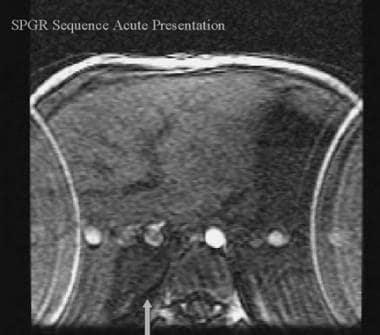 When the hemorrhage is less than 7 days old, it is isointense to slightly hypointense on T1-weighted images and markedly hypointense on T2-weighted images.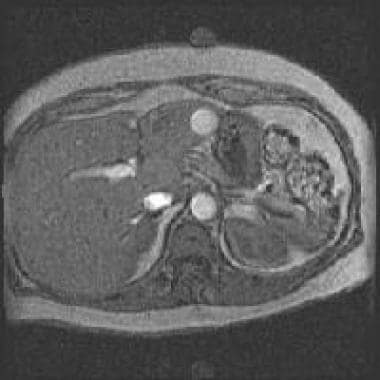 Acute hemorrhages, when compared with the adjacent liver, are iso to dark on T1, are bright on T2, and do not enhance post contrast administration.
MRI is most useful to confirm the presence and chronicity of hemorrhage associated with an adrenal gland mass. Because of intracellular deoxyhemoglobin, in the acute stages (< 7 days), adrenal hemorrhage has an iso-slightly low signal on T1-weighted images and markedly low signal on T2-weighted images. During the subacute phase (1-8 weeks), the clot begins to evolve. On T1-weighted images, an initial rim hyperintense signal is observed, which gradually shrinks and fills in the mass over a period of weeks.
Occasionally, with large hemorrhages, irregular clot lysis and fluid-fluid levels can be observed. T2-weighted sequences during this phase are hyperintense from the presence of serum and clot lysis products.
In the chronic phase, both hemosiderin and calcification result in low signal on T1- and T2-weighted images. Calcification is often eggshell or rimlike, and the characteristic dark ring is identifiable. MRI also may be especially useful when adrenal hemorrhage is possibly related to renal vein thrombosis. Clots in the renal vein are shown as high signal on both T1- and T2-weighted sequences, and extension of the thrombus into the IVC also can be demonstrated by MRI.
Adrenal neoplasms, including myelolipomas, are prone to hemorrhage. The presence of hemosiderin products does not exclude an associated mass. On MRI, adrenal abscesses often display central necrosis and rim enhancement after contrast administration; however, the normal high signal characteristics of heme may be lost. Although adrenal hemangiomas are rare, they also may appear as a hyperintense, heterogeneous mass on T1- and T2-weighted images. When considering this entity, bolus contrast imaging with rapid sequencing on CT scanning or MRI may confirm the expected nodular contrast enhancement pattern.
Ultrasonography
US is the criterion standard in neonates and is extremely sensitive for masslike enlargement of the adrenal glands. US is very specific in differentiating the 2 major causes of adrenal masses; serial US will show interval resolution of adrenal hemorrhage but persistence or enlargement of adrenal neoplasm. [14, 15, 16, 17, 7]
See the ultrasound images of adrenal hemorrhage below.
Adrenal hemorrhage is most often detected by US in newborns after a traumatic delivery or a neonatal course complicated by hypoxia or hypotension. In early adrenal hemorrhage, the adrenal glands are large, hyperechoic, and masslike. As the hemorrhage resolves, the glands reduce, and the hematoma becomes more centrally hypoechoic. Eventually, if the hemorrhage is minor, it resolves completely and the adrenal glands are no longer demonstrated on US.
In both infants and adults, adrenal hemorrhage is usually right-sided. This diagnosis should be considered in critically ill or trauma patients whenever the adrenal gland is clearly identified by US in those older than 6 weeks.
When adrenal hemorrhage results from renal vein thrombosis, US images of the kidney often are abnormal. The affected kidney may be enlarged with loss of the corticomedullary differentiation, and generalized increased renal echogenicity may be depicted.
Thrombus in the renal vein is often demonstrated as an elevated resistance to vascular outflow. More commonly, concurrent left adrenal and left renal vein thrombosis is observed, likely the result of common venous drainage on the left.
Benign hemorrhage has been reported in adrenal cortical cysts in patients with Beckwith-Wiedemann syndrome. [18] Although US is not a sensitive test, the finding of a fluid-debris level in a complex cystic adrenal mass may suggest adrenal abscess; thus, this modality is useful to guide fine-needle aspiration. Evidence of air in the cyst suggests a pyogenic etiology.
Nuclear Imaging
Nuclear scintigraphy is of little use in making the diagnosis of adrenal hemorrhage. Scintigraphic imaging of the adrenal is performed using iodine-131 (131 I) metaiodobenzylguanidine (MIBG). Adrenal hematomas do not sequester this agent. In fact, the 3 most common renal scintigraphic agents are not taken up by either hemorrhagic or normal adrenal tissue; thus, when a nonfunctioning adrenal mass is present, one may observe a photopenic area that distorts the kidney from its expected location. Nephromegaly demonstrated on a scintigraphic study, especially when it is associated with suprarenal photopenia, may suggest the diagnosis of concurrent adrenal hemorrhage and renal vein thrombosis. [19]
Angiography
Although angiography may demonstrate the vascular supply of an adrenal mass and confirm the lack of vascularity of adrenal hemorrhages or pseudocysts, it offers no additional information that cannot be obtained by contrast-enhanced CT scan studies or MRI. Angiography is not recommended either in the diagnosis or treatment of adrenal hemorrhage.
What would you like to print?