Overview
Overview
Nephrocalcinosis was a termed coined by Albright in 1934 to describe the deposition of calcium salts in the renal parenchyma in hyperparathyroidism. [1] The term has now acquired more of a radiologic concept, and it is used to describe diffuse, fine, renal parenchymal calcification that is radiologically demonstrable. [2] This appearance is different from that of calcification within the lumen of the collecting system, ureter, and bladder, which represents nephrolithiasis. Radiologic features of nephrocalcinosis are presented in the images below.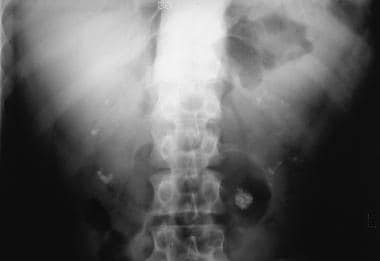 Radiograph depicting bilateral nephrocalcinosis in an adult male patient who initially presented with features of pancreatitis. Ultimately, hyperparathyroidism was diagnosed. Note the mesenteric nodal calcification just below the level of left kidney.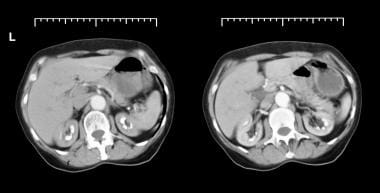 Axial computed tomography scans obtained from a patient with a long history of renal tubular acidosis. These images show bilateral medullary nephrocalcinosis (early arterial phase).
Many causes of nephrocalcinosis have been added since the original description. These include the several causes of hypercalcemia and hypercalciuria. Nephrocalcinosis can be subdivided into the cortical type, which is classically the result of acute tubular necrosis (ATN), and the medullary type, which may be an extension of cortical nephrocalcinosis or is seen in isolation with several metabolic disorders. [3] In nephrology, the term nephrocalcinosis is applied only to the medullary type.
Nephrocalcinosis found incidentally may be the presenting feature of a variety of inborn errors of metabolism, and the radiologist may be the first to suggest a diagnosis based on the pattern and distribution of renal parenchymal disease. Therefore, the radiologist must be aware of the causes of nephrocalcinosis.
Causes of cortical nephrocalcinosis
These include the following:
Chronic glomerulonephritis

Prolonged hypercalcemia and/or hypercalciuria

Rejected renal transplant

Sickle cell disease (a rare cause)

Vitamin B6 (pyridoxine) deficiency (also a rare cause)
Causes of medullary nephrocalcinosis
These include the following:
Tuberculosis of the kidneys

Glucose-galactose malabsorption
In addition, a variety of conditions can cause bone destruction that is associated with hypercalcemia and hypercalciuria. These include bony metastases, multiple myeloma, Paget disease, Cushing disease, hyperthyroidism, and hypothyroidism (although the incidence associated with hypothyroidism is low). Chronic paraneoplastic hypercalcemia may also cause nephrocalcinosis.
Sickle cell anemia is a rare cause of nephrocalcinosis. A variety of radiographic renal abnormalities have been associated with sickle cell disease, including renal enlargement, thickening of the renal cortex, focal hypertrophy, papillary necrosis, and changes associated with infection.
Ochronosis (alkaptonuria) is an autosomal recessive disorder involving deficiency of the enzyme homogentisic acid oxidase. It is a rare cause of nephrocalcinosis; renal stone formation is more common.
Preferred examination
Nephrocalcinosis can be demonstrated on plain radiographs, ultrasonograms, or computed tomography (CT) scans. [4, 5, 6, 7, 8, 9, 10]
Most cases of nephrocalcinosis are asymptomatic and usually identified on plain abdominal radiographs. Planar radiography provides a useful adjunct to plain radiography. Nonenhanced CT scans can also depict nephrocalcinosis, and its apparent sensitivity and accuracy make CT scanning the modality of choice. [10, 11, 12]
Ultrasonography is noninvasive, ideal for use in young children, quick to perform, and accurate. Early in its course, medullary nephrocalcinosis can be seen as echogenic pyramids before nephrocalcinosis can be identified on plain abdominal radiographs.
Limitations of techniques
Usually, nephrocalcinosis cannot be detected on plain radiographs until the attenuation exceeds 100 Hounsfield units (HU). Optimal imaging must be used to produce the right factors for radiographic accuracy. The radiation burden with CT scanning is a disadvantage in the young. Ultrasonography remains operator dependent, and its accuracy is affected by the patient's body habitus.
For excellent patient education resources, visit eMedicineHealth's Osteoporosis Center and Thyroid and Metabolism Center. Also, see eMedicineHealth's patient education articles Kidney Stones and Bone Mineral Density Tests.
Radiography
As mentioned above, plain radiographic detection is not possible until the attenuation of renal parenchyma exceeds 100 HU. The calcification resolution also depends on the size of the stones (those < 2 mm are rarely detected), the spatial resolution of the recoding technique, and contrast factors. The characteristic cortical calcification occurs within a few weeks after the onset of acute cortical necrosis. When cortical nephrocalcinosis first appears, the kidneys are still enlarged because of inflammatory edema of the kidneys. With time, the kidneys atrophy. (See the images below.)
Morphologically, 3 types of calcification have been described. The most prevalent is a single cortical, calcified, thin peripheral band, often with calcified extensions into the necrotic septa of Bertin (perpendicular to the cortical calcification). The medullary pyramids are usually spared, retaining the attenuation of the soft tissue. Initially, this pattern of nephrocalcinosis may be difficult to recognize because the calcification is faint. However, the kidney margins appear well defined and penciled in.
The second pattern seen with cortical nephrocalcinosis is the appearance of hyperattenuating tram lines. These lines may be continuous, but more often, they are interrupted, reflecting the more patchy distribution of cortical necrosis.
The third pattern is a more diffuse distribution of punctate calcification. This punctate pattern of calcification is thought to represent necrotic calcified glomeruli and tubules.
Medullary nephrocalcinosis typically produces clusters of stippled calcifications, mainly within the regions of the renal pyramids.
Most conditions that cause medullary nephrocalcinosis can also result in nephrolithiasis. Some nephroliths may represent extruded deposits from the renal parenchyma. The radiologic demonstration of both nephrocalcinosis and nephrolithiasis also helps in determining their etiology and thus significantly contributes to the management of the disease. Planar conventional tomography provides a cheaper alternative to CT scanning, and it may be a useful adjunct to conventional radiography.
Degree of confidence
Plain radiography is a noninvasive and fairly sensitive technique for the detection of nephrocalcinosis. The pattern and distribution of the nephrocalcinosis may suggest the underlying cause. Radiographs appear to show more details than CT scans. Radiographs also seem to be more suitable for follow-up of the course of the disease, and they have a lower radiation burden.
Limitations of techniques
Plain radiographic detection is not possible until an attenuation of 100 HU. Plain radiography cannot be used to differentiate between the various causes of nephrocalcinosis. [4]
Computed Tomography
CT scanning is said to be the most sensitive imaging modality in the diagnosis of nephrocalcinosis. CT scans depict nephrocalcinosis at an early stage of the disease, provide a better picture of the density and extent of the nephrocalcinosis, and may depict other changes, such as renal cysts. (See the images below.)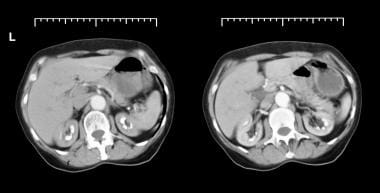 Axial computed tomography scans obtained from a patient with a long history of renal tubular acidosis. These images show bilateral medullary nephrocalcinosis (early arterial phase).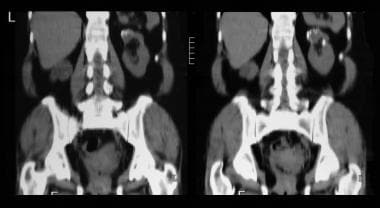 Nonenhanced coronal computed tomography scans through the kidneys. These images show both cortical and medullary nephrocalcinosis (left kidney). Both kidneys appear scarred. Note the thinning of the renal cortex at the upper pole of the left kidney. This patient gave a long history of chronic pyelonephritis, which is an unusual cause of nephrocalcinosis.
In a small series of 13 patients, intravenous urograms showed medullary sponge kidneys (24 kidneys), whereas nonenhanced CT scans showed papillary calcifications in 11 kidneys, 5 of which were not detectable on plain radiographs. [13] Hyperattenuating papillae (55-70 HU) without calcification were found in 4 other kidneys.
Hyperoxaluria is characterized by nephrocalcinosis on radiologic examination, and this condition is associated with nephrolithiasis and calcium oxalate crystal deposition in multiple extrarenal organs. CT scanning is a sensitive modality for the detection of systemic oxalosis (eg, in the liver and heart), in addition to nephrocalcinosis. Bilateral attenuating rings in the renal medulla were depicted on nonenhanced CT scans in a patient with marked hypercalcemia and suspected hyperparathyroidism. [14]
Degree of confidence
Nonenhanced CT scans can depict nephrocalcinosis, and because CT scanning appears to be the most sensitive and accurate technique, it is the modality of choice. CT scanning is more sensitive than plain radiography in the detection of papillary calcifications, the most frequent complication of medullary sponge kidney.
Limitations of techniques
The sensitivity of contrast-enhanced CT scanning in the detection of medullary sponge kidneys is markedly lower than that of excretory urography. [13] CT images only suggest the possibility of medullary sponge kidneys. This will change with multidetector-row CT (MDCT) scanners and dedicated reformatting protocols.
Magnetic Resonance Imaging
Magnetic resonance imaging (MRI) is rarely required to diagnose nephrocalcinosis because it does not depict calcium as such.
Ultrasonography
In medullary calcinosis, the margins of the pyramids are echogenic, whereas the center of pyramids remains echolucent. The pyramids are well visualized as rounded or echogenic structures. The pyramids may be densely echogenic, and shadowing may be shown. These findings may be evident on ultrasonograms before they are seen on plain radiographs. [15, 16] (See the images below.)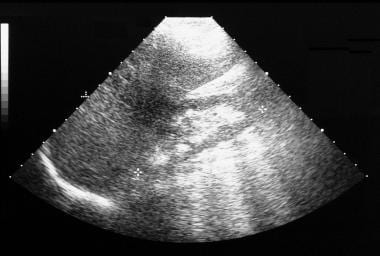 Sonogram of the right kidney in a woman with nephrocalcinosis. This image shows hyperechoic foci in the pyramids.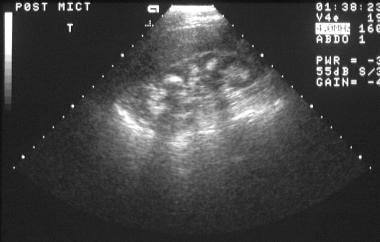 Sonogram of a kidney in a patient with medullary sponge kidney. This image shows a hyperechoic medulla associated with echogenic foci, some of which are casting shadows. A hyperechoic medulla can also be seen in conditions that cause hyperuricemia and hypokalemia.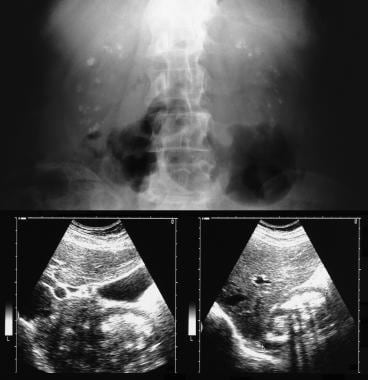 Top: Plain radiograph of the kidneys in a patient with a long history of renal tubular acidosis. This image shows bilateral pyramidal calcification that is consistent with nephrocalcinosis. Bottom: Sonograms of the kidneys in the same patient as above show a hyperechoic medulla associated with echogenic foci, some of which are casting shadows.
Renal cortical calcification causes increased cortical echogenicity with complete shadowing in severe cases. Secondary pyramidal fibrosis may occur; these may cause echogenic pyramids.
Degree of confidence
Early medullary nephrocalcinosis can be seen as echogenic pyramids before nephrocalcinosis can be identified on plain abdominal radiographs.
AA retrospective, blinded analysis revealed ultrasound to be superior to CT for assessment of mild-to-moderate nephrocalcinosis in patients with hypoparathyroidism. This finding, in combination with its low cost, lack of radiation, and portability, defines ultrasound as the preferred modality for assessment of nephrocalcinosis. [17]
False positives/negatives
Causes of focal increases in renal echogenicity (usually nonshadowing) include the following: chronic infarction (eg, Hgb S), acute bacterial focal nephritis, angiomyolipoma, hemangioma, oncocytoma, and malignancy (eg, renal cell carcinoma, sarcoma, metastases).
Differential diagnosis in children
The differential diagnosis of echogenic renal pyramids in children includes nephrocalcinosis as the single most frequent cause. However, a multitude of other causes involve echogenic pyramids in the absence of nephrocalcinosis. These are as follows:
Vascular congestion and/or occlusion
Protein deposits
Protein deposits can arise from the following:
Proteinuria (dehydration)

Degenerative leukoencephalopathy

Hypotensive and/or hypovolemic shock
Vascular congestion and/or occlusion
Sickle cell disease falls under this category.
Systemic infection
Systemic infection can arise from the following:
Cytomegaloviral infection

Acquired immunodeficiency syndrome (AIDS) (eg, Mycobacterium avium-intracellulare, Pneumocystis carinii)
Metabolic causes
These include the following:
Alpha-antitrypsin deficiency
Fibrosis
Fibrosis can result from the renal pyramidal fibrosis or congenital hepatic fibrosis.
Unknown causes
These include the following:
Cystic medullary disease
Medullary sponge kidney falls under this category
Differential diagnosis in adults
Echogenic pyramids and hyperechoic rings may be present in the periphery of the renal pyramids in adults. These can be divided into 2 groups: normal variants and nephrocalcinosis. Nephrocalcinosis can be subdivided as follows:
In cases in which no nephrocalcinosis is present, the following may instead be found:
Congenital hepatic fibrosis

Rheumatoid arthritis with amyloid

Addison disease (normal calcium, potassium, and uric acid levels)

AIDS-related M avium-intracellulare infection, in which the increased attenuation is secondary to protein contents
Nuclear Imaging
The role of nuclear medicine is confined to assessing renal function by means of isotope renography, particularly when renal surgery is being considered.
What would you like to print?