Overview
Overview
Parotid is a Greek word that means near the ear. Parotid glands are the largest of the salivary glands. They are paired glands that contain mucus and serous cells and a ductal network. (See the image below.) [1]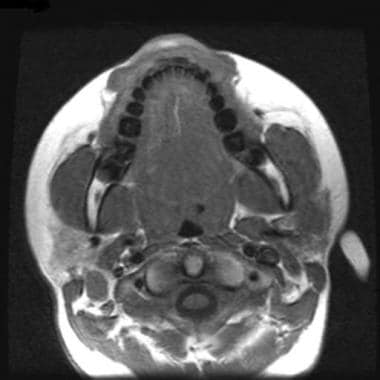 Parotid, malignant tumors. Axial T1-weighted MRI demonstrates a low-signal-intensity mass in the left parotid gland. Pathology indicated mucoepidermoid carcinoma.
Preferred examination
Computed tomography (CT) scanning and magnetic resonance imaging (MRI) are the modalities of choice for imaging parotid neoplasms. Both have sensitivities that approach 100%. Both modalities have the ability to depict the entire gland and concomitantly show the contralateral gland. [2, 3]
Each modality has special benefits and limitations. MRI is the preferred modality for evaluating a painless parotid mass. CT is well suited for evaluating recurrent, tender parotid masses that can be inflammatory. Plain radiographs or CT demonstrate invasion the earliest. Nuclear medicine studies lack the resolution to show bony invasion. Most malignant tumors are cold on scintigraphy. Combining fine-needle aspiration (FNA) with MRI offers no greater accuracy compared with that of either test alone. [4, 5]
Limitations of techniques
On CT or MRI, many malignant tumors, such as acinic cell carcinomas or low-grade mucoepidermoid carcinomas, appear indistinguishable from benign tumors, such as pleomorphic adenomas.
Radiography
Plain-film evaluation of the parotid gland is of limited clinical value. Radiographs can demonstrate sialolithiasis or involvement of the adjacent mandible. Views used to examine the parotid gland include open-mouth lateral images with an extended chin, posteroanterior images, and bilateral oblique images.
Sialography, or the injection of water-soluble contrast material into the Stensen duct, is used to demonstrate ductal anatomy or sialoliths.
Degree of confidence
CT is 10 times more sensitive than plain radiography in detecting small calcium deposits.
The sensitivity of sialography in detecting tumor is 85% at best, when performed by an experienced examiner. This rate is low compared with that of CT and MRI. Sialography is contraindicated or not recommended in the workup for a suspected malignant parotid tumor because come believe that the pressure generated by the injection of contrast material can disseminate tumor cells. Sialography should be reserved for the diagnosis of inflammatory conditions.
Computed Tomography
CT findings of diffuse glandular calcifications suggest chronic sialadenitis, whereas calcifications within a mass are commonly seen in a pleomorphic adenoma. A solid mass is more easily differentiated from a cystic mass using CT compared to MRI. Although the facial nerve usually is not visualized on CT, the course of the nerve can be traced from the stylomastoid foramen. In addition, the Stensen duct usually is not seen unless it is dilated. (See the images below.)
Degree of confidence
CT has advantages and limitations in imaging the parotid gland. Direct axial and coronal images can be obtained quickly in most patients; usually, only axial images are obtained. CT is superior in detecting heterotopic calcification or invasion of the mandible or skull base.
Dental-amalgam streak artifact can seriously degrade image quality; however, changing the gantry angle can reduce this degradation. In some patients with a dense parotid gland, a small tumor or diffuse cell infiltration cannot be detected. Furthermore, direct coronal images cannot be obtained in some patients who cannot extend their necks.
False positives/negatives
The CT appearance of benign and malignant tumors can overlap. A low-grade mucoepidermoid carcinoma can be cystic and contain calcifications, much like a pleomorphic adenoma. Higher-grade tumors tend to be more attenuating and more homogeneous.
Magnetic Resonance Imaging
Certain MRI characteristics can help differentiate benign parotid masses from malignant masses. A benign lesion usually is marginated smoothly, with a distinct border or capsule; however, many low-grade malignancies have a pseudocapsule and a benign radiographic appearance. High-grade malignancies have ill-defined infiltrating margins. (See the images below.) [6, 7]
In cases of a pleomorphic adenoma, T1-weighted images typically demonstrate intermediate signal intensity, with isointense-to-hyperintense signal on T2-weighted images. Contrast enhancement can be homogeneous or heterogeneous.
A Warthin tumor has homogeneous intermediate-to-hyperintense signal on T1-weighted images and intermediate signal intensity with focal hyperintense areas on T2-weighted images. Typically, these tumors are not contrast enhancing.
As a result of increased cellularity and decreased mucous production, high-grade malignancies tend to have low signal intensity with both T1- and T2-weighted sequences, whereas benign and low-grade malignancies are bright on T2-weighted images.
Common benign pleomorphic adenoma can evolve into malignant carcinoma ex pleomorphic adenoma or malignant mixed tumor. MRI can demonstrate the change from high T2 signal intensity with benign tumors to low-to-intermediate T2 signal with malignant tumors.
Degree of confidence
MRI is superior to CT in demonstrating tumor margins, and MRI is the procedure of choice for evaluating a nontender palpable parotid mass. Occasionally, the facial nerve or Stensen duct can be visualized. Common sequences are T1-weighted, T2-weighted, and inversion recovery fast spin-echo sequences.
MRI contrast agents are controversial and usually reserved for use when a palpable mass is not seen on a nonenhanced study. The use of contrast agents is indicated in evaluating the postoperative gland.
Magnetic resonance spectroscopy is currently under investigation as a tool in diagnosing parotid masses.
False positives/negatives
Low-grade mucoepidermoid carcinomas can appear identical to pleomorphic adenomas.
Ultrasonography
Ultrasonography (US) is not routinely used as an imaging modality because of the greater sensitivity of CT and MRI. In the parotid gland, US is used to differentiate solid from cystic lesions. US often can be used to determine whether a lesion is intraglandular. The real-time capability of US makes it useful for guiding needle biopsy. [8, 9, 10] Parotid US uses a linear, high-frequency transducer (of 7-10 MHz) that provides high-resolution images. However, imaging depth is compromised. The deep lobe of the gland usually is not seen well.
Nuclear Imaging
The parotid and other salivary glands concentrate technetium-99m pertechnetate; however, nuclear medicine studies are not the preferred imaging modality for evaluating a parotid mass. Gallium-67 citrate, technetium-99m (99m Tc) pertechnetate, and thallium-201 chloride have been used to evaluate parotid tumors.
Degree of confidence
Nuclear medicine studies lack the resolution to show bony invasion. Most malignant tumors are cold on scintigraphy.
In detecting malignant parotid tumors, gallium-67 citrate scanning has a sensitivity of 85% and specificity of 38%. The low specificity is secondary to uptake by a pleomorphic adenoma.
Scanning with99m Tc pertechnetate has 75% sensitivity and 88% specificity for evaluating oncocytoma or Warthin tumor.
As a single test, cross-sectional imaging such as CT or MRI provides more information than scintigraphy.
False positives/negatives
With technetium, most tumors are relatively photopenic compared with the remainder of the gland and easily missed. Decreased activity in the gland is nonspecific and can represent benign or malignant neoplasm, metastasis, abscess, focal atrophy, or the changes of Sjögren syndrome. Two neoplasms—Warthin tumor and oncocytoma —concentrate pertechnetate and are seen easily.
What would you like to print?