Overview
Overview
Chondrosarcoma is the second most frequent primary malignant tumor of bone, representing approximately 25% of all primary osseous neoplasms. Chondrosarcomas are a group of tumors with highly diverse features and behavior patterns, ranging from slow-growing non-metastasizing lesions to highly aggressive metastasizing sarcomas. [1, 2, 3, 4]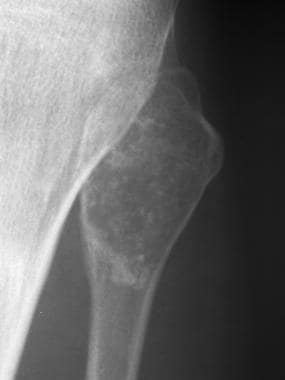 Frontal radiograph of the left fibula head demonstrates a lucent lesion that contains the typical chondroid matrix calcification. Low-grade tumor.
Giuffrida et al used the Surveillance, Epidemiology and End Results (SEER) database to identify demographic and prognostic characteristics of chondrosarcoma and to describe its natural history following treatment. Multivariate analysis of the 2,890 cases of chondrosarcoma in the United States over the last 30 years showed that survival rates did not change over that period and that only grade and stage are independent prognostic factors for survival. Giuffrida et al recommended that routine post-treatment surveillance be extended to 10 years of follow-up; beyond that point, patients were more likely to die of causes unrelated to chondrosarcoma. [4]
Preferred examination
Radiographs are essential for the initial diagnosis of chondrosarcoma; radiography is sometimes supplemented with computed tomography (CT) scanning, which is more sensitive for detecting matrix calcification and for confirming deep endosteal cortical scalloping in intramedullary tumors. Magnetic resonance imaging (MRI) is the preferred modality for evaluating the extent of intramedullary tumors and for demonstrating extraosseous extension. MRI is useful in evaluating the thickened cartilage cap in an osteochondroma in which a secondary chondrosarcoma develops. MRI is less sensitive than CT in identifying small amounts of matrix calcification within a tumor. [5, 6, 7, 8, 9]
The imaging appearances of chondrosarcoma may overlap with those of other lesions, especially other cartilaginous tumors such as enchondroma. The presence of pain with any lesion (without a pathologic fracture in lesions of the hands and feet) is highly suggestive of malignancy.
Other findings suggestive of malignancy in a cartilaginous tumor include endosteal cortical scalloping of more than two thirds of the thickness of the cortex, ill-defined border and/or zone of transition, and a large soft-tissue mass. Both benign and malignant cartilaginous tumors may show central lucency; however, lucency of an area that previously showed matrix calcification is highly suggestive of chondrosarcoma.
Radiography
Radiographs typically show a lucent lesion, which frequently contains matrix calcification, particularly in well-differentiated tumors. The degree of organization of the matrix calcification may be correlated with the grade of the tumor. Aggressive tumors contain irregular calcifications, and they often have large areas showing no calcification at all. Well-differentiated lesions tend to have more developed matrix; the typical appearance is of rings and arcs. (See the images below.) [7]
The margin of intramedullary lesions is determined by the degree of aggression of the tumor. It is frequently ill defined. Endosteal scalloping may be present; when its depth is more than two thirds the normal thickness of the cortex, this scalloping is useful in distinguishing chondrosarcoma from enchondroma, except in lesions of the hands and feet. Benign enchondromas in these areas may cause considerable cortical thinning; such enchondromas may occur as a pathologic fracture.
The presence of cortical destruction or a soft-tissue mass is indicative of malignancy. Destruction of matrix calcification that was previously visible in an enchondroma is indicative of malignant transformation.
Degree of confidence
Radiographs alone are often inadequate for assessing the size of the tumor; MRI is useful for demonstrating both the intramedullary extension and the soft-tissue extension of the lesion. CT scanning may be helpful in identifying matrix calcification in some lesions that appear entirely lucent on radiographs.
Computed Tomography
In as many as 90% of cases, tumors appear as lucent areas containing chondroid matrix calcification. Endosteal scalloping and cortical destruction are frequently easier to appreciate on CT scans than on radiographs. (See the images below.) [5, 9]
CT scanning may be used to guide percutaneous biopsy, and it is the modality of choice for investigating possible pulmonary metastatic disease.
Degree of confidence
CT scanning may often be used to successfully categorize the lesion as being of cartilaginous origin. The medullary extension of the lesion may be assessed more accurately with CT than with radiography. However, MRI is superior, and it is also the most useful modality for determining soft-tissue extension.
Magnetic Resonance Imaging
MRI typically demonstrates lobulated lesions of high signal intensity on T2-weighted images. Lobules are commonly separated by septa of low signal intensity. On T1-weighted images, the lesion generally displays low signal intensity. (See the images below.) [6, 7, 8, 9]
Areas of matrix calcification are shown as signal voids on images obtained with all sequences, but small amounts of calcification may not be identifiable. MRI may demonstrate large aggregates of calcium, but tiny scattered calcifications may be completely missed because of partial-volume averaging. MRI may be used to assess soft-tissue extension and the intramedullary extent of the tumor. MRIs may demonstrate endosteal cortical scalloping, but this feature is more easily assessed with CT.
MRI is useful in assessing the thickness of the cartilage cap of osteochondromas to identify chondrosarcoma transformation. Chondrosarcomas show variable patterns of enhancement after the administration of contrast material.
Degree of confidence
MRI is the method of choice for clarifying the intramedullary and extraosseous extension of a chondrosarcoma; features related to cortical bone and matrix calcification are more accurately assessed with CT.
Ultrasonography
Ultrasonography has no role in the evaluation of intramedullary lesions confined to the bone. It may demonstrate soft-tissue extension; therefore, it may be useful in guiding percutaneous biopsy.
Ultrasonography is useful as a means of assessing the thickness of the cartilage cap overlying an osteochondroma, although access to the lesion may be difficult in certain areas. If the cap measures more than 1.5 cm in a skeletally mature patient, transformation to chondrosarcoma may have occurred.
Nuclear Imaging
Central chondrosarcomas typically show significantly increased uptake of the radioisotope on isotopic bone scans, but differentiation between chondrosarcoma and enchondroma is unreliable. Uptake on isotopic bone scanning may indicate either metabolic activity in an osteochondroma or malignant transformation; these two conditions cannot be distinguished on the basis of such a finding. In the absence of an increase in uptake, malignancy is highly unlikely. [9]
What would you like to print?