Periprocedural Care
Equipment
Choice of needle systems is important. Sclerotic lesions require a trephine-type needle, such as the Ackerman or Craig needle (George Tiemann, Long Island City, NY). These needles consist of an outer trocar, which remains fixed in the lesion and allows the removal of more material without the need for repositioning.
The Ostycut needle (Angiomed/Bard, Karlsruhe, Germany) is a trephine-type needle with screw threads that allow easy advancement with a turning motion. A fine cutting needle, such as an 18-gauge spinal needle, an 18- to 22-gauge Chiba needle (Cook, Bloomington, IN), or a 20- to 22-gauge E-Z-EM needle (E-Z-EM, Westbury, NY), can be passed in a coaxial fashion through the outer needle or trocar to obtain material for histopathology. (See the images below.)
Core biopsy of subtle iliac bone lesion in a patient with pain and a history of breast cancer. Core specimens obtained with 14-gauge Ostycut needle. Pathologic results showed metastatic breast adenocarcinoma.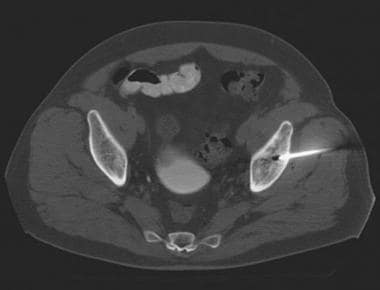 Biopsy of the left ilium in a patient with a history of lung cancer. A 14-gauge Ostycut needle was advanced following local anesthesia. Pathology results showed metastatic disease.
For lytic or destructive lesions, biopsy can be performed using any of a number of small-bore (18- to 22-gauge) needles, including the Chiba, E-Z-EM, and spinal needles. Additional options include small-bore fine needles that obtain core samples, such as the Franseen (Cook, Bloomington, IN), Rotex (Havel's, Cincinnati, OH), and Westcott (BD, Franklin Lakes, NJ) needles. (See the images below.)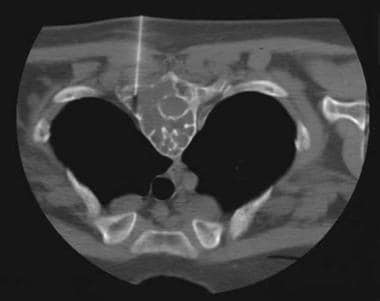 Fine-needle aspiration biopsy specimen from a destructive thoracic vertebral lesion. Sample was obtained using a 21-gauge Rotex needle. Pathology showed metastatic renal cell carcinoma. Core biopsy with a larger-bore needle could have resulted in bleeding and cord compression as a result of the hypervascular nature of the tumor.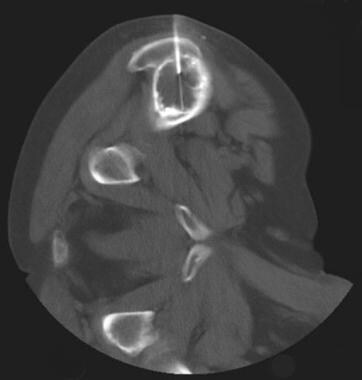 Coaxial insertion of a 21-gauge Rotex needle through an outer bone biopsy needle. Additional core needle specimens also were obtained. Pathologic diagnosis was fibroma.
In addition, automated core biopsy devices, such as the Tru-Cut needle (Baxter, Deerfield, IL) can be used to obtain slices of tissue for analysis, inserted either coaxially or directly into the lesion if frank cortical destruction or an associated soft-tissue mass is present.
An important consideration in choosing a needle system is the amount of tissue expected to be required for accurate pathologic diagnosis. Because the bore of a biopsy needle is inversely related to gauge, a smaller-gauge needle will yield a larger specimen for analysis. Thus, an 11-gauge Craig needle, for example, will yield significantly more specimen per pass than a 22-gauge Chiba needle. The choice of needle must therefore balance the need for a sufficient specimen against the increased local complications that may result from the use of a larger-bore (smaller-gauge) needle.
Some authors have proposed complementary roles for fine-needle aspiration (FNA) biopsy (FNAB) and core needle biopsy (CNB), suggesting that both be performed during each biopsy procedure. [20] The rationale behind this proposal is that there are instances when the specific diagnosis will be made by one technique and not the other, and thus, the overall accuracy of the procedure should be improved when both techniques are used.
Hodge found aspiration-type needles to perform well in the diagnosis of malignant disease and infection, with the added benefit of a smaller bore and no necessary skin incision. [21] Hodge also found cytopathologic and histopathologic specimens to have complementary roles in terms of increasing diagnostic accuracy. Additionally, an algorithm has been proposed that could direct the choice between FNAB and CNB on the basis of imaging findings and preprocedural differential diagnosis.
The final decision regarding the choice to perform FNAB, CNB, or both should depend on the cytopathologic resources available and the expected lesion pathology. [22]
Patient Preparation
Anesthesia
Many biopsies can be performed with only 1% lidocaine local anesthesia. For rib lesions, intercostal block can be performed with 0.25% bupivacaine. For deeper or painful lesions, conscious sedation with intravenous (IV) midazolam or diazepam and pain control with meperidine or fentanyl are employed. The needle tract can be anesthetized by using 1% lidocaine for added pain control during placement of the needle.
In children, as in adults, adequate sedation and pain control are required for patient comfort and safety. Frequently, IV sedation with pentobarbital (2-6 mg/kg) for children younger than 7 years or midazolam (0.05 mg/kg) for older children will achieve the desired effect. Fentanyl citrate (1-3 µg/kg IV) also may be used for pain control.
What would you like to print?