Overview
Overview
Cystic hygroma was first described in 1828 by Radenbacher. Cystic hygroma (meaning "moist tumor") belongs to a group of diseases now recognized as lymphatic malformations.
In cystic hygroma (shown in the ultrasonograms below), cavernous lymphatic spaces communicate and grow to form large cysts that can infiltrate the surrounding tissue. Cystic hygromas can be discovered before birth or in the neonatal period. Occasionally, the cystic hygroma may not be discovered until the patient is older.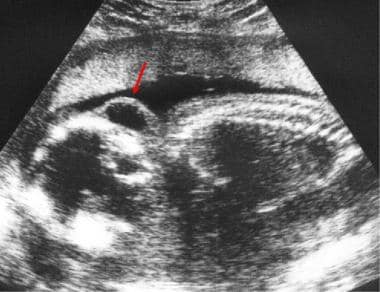 Oblique longitudinal ultrasonogram obtained through the fetal head and thorax. The red arrowindicates cystic hygroma. Note the normal pocket of amniotic fluid.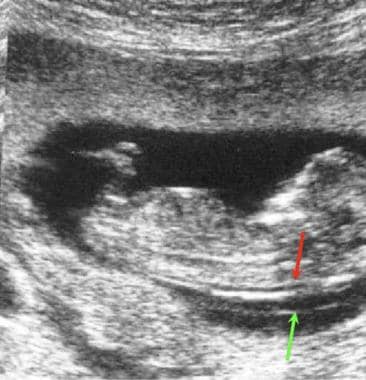 Normal nuchal translucency (red arrow) on a sagittal section in a fetus. The amniotic membrane is depicted separately (green arrow).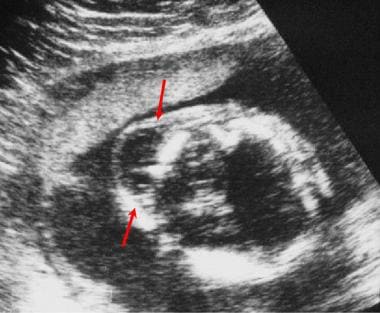 Oblique transverse ultrasonogram of the fetal skull shows posterior cystic hygroma (same patient as in previous image).
The discovery of a cystic hygroma has a variable effect and prognosis, depending on whether it is found in the prenatal or postnatal period. This article focuses on fetal cystic hygromas, that is, cystic hygromas that are discovered prenatally. [1]
Preferred examination
Ultrasonography (US) is the modality of choice for diagnosing fetal cystic hygromas. [2] US is readily available and noninvasive, and it is used extensively in pregnancy for fetal monitoring and diagnosis. Fetal positioning, maternal body habitus, and operator dependence can make the diagnosis of cystic hygroma with US difficult at times. [3, 4, 5] Moreover, the diagnosis can be missed, even with large fetal cystic hygromas, when severe oligohydramnios is present; the hygromas can be mistaken for pockets of amniotic fluid (as demonstrated in the image below).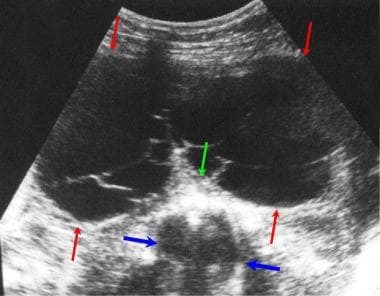 Ultrasonogram shows a massive posterior cystic hygroma (red arrows) behind the thorax (blue arrows). Image illustrates the potential for mistaking hygromas for pockets of amniotic fluid. Note the internal septa. The green arrowindicates the spine.
Computed tomography (CT) scanning uses ionizing radiation and is contraindicated in pregnancy unless overriding considerations are involved.
Plain radiography also uses ionizing radiation and is contraindicated. Moreover, the findings from plain radiographs are not helpful; cystic hygroma affects the soft tissue, so the images are unlikely to have good contrast.
Magnetic resonance imaging (MRI) can be used to assess the extent of infiltration of the cysts into the surrounding structures, but special fast MRI sequences must be used to overcome normal fetal movement. In addition, MRI requires a long acquisition time, the modality is expensive, and it is not readily available in all settings. [6, 7, 5]
Radiography
As previously mentioned, plain radiography is typically not used, because it employs ionizing radiation and because it cannot depict the internal contents of the soft-tissue mass in the neck.
Computed Tomography
CT scanning is avoided because it employs ionizing radiation. However, if the reasons to use CT scanning are overwhelming, the extent of pathology can be assessed with this modality.
Magnetic Resonance Imaging
The long acquisition times inherent in most MRI acquisition sequences make the use of MRI impractical unless special fast sequences are performed. In optimal settings, MRI can provide exquisite anatomic detail, and it can be especially helpful in identifying additional pathology, as well as in determining the extent of the disease.
On T1-weighted sequences, cystic hygromas present a low signal intensity; on T2-weighted sequences, they demonstrate a high signal intensity with low-signal septations of variable thickness. Hemorrhagic cysts or cysts possessing chylous lipid contents may demonstrate a high signal intensity on T1-weighted sequences. A fluid-fluid level has been recorded with hemorrhagic cysts. [6]
Gadolinium-based contrast agents have been linked to the development of nephrogenic systemic fibrosis (NSF) or nephrogenic fibrosing dermopathy (NFD). For more information, see the eMedicine topic Nephrogenic Systemic Fibrosis. NSF/NFD has occurred in patients with moderate to end-stage renal disease after being given a gadolinium-based contrast agent to enhance MRI or magnetic resonance angiography (MRA) scans. NSF/NFD is a debilitating and sometimes fatal disease. Characteristics include red or dark patches on the skin; burning, itching, swelling, hardening, and tightening of the skin; yellow spots on the whites of the eyes; joint stiffness with trouble moving or straightening the arms, hands, legs, or feet; pain deep in the hip bones or ribs; and muscle weakness. For more information, see Medscape.
MRI can be used with a high degree of confidence in the diagnosis of cystic hygroma. Usually, further imaging modalities are not needed if good-quality MRI studies are obtained. [7]
Although a hemangioma can appear similar to a cystic hygroma, the hemangioma usually is found in a different location, and after contrast is administered, feeding vessels may be seen, in addition to tumor enhancement.
Ultrasonography
It has been suggested that the prenatal diagnosis of cystic hygromas is particularly aided by transvaginal US. In fact, the condition is most often diagnosed by using prenatal US, and the findings can be striking and unmistakable. [3] The ultrasonographic characteristics of cystic hygromas are demonstrated in the images below.
The classic finding in cystic hygroma is a cystic mass with multiple septa (see the image below) that appears as multiple, asymmetrical, thin-walled cysts related to the posterior aspect of the neck. These masses are associated with aneuploidy.
If the hygroma is large, the cysts can extend to the lateral or even to the anterior aspects of the neck (as in the first image below). The presence of a nuchal ligament (see the second image below), which is demonstrated as a posterior midline band extending through the cyst, is a characteristic finding. [6, 8]
US remains an operator-dependent modality and must be performed by a trained individual who is skilled in evaluating fetal anomalies. A thorough fetal examination results in a high confidence level. Most often, US is the only technique that is necessary for prenatal diagnosis.
Fetal cystic hygromas should be differentiated from posterior encephaloceles (demonstrated in the image below), in which an underlying skull defect is present, and from cervical myelomeningoceles, in which an underlying vertebral defect is present.
Oligohydramnios can occur, but this is not a typical finding. When it does arise, it can limit the discovery of cardiac or other visceral abnormalities that can coexist with cystic hygroma. These abnormalities should be investigated. Some patients have features of hydrops, which may be diagnosed by identifying body wall edema, pleural effusions, and/or fetal ascites. [9]
As previously mentioned, the diagnosis of cystic hygroma can be missed, even with large fetal cystic hygromas, when severe oligohydramnios is present; the hygromas can be mistaken for pockets of amniotic fluid (as demonstrated in the image below).
A common artifact is caused by the presence of loops of umbilical cord near the cervical spine of the fetus. On occasion, these loops can simulate cervical cysts. A Doppler US evaluation demonstrates characteristic umbilical flow signals from this area. Fetal cystic hygroma must also be differentiated from other neck masses and cysts, such as anterior cystic hygromas, goiters, and cervical teratomas.
Compared with other masses, purely anterior cystic masses in the fetal neck have a different and better prognosis, and many resolve spontaneously.
What would you like to print?