Overview
Practice Essentials
Subchorionic hemorrhage (subchorionic hematoma) is the most common sonographic abnormality in the presence of a live embryo. Subchorionic hemorrhage is bleeding beneath the chorion membranes that enclose the embryo in the uterus and appears to occur because of partial detachment of the chorion membranes from the wall of the uterus. [1] Vaginal bleeding affects 25% of all women during the first half of pregnancy and is a common reason for first-trimester ultrasonography. Subchorionic hematoma occurs in 18-22% of intrauterine pregnancies with vaginal bleeding. [2]
Sonographic visualization of a subchorionic hematoma is important in a symptomatic woman because pregnant women with a demonstrable hematoma have a prognosis worse than women without a hematoma (see images below). However, small, asymptomatic subchorionic hematomas do not worsen the patient's prognosis. [3, 4, 5, 6, 7, 8, 9]
In women whose sonogram shows a subchorionic hematoma, the outcome of the fetus depends on the size of the hematoma, the mother's age, and the fetus's gestational age. [10, 11] Rates of miscarriage increase with advancing maternal age and increasing size of hematoma. Late first- or second-trimester bleeding also worsens the prognosis. The presence of sonographically detected subchorionic hemorrhage (subchorionic hematoma) increases the risk of miscarriage, stillbirth, abruptio placentae, and preterm labor.
Heller et al noted that the earlier in pregnancy a subchorionic hemorrhage is detected, the higher the rate of pregnancy failure. In this study, the rate of demise for hematomas diagnosed at or before 7 weeks was 19.6%, versus 3.6% for those diagnosed after 8 weeks. The overall rate of first-trimester pregnancy failure was 12.0%. [11]
The subchorionic hemorrhage (subchorionic hematoma) collects between the uterine wall and the chorionic membrane and may leak through the cervical canal. Later in the first trimester and early second trimester, the subchorionic hematoma may partially strip the developing placenta away from its attachment site. Therefore, the prognosis of patients with this type of hematoma is worse than the prognosis of patients with hematoma early in first trimester. [12, 13]
The subchorionic hematoma often regresses, especially if it is small or moderate in size. Large hematomas, which strip at least 30-40% of placenta away from endometrium, may enlarge further, compressing the gestational sac and leading to premature rupture of membranes with consequent spontaneous abortion.
Small hematomas on the surface of the placenta (subamniotic hemorrhage) are common at 18-20 weeks on ultrasound, but hemorrhages identified beneath the placenta, at the edge of the placenta, or behind an isolated area of the fetal membranes is of greater significance. Large intrauterine hematomas in the second trimester may compromise maternal health. [14]
In a meta-analysis of 7 studies that included 1735 women with subchorionic hematoma, hematomas were associated with an increased risk of early and late pregnancy loss, abruption, and preterm premature rupture of membranes. Sequela of subchorionic hemorrhage included one extra spontaneous abortion per 11 women and one extra stillbirth per 103 women. [15]
Massive subchorionic thrombohematoma (Breus' mole) has been diagnosed in the second trimester by ultrasound assessment of the placenta. Normal fetal growth and umbilical artery Doppler waveforms have been described as being associated with perinatal survival. [16]
The frequency of subchorionic hematoma has been shown to be high with infertility treatment by in vitro fertilization (IVF) (22.4%) versus non-IVF (11%). Frozen-thawed embryo transfer, parity of 1 or greater, and blastocyst transfer may be contributing factors in IVF patients. [17]
In a retrospective analysis of 1097 pregnancies achieved by IVF, subchorionic hematoma was associated with lower birth weight in singleton pregnancy, but did not increase pregnancy loss rate when compared to IVF pregnancies without subchorionic hematoma. In this series, subchorionic hematoma was more common in fresh embryo transfer pregnancies than in frozen-thaw embryo transfer pregnancies (16.6% versus 5.1%,). [18]
A review of 434 sonograms of singleton pregnancies between 6 and 11 weeks' gestational age with subchorionic hematomas determined the overall rate of first-trimester pregnancy failure was 12.0%. The rate of demise was significantly higher for hematomas diagnosed at or before 7 weeks (19.6%) than for those after 8 weeks (3.6%). [19] However, a cohort study of 760 twin pregnancies reported that a first trimester finding of subchorionic hematoma was not, on univariate analysis, significantly associated with gestational age at delivery, preterm birth, birthweight of either twin, low birthweight percentiles of either twin, fetal demise, or preeclampsia. [20]
Imaging modalities
Ultrasonography (US) is the imaging modality of choice for subchorionic hemorrhage (subchorionic hematoma) because it can be performed rapidly at the patient's bedside and because it has no known risk, as with radiation. [21, 22, 23]
The American College of Radiology (ACR) recommends transvaginal and transabdominal US for the initial evaluation of patients with abnormal vaginal bleeding in the first trimester of pregnancy. Transvaginal US is generally the preferred modality. Transabdominal US is often complementary to transvaginal US and may sometimes be adequate alone. [24]
The sensitivity of sonography is low and varies between 2 and 20%, as blood may pass vaginally and not collect in the subchorionic space. Hematomas may also appear isoechoic relative to the placenta.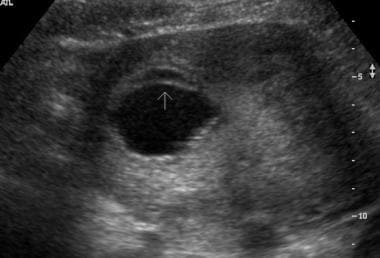 Transverse endovaginal scan of the uterus in a 45-year-old woman in 8th week of gestation. Small subchorionic hematoma is anterior to a gestational sac.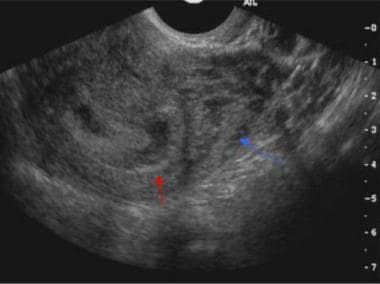 Sagittal endovaginal scan of the uterus demonstrates a small subchorionic hematoma (red arrow) in a 26-year-old woman in the 7th week of gestation. Also note the prominent retroplacental veins (blue arrow), which are normal in pregnancy.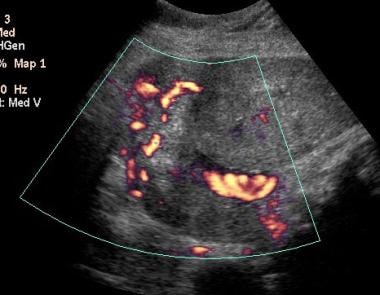 Color Doppler scan in a 21-year-old woman in 33rd week of pregnancy demonstrates prominent retroplacental vessels mimicking a retroplacental hematoma.
Computed Tomography
CT scanning is relatively contraindicated during pregnancy because of the risk of radiation to the fetus. Pregnant patients may undergo CT for reasons such as an evaluation of trauma or acute abdomen. Scans may show an incidental or injury-related hyperattenuating subchorionic hemorrhage (subchorionic hematoma).
The sensitivity of CT may be high compared to that of sonography. However, because of the risk of radiation with CT, no large comparisons of the 2 modalities have been reported.
Normal chorioamniotic separation should not be confused with placental abruption.
Magnetic Resonance Imaging
MRI is not routinely performed to detect subchorionic hemorrhage (subchorionic hematoma); a more common indication is the detection of fetal anomalies. [25, 26] MRI may incidentally show a subchorionic hematoma and help in characterizing and determining the acuity of the hematomas by showing changes in signal intensity produced by various blood products. T1-weighted spin-echo and gradient-echo images are particularly useful in evaluating the hemorrhage.
In one study, fetal MRI techniques were evaluated to determine whether they were sufficient for the assessment of placental pathologies, and based on the study findings, MRI was considered by the authors to be a promising tool for the assessment of placental insufficiency. Pathologically, 26 placentas showed infarctions (96.2% on MR scans); 2 retroplacental hematomas were detected by MRI and confirmed by pathology; 9 of 14 subchorionic hematomas were confirmed; 6 of 8 intervillous hemorrhages were seen on MRI; and 3 of 6 cases of severe chorioamnionitis were diagnosed prenatally. [27]
Fetal motion sometimes limits MRI. However, the observer can confidently determine the age of the blood products.
Ultrasonography
Acute subchorionic hemorrhages (subchorionic hematomas) vary in echogenicity and are seen between the chorion and the uterine wall on sonograms (see images below). Isoechoic hematomas may be missed on initial sonograms, or they may be recognized as heterogeneous and thickened placentas.
Color Doppler sonography may help in distinguishing the avascular hematoma from the highly vascular placenta. Follow-up sonography may also help in resolving hematomas.
A subchorionic hematoma can be considered large if it is greater than 50% of the size of the gestation sac, medium if it is 20-50%, and small if it is less than 20%. Large hematomas by size (>30-50%) and volume (>50 mL) worsen the patient's prognosis.
Hematomas may resolve over 1-2 weeks. During this time, they may be seen as complex fluid collections with mixed echogenicity. In addition, sonographic findings also confirm fetal viability [28] and can help in differentiating and diagnosing other conditions associated with miscarriage in the first trimester, such as ectopic pregnancy, blighted ovum, and twin gestation.
Follow-up ultrasonography should be performed as clinically indicated.
Degree of confidence
Ultrasonography lacks high sensitivity for small bleeds. However, it is the most useful modality in a pregnant patient with vaginal bleeding. The finding of a subchorionic or retroplacental hematoma as demonstrated on sonography performed immediately after an episode of vaginal bleeding indicates a prognosis worse than that expected if no hematoma were seen. [21, 22, 29, 30, 31]
Uterine fibroids or focal myometrial contractions (see image below) can cause the placenta to appear thickened, or they may look like subchorionic or retroplacental hematomas. Hematomas are avascular on color Doppler scanning. Fibroids have a characteristic hypoechoic appearance with or without calcifications and typical peripheral blood flow in color Doppler images. Color flow is seen in contracted myometrium, and transient myometrial contractions usually resolve within 30 minutes of scanning.
Chorioamniotic separation has an anechoic appearance and usually resolves by 16 weeks. It can be distinguished from an anechoic hematoma by finding elevation of the membrane in chorioamniotic separation that extends over the fetal surface of the placenta and that terminates at the origin of the umbilical cord. The amniotic membrane is also thinner than the chorionic membrane (see image below).
Primary intra-amniotic hemorrhage can occur with a large subchorionic hematoma, with trauma, or with an invasive procedure such as chorionic villous sampling [32] or amniocentesis. Floating echoes (see Image below) or echogenic clots may be seen in the amniotic cavity.
Hematomas of the umbilical cord are rare and may result from amniocentesis and sampling of blood from the umbilical cord. These hematomas are seen as echogenic masses limited to the cord itself.
Prominent retroplacental and myometrial vessels should be distinguished from heterogeneous bleeding. The vessels appear as serpentine, anechoic structures and demonstrate flow on color Doppler sonography (see images below); these features differentiate them from avascular hematomas.
What would you like to print?