Overview
Overview
Twin-to-twin transfusion syndrome (TTTS) occurs in monochorionic (MC) twins and is due to arteriovenous anastomosis in the shared placenta. The donor twin is small and anemic. The recipient twin is polycythemic, large, and at risk for high-output cardiac failure. The mortality rate is 40-90%, with both twins at risk.
Ultrasonography remains the cornerstone test in the diagnosis of twin-to-twin transfusion syndrome (TTTS). [1] Most fetal interventions are currently ultrasonographically guided. Monochorionic (MC) twin gestations are high-risk pregnancies, largely related to the vascular anatomy of the shared placentae and to the presence of intertwin vascular connections. These anastomoses are implicated in TTTS and in co-twin sequelae after the intrauterine death of 1 twin. Obstetric Doppler sonography can be used to assess these high-risk pregnancies and to interrogate the vascular connections in the shared placentae. The information obtained may help inform obstetric management. [1, 2, 3, 4, 5, 6, 7]
After birth, premature infants may need to undergo transcranial ultrasonography, as premature twins are susceptible to intraventricular hemorrhage and periventricular leukomalacia. Echocardiography may depict myocardial dysfunction, myocardial hypertrophy, valvular insufficiency, and/or pericardial effusions in either twin. Renal ultrasonography may depict altered renal echogenicity, which indicates hypoxic-ischemic cortical necrosis. Infants with hydrops may also need to be examined with abdominal sonography to detect ascites due to hydrops.
Conventional radiography has no role in the diagnosis or management of TTTS. A chest radiograph is sometimes required to detect pleural effusions and cardiomegaly in hydrops fetalis. Magnetic resonance imaging (MRI) is potentially useful in preoperative planning. Virtual navigation during fetal surgery is now possible as a result of shortened MRI acquisition times and volume-rendering software. Both Computed tomography (CT) scanning and MRI can be used in neonates to diagnose cerebral complications of TTTS.
See the images below.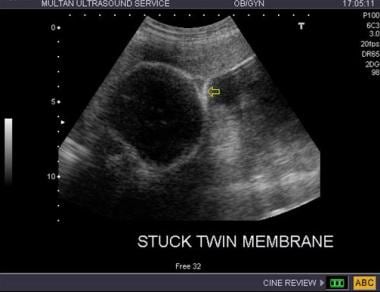 Twin-twin transfusion syndrome. Stuck twin: the arrow points to the membrane surrounding the "stuck" twin; note the absence of liquor in the amniotic cavity of the stuck twin.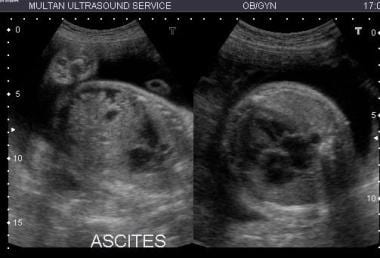 Twin-twin transfusion syndrome. The recipient twin has ascites, and there is some evidence of cardiomegaly with a biventricular component. It is felt that the recipient twin develops hypertension. The presence of cardiomegaly in the recipient is a marker of significant morbidity.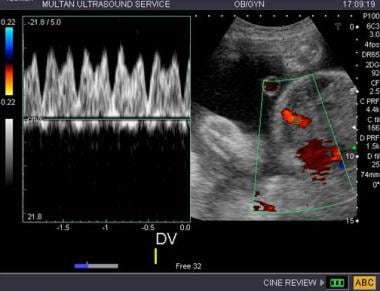 Twin-twin transfusion syndrome. The ductus venosus flow in the recipient twin is still within acceptable limits, though the atrial contraction "a" wave is almost reaching the baseline. Such a flow pattern needs to be monitored closely.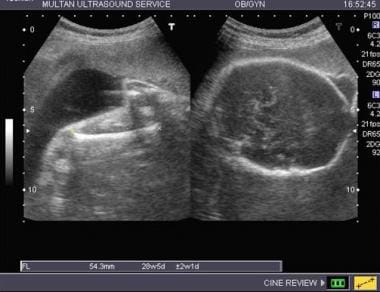 The donor twin with a femur length of 54 mm. Note that the inter-twin membrane is tightly applied against the head, noted at 3 o'clock in the image pane on the right.
Perinatal outcomes improve with serial amniocentesis, with survival rates of 37-83%, though the complication rate from large amniocentesis is 1.5-8%. Ultrasonographic findings include discordance in fetal weight, discordance in the volume of amniotic fluid, fetal hydrops, disparity in the relative size and number of cord vessels, a single placenta with areas of disparity in the echogenicity of the cotyledons supplying the 2 cords, same-sex fetuses, and an inability to visualize the donor's bladder while the recipient's bladder is enlarged. [8, 9]
Vanderbilt and associates studied 262 consecutive laser-treated twin-to-twin transfusion syndrome patients with an objective to identify risk factors for cerebral lesions among survivors of twin-to-twin transfusion syndrome treated with laser surgery. This cohort showed low rates (4-7%) of severe neonatal cerebral lesions, with prematurity being the primary risk factor. [10]
Staging of TTTS
Quintero et al developed a staging classification of TTTS based on clinical and sonographic criteria. [11] The stages of TTTS defined by using the proposed criteria have prognostic significance. This staging system may allow for a comparison of outcome data of TTTS with different treatment modalities.
TTTS is staged as follows:
Stage I - The bladder in the donor twin is still visible.

Stage II - The bladder in the donor twin is no longer visible, but no critically abnormal findings are observed on Doppler studies.

Stage III - Doppler studies are critically abnormal.

Stage IV - Hydrops is present.

Stage V - The demise of 1 or both twins has occurred.
Severe TTTS is defined as the presence of polyhydramnios (maximum vertical pocket of at least 8 cm) and oligohydramnios (maximum vertical pocket of less than 2 cm). Nonvisualization of the bladder in the donor twin with or without hydrops is noted. The middle cerebral artery, umbilical artery, ductus venosus, and umbilical vein in both fetuses are assessed with pulsed Doppler sonography. Critically abnormal Doppler studies are defined as absent or reversed end-diastolic velocity in the umbilical artery, reversed flow in the ductus venosus, or pulsatile flow in the umbilical vein.
Magnetic Resonance Imaging
Luks et al studied the feasibility of preoperative planning with MRI and computerized volume rendering in TTTS. [12, 13, 14] They examined 2 patients after TTTS was sonographically diagnosed and the indications for intervention were confirmed. The 2 patients had anterior placentas and underwent MRI without the need for maternal or fetal sedation. Three-dimensional (3D) and volume rendering were performed by computerized data and surgical-navigation software.
In both patients, a virtual rendering of the fetuses, placenta, and uterus could be manipulated to expose all sides, to demonstrate the location of the intertwin membrane, and to plan the point of entry and the curve of the endoscopic instruments. The results indicated that preoperative planning and virtual navigation are now possible in fetal surgery because of shortened MRI times and volume-rendering software.
Ultrasonography
Ultrasonographic features of twin-to-twin transfusion syndrome (TTTS) include the following (see also the images below) [1] :
Monochorionic (MC) twins with a single placenta, with visualization of a separating membrane

Midtrimester polyhydramnios-oligohydramnios sequence in the absence of other causes of an abnormal volume of amniotic fluid [15]

Discordance in fetal size, with the larger twin in the polyhydramnios sac and the smaller twin stuck against the uterine wall

Weight discordance between the fetuses, which may be 20% or more
In addition, the donor's bladder may not be visualized, whereas the recipient's bladder may be enlarged. The classic image of the stuck twin is that of 1 twin "plastered," or stuck, at the front of the uterus (see the image below). By gravity, that twin should fall downward. Even if the mother's position is changed, the stuck twin remains in the same position. [16, 2, 3, 4, 5]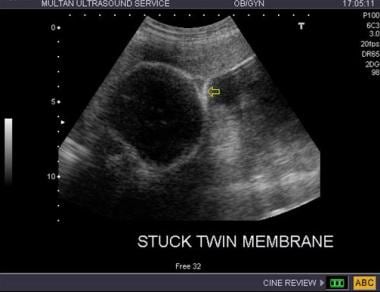 Twin-twin transfusion syndrome. Stuck twin: the arrow points to the membrane surrounding the "stuck" twin; note the absence of liquor in the amniotic cavity of the stuck twin.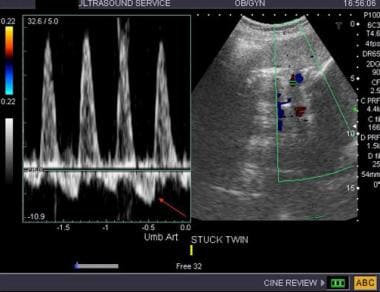 Twin-twin transfusion syndrome. Umbilical artery Doppler of the donor (stuck) twin shows diastolic reversal (arrow). This is a predictor of poor outcome.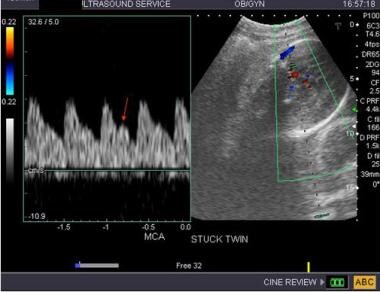 Twin-twin transfusion syndrome. Middle cerebral artery Doppler of the donor (stuck) twin shows high diastolic flow (arrow), suggesting a brain-favoring effect and fetal adaptation to hypoxemia.
Folding of the intertwin membrane occurs in about 25% of MC twins, [17] and about half of these twins subsequently develop severe TTTS. Another finding is an abnormal Doppler systolic-diastolic (S/D) ratio at the umbilical cord, which is absent end-diastolic flow in the donor's umbilical artery accompanied by venous pulsation in the recipient's umbilical vein. This sign is usually associated with a poor prognosis. On the contrary, the antenatal detection of artery-to-artery anastomosis is predictive of improved perinatal and double survival in TTTS, independent of the stage of disease. [18]
Hydrops or evidence of congestive cardiac failure may be seen in either twin but is most common in the recipient twin.
About 15% of MC twins with arterioarterial anastomoses develop TTTS. [19] Sebire et al reported that an increased thickness of the nuchal translucency at 10-14 weeks of gestation is a predictor of severe TTTS. [20] This finding demonstrated the underlying hemodynamic changes associated with TTS.
Senat et al assessed the value of the peak systolic velocity of the middle cerebral artery in predicting anemia within 24 hours of the death of 1 MC twin in TTTS and to correlate this velocity with hemoglobin concentration in fetuses at risk for acute anemia. [21] In such fetuses, the peak systolic velocity of the middle cerebral artery was a reliable and noninvasive diagnostic tool and may be helpful in counseling and planning for invasive assessment. The sensitivity and specificity were both 90%, with a false-negative rate of 10%.
The cocoon sign is present in at least 15% of patients with TTTS. Its recognition is important to prevent a misdiagnosis of TTTS. The cocoon sign is diagnosed when sonograms show a donor twin with severe oligohydramnios that is enveloped by dividing membranes and connected to the uterine wall by a laminar stalk of these membranes. [22, 6]
In TTTS, the recipient twin has progressive biventricular hypertrophy with predominant right ventricular systolic and biventricular diastolic dysfunction. Despite amnioreduction, the cardiovascular disease persists and even progresses in many recipient twins. [23, 24]
De Vries et al described 2 patients with lenticulostriate vasculopathy associated with TTTS. Lenticulostriate vasculopathy can be seen in an increasing number of clinical conditions, among which congenital infections and chromosomal abnormalities are best known. On transfontanelle sonography, the small arteries supplying the basal ganglia are indistinct from the brain parenchyma in normal infants. Bright, linear branched-candlestick stripes in these regions suggest lenticulostriate vasculopathy. [25]
Degree of confidence
Sonography is useful in predicting placentation, a process that may be helpful in predicting fetal outcome. In severe cases, the diagnosis of twin-to-twin transfusion syndrome (TTTS) is generally straightforward when imaging shows a single placenta with massive polyhydramnios in the sac of the recipient twin and a stuck donor twin attached to the uterine wall. Poor mobility and obvious growth discordance are often present. Mild forms may be difficult to diagnose because of the lack of uniform criteria. However, this possibility should be suspected whenever the amniotic fluid differs between the amniotic cavities regardless of the weight discordance between the twins.
The overall sensitivities and specificities of spectral and color Doppler ultrasonography in MC twins for in vivo detection of arterioarterial anastomoses are 85% and 97.3%, respectively. Detection rates increase with late gestations, with anterior placentas, and with large-diameter arterioarterial anastomoses. When arterioarterial anastomoses are identified, 15% of pregnancies develop TTTS, as compared with 61% when no arterioarterial anastomoses are seen (odds ratio, 8.6).
False positives/negatives
False-positive diagnoses are possible with twin oligohydramnios-polyhydramnios sequences and dichorionic twin pregnancies with fused placentas and growth retardation.
What would you like to print?