Overview
Overview
Congenital lobar emphysema (CLE) is a potentially reversible though possibly life-threatening cause of respiratory distress in the neonate. Congenital lobar emphysema is most often detected in neonates or identified during in utero ultrasound. Anomalies are infrequent and usually present at birth. Lobar distention can be visible during in utero ultrasound as an overinflated, fluid-filled lobe; in less severe cases, the diagnosis is made in infancy or childhood. [1, 2, 3, 4, 5] CLE rarely occurs in adults. [6, 7]
The clinical diagnosis of CLE can be challenging, and chest radiography is often diagnostic. Key findings include hyperlucency on the affected side with ipsilateral atelectasis, widened rib spaces, and diaphragmatic flattening. The mediastinum may be displaced away from the affected side and may herniate into the contralateral hemithorax. Pneumonia is a common misdiagnosis for CLE. [8]
See the images below of congenital lobar emphysema.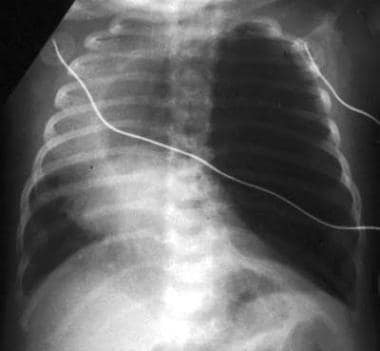 A frontal radiograph of the chest in a neonate shows marked overdistention of the left upper lobe with mediastinal shift to the right.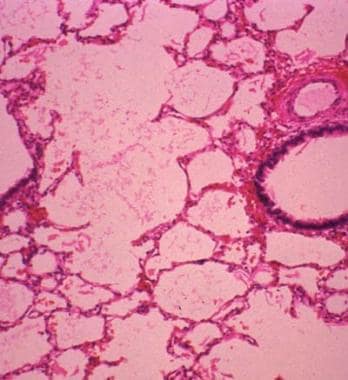 Histopathology of congenital lobar emphysema with marked overdistention of all alveoli.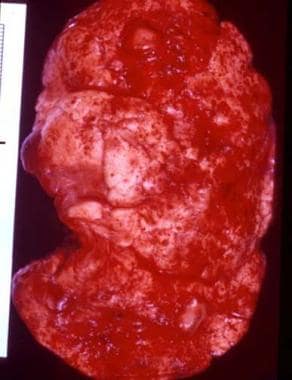 Resected lobe is overexpanded and shows no other intrinsic abnormality.
CLE almost always involves one lobe, with rates of occurrence as follows:
Congenital lobar emphysema has 2 forms:
Hypoalveolar (fewer than expected number of alveoli)

Polyalveolar (greater than expected number of alveoli)
The thorax on the involved side is hyperresonant with decreased or absent breath sounds and transillumination. Progressive respiratory distress from birth reflects the degree of emphysema; symptoms are at their worst in the first month. Occasionally, patients present in later childhood or adulthood.
Congenital lobar emphysema (ie, congenital lesion) should be differentiated from Swyer-James syndrome (ie, acquired pulmonary abnormality secondary to infection).
In Swyer-James syndrome, infection results in the following:
"Pruning" of peripheral pulmonary vasculature

Small but hyperlucent lung (as the opposite, normal lung grows, the involved lung does not grow and appears more radiolucent)
Swyer-James, like CLE, appears as hyperlucency localized to one or several lobes of the lung with the entire affected lung having markedly reduced parenchyma and vascular density. The key distinguishing factors that differentiate Swyer-James from CLE is an acquired form of segmental emphysema that arises as a sequela of bronchopulmonary infection in childhood resulting in bronchiolitis obliterans and distal airspace destruction. [7]
Radiography
Radiography of the chest in anteroposterior and lateral projections identifies the involved lobe, the degree of involvement, and the effect on surrounding structures. [9] If a decubitus position radiograph is obtained, the involved lung does not collapse.
See the radiographic images of congenital lobar emphysema below.
A large, hyperlucent lung with attenuated but defined vascularity is observed. Compression of the remaining lung on that side, flattened hemidiaphragm, and widened intercostal spaces also are seen. An involved lung is seen herniated across the anterior midline. On a lateral view, the heart is displaced posteriorly with retrosternal lucency representing an anteriorly herniated lobe.
The lobe is unchanged during exhalation or after placing the patient in the ipsilateral decubitus position. Chest fluoroscopy shows fixed lung and hemidiaphragm on the involved side. The radiographic appearance is characteristic of congenital lobar emphysema (CLE) and usually is not suggestive of other diagnoses.
Imaging pearls
Be certain a mucous plug is not present, which can obstruct a bronchus, creating a "check valve" phenomenon that partially obstructs an airway.
Similarly, extrinsic masses, such as a congenitally large pulmonary artery (as in the absence of the pulmonary valve), can create emphysema from partial bronchial obstruction.
Usually, with careful image analysis, cystic lung disease does not mimic CLE; however, hypoplasia or agenesis of the contralateral lung may result in marked compensatory hyperexpansion of the lung, which can closely resemble CLE.
Computed Tomography
Computed tomography scanning can provide details about the involved lobe and its vascularity, as well as information about the remaining lung.
See the CT images of congenital lobar emphysema below.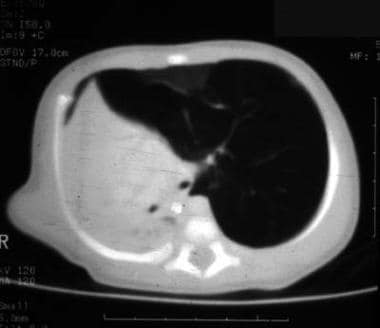 Computed tomography scan of the patient shows marked hyperaeration of the left upper lobe and mediastinal shift to the right.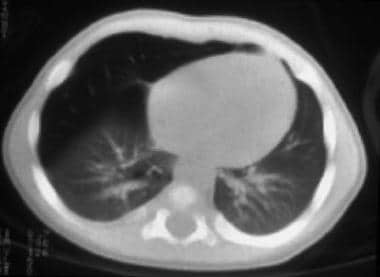 Computed tomography scan indicates moderate hyperaeration of the right middle lobe.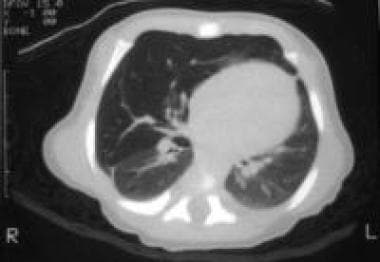 Computed tomography scanning demonstrates the characteristic appearance of polyalveolar congenital lobar emphysema of the right middle lobe. Overdistention is mild, and vascularity is fairly well developed. The left lung is compressed but not hypoplastic. Lung hypoplasia is almost invariably on the right.
CT scan shows a hyperlucent, hyperexpanded lobe (attenuated but intact pattern of organized vascularity) with midline substernal lobar herniation and compression of the remaining lung. [10] Usually, the mediastinum is significantly shifted away from the side of the abnormal lobe.
Magnetic Resonance Imaging
MRI can be used as an adjunct modality to evaluate vascular supply and distribution to the involved lobe but is not routinely employed. In congenital lobar emphysema, the abnormal lobe usually has a normal vascular supply.
Ultrasonography
In utero sonography may show a large, fluid-filled lobe; mediastinal herniation can be seen. A prenatal diagnosis of congenital lobar emphysema is not made as frequently as in other intrapleural fetal masses.
Variants include other causes of uneven lung expansion. In the neonate, a large pulmonary artery or mediastinal mass can compress the bronchus with overinflation of a lobe. Even the presence of a bronchial mucous plug can result in overinflation of a lobe. Infants with bronchopulmonary dysplasia often have uneven inflation of the pulmonary lobes related to bronchial cellular plugs or bronchial fibrosis, rendering the bronchus noncompliant.
Nuclear Imaging
Ventilation-perfusion scanning demonstrates characteristic results (see the image below).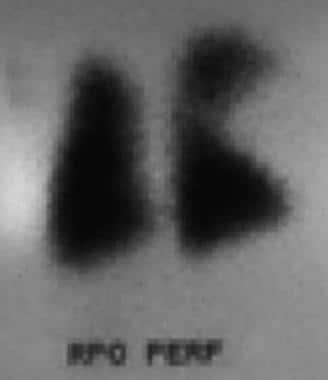 Perfusion scan in right posterior oblique (RPO) projection shows virtually no perfusion of the right middle lobe.
Ventilation is initially diminished in the affected lobe, but ultimately, isotope retention is seen because of delayed emptying of alveoli in the emphysematous lobe. The markedly attenuated vascularity of the involved lobe results in decreased perfusion of the enlarged lobe.
What would you like to print?