Overview
Overview
Necrotizing enterocolitis (NEC) is a serious gastrointestinal disease of neonates. Its etiology is unknown. NEC is characterized by mucosal or transmucosal necrosis of part of the intestine. Infants born before term who are undersized and ill are most susceptible to NEC; the incidence of NEC is increasing because of the improved survival rate in the high-risk group of premature infants. [1, 2, 3, 4, 5, 6, 7] (See the images below.)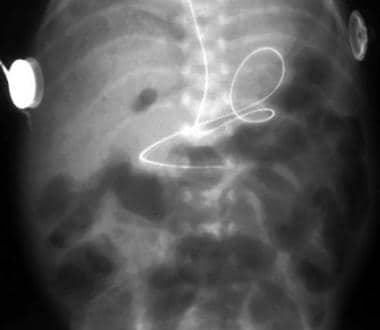 The radiograph demonstrates multiple dilated loops in the large bowel and small bowel. Note the pneumatosis intestinalis with bubbly and linear gas collections in the bowel wall.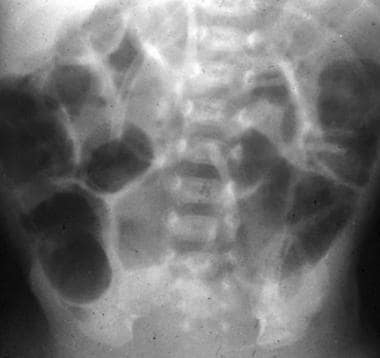 Increasing pneumatosis intestinalis is seen in this radiograph.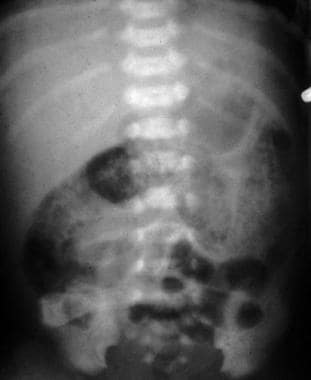 Anteroposterior image shows necrotizing enterocolitis with pneumatosis intestinalis.
Radiography
Infants suspected of having NEC should undergo periodic radiography of the abdomen. In some centers, infants in whom NEC is highly suspected undergo routine frontal abdominal radiography every 4-6 hours.
Cross-table lateral examinations with a horizontal beam are useful for detecting subtle, early collections of free air, although some clinicians prefer to use lateral decubitus radiographs to detect free air (see the images below). In the presence of peritoneal adhesions, keeping the patient in the decubitus position for a prolonged period ensures that the air moves to the highest point.
Imaging findings
Radiography is sufficient for an accurate diagnosis of NEC; the presence of air on a horizontal-beam radiograph is sufficient for diagnosing a bowel perforation.
Abdominal radiographs may demonstrate multiple dilated bowel loops that display little or no change in location and appearance with sequential studies. Pneumatosis intestinalis—gas in the bowel wall that displays a linear or bubbly pattern—is present in 50-75% of patients. (See the images below.)
Portal venous gas and gallbladder gas are indicative of serious disease. Pneumoperitoneum indicates a bowel perforation. (See the image below.)
Computed tomography (CT) scanning or a water-soluble enema examination may be used to demonstrate pneumatosis or a site of perforation. (See the image below.)
A high index of suspicion is essential for the diagnosis of NEC.
Small amounts of free air may not be easily visible on supine abdominal radiographs. Thickening of the bowel wall may not be easily observed in the presence of a dilated bowel.
Computed Tomography
The use of CT is not advocated for the diagnosis of NEC or for identifying the presence of free air. CT scanning or an examination with a water-soluble enema may be used to demonstrate pneumatosis or a site of perforation.
Ultrasonography
Ultrasonography of the abdomen characteristically shows thick-walled loops of bowel with hypomotility. Intraperitoneal fluid is often present.
In the presence of pneumatosis intestinalis, gas is seen in the portal venous circulation within the liver. [8]
What would you like to print?