Overview
Overview
Upper gastrointestinal bleeding (UGIB) is defined as hemorrhage that emanates proximal to the ligament of Treitz. It is a common and potentially life-threatening condition. More than 350,000 hospital admissions are attributable to UGIB, which has an overall mortality rate of 10%. Although more than 75% of cases of bleeding cease with supportive measures, a significant percentage of patients require further intervention, which often involves the combined efforts of gastroenterologists, surgeons, and interventional radiologists. [1, 2, 3, 4]
See the images below.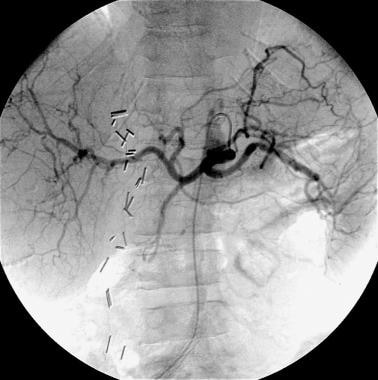 Case 1. Celiac arteriogram obtained in a patient with duodenal ulcer bleeding that was documented endoscopically reveals standard celiac anatomy. No obvious hemorrhage from the gastroduodenal artery is seen.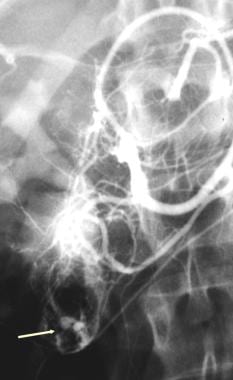 Bleeding from duodenal leiomyoma. Gastroduodenal arteriogram showing a duodenal mass with active contrast extravasation (arrow).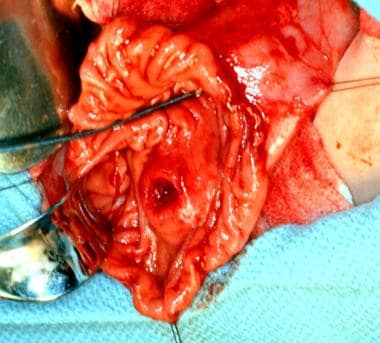 Duodenal resected specimen showing a submucosal mass with a central ulceration (arrow) (same patient as previous image).
For more information on this topic, see Upper Gastrointestinal Bleeding.
The first decision point in managing GI bleeding is defining the site and cause of bleeding: is it an upper GI or a lower GI hemorrhage? [5, 6]
Clinically, UGIB often causes hematemesis (vomiting of blood) or melena (passage of stools rendered black and tarry by the presence of altered blood). The color of the vomitus depends on its contact time with the hydrochloric acid of the stomach. If vomiting occurs early after the onset of bleeding, it appears red; with delayed vomiting, it is dark red, brown, or black. Coffee-ground emesis results from precipitation of blood clots in the vomitus. Hematochezia (red blood per rectum) usually indicates bleeding distal to the ligament of Treitz. Occasionally, rapid bleeding from an upper GI source may result in hematochezia.
The rate and extent of hemorrhage, coupled with the patient's comorbidities, determine the clinical presentation of UGIB. Endoscopy is a critical early intervention that can be used to establish the source of bleeding, and it also offers therapeutic options. If bleeding cannot be controlled by means of endoscopy, further interventions with catheter-directed embolotherapy or surgery may be warranted. [7]
Preferred examination
Upper endoscopy is the initial procedure of choice for the evaluation of acute upper gastrointestinal bleeding. Early endoscopy allows estimation of the rate of recurrent bleeding and enables various therapeutic options. It is also helpful in diagnosing and treating variceal bleeding. Recent studies have shown that early endoscopy is associated with lower healthcare costs and improved medical outcomes, compared with other procedures. However, upper GI endoscopic findings are nondiagnostic in about 10% of cases. [8, 9, 10, 11]
If endoscopy has failed to reveal a bleeding source or if the bleeding cannot be controlled, angiography is used for diagnosis and therapy. Angiography has been shown to depict the source with bleeding rates as low as 0.5 mL/min. If no active bleeding is identified angiographically in a patient with documented recurrent bleeding by endoscopy, prophylactic embolization of the left gastric artery or the gastroduodenal artery may be performed to control gastric or pyloroduodenal bleeding, respectively.
With advances in both endoscopic and angiographic techniques, surgical options are often limited in acute UGIB because of its morbidity and mortality rates. In the setting of recurrent variceal bleeding that is refractory to endoscopic control, the use of transjugular intrahepatic portosystemic shunts (TIPS) is preferred in the management of patients with a Child class B condition and in some with a Child class C condition. Currently, upper GI barium examinations have no role in the diagnosis of acute UGIB.
Limitations of techniques
Endoscopy is often the first-line diagnostic examination and treatment option for upper gastrointestinal bleeding. However, findings can be nondiagnostic in about 10% of cases. For example, in the setting of massive UGIB, endoscopy may not be helpful because intraluminal blood cannot be adequately cleared. Angiography is limited by the rate of bleeding, which usually must be at least 0.5 mL/min before it is detected. Its accuracy in the detection of acute UGIB is 90%, and it is helpful in assessing occult UGIB.
A positive angiographic finding of bleeding is needed to initiate embolization, except in cases in which bleeding has been localized before—for example, in the left gastric artery (LGA) or gastroduodenal artery. In these situations, prophylactic embolization is helpful. Prophylactic embolization of the LGA without prior documented bleeding is advocated because almost 90% of patients with this condition survive if the bleeding is controlled. The left gastric artery is involved in 85% of cases of UGIB.
For patient education information, see the Esophagus, Stomach, and Intestine Center, as well as Gastrointestinal Bleeding.
Radiography
Plain radiographs of the abdomen are not usually helpful in the diagnosis of acute upper gastrointestinal bleeding (UGIB). The pathophysiology of acute UGIB is often mucosal erosion with subsequent hemorrhage, which is not detected with plain radiographs. Occasionally, free air under the diaphragm is seen in cases of perforated viscous, and this may be accompanied by UGIB. Other etiologies, such as upper GI masses (which usually result in chronic, not acute, UGIB), aneurysms with calcifications, and ascites suggestive of portal hypertension, may be seen on radiographs. [12]
The radiographic findings, as outlined above, are usually nonspecific. Calcifications associated with aneurysms, in the aorta or branch vessels, are reliable but rare findings regarding a source of upper gastrointestinal bleeding.
Computed Tomography
Usually, abdominal CT is not used in the evaluation of acute upper gastrointestinal bleeding from arterial sources, although it has been helpful in some series. However, in the detection of UGIB from pseudoaneurysms of the mesenteric vessels, branches of the celiac axis, or aortoenteric fistulas, it is the study of choice. In addition, in the evaluation of masses of the upper GI system or liver tumors that may be contributing to hemobilia, CT is an excellent modality. Occasionally, hemorrhage into the peritoneum can be detected on CT scans. [13, 14]
See the images below.
In the setting of portal hypertension, the presence of varices and the patency of the portal and splenic veins can be evaluated prior to a transjugular intrahepatic portosystemic shunt (TIPS) procedure or splenic artery embolization.
Degree of confidence
CT is currently not the study of choice in the evaluation of acute upper gastrointestinal bleeding. If occult bleeding from masses or aneurysms is suspected, CT may be helpful. However, small pseudoaneurysms, small bowel tumors, and small biliary tumors can easily be missed by CT. In the catastrophic situation of aortoenteric fistula, CT may be helpful in detecting an early leak.
False positives and negatives
The usual drawbacks of upper abdominal CT for the evaluation of subtle lesions also apply to the use of this modality in the evaluation of upper gastrointestinal bleeding. These include underopacification of bowel loops, suboptimal visualization of the biliary system and small visceral aneurysms, and difficulty in evaluating the esophagus.
Magnetic Resonance Imaging
MRI has a limited role in the evaluation of acute upper gastrointestinal bleeding (UGIB) from arterial sources. In the setting of aneurysms and pseudoaneurysm, magnetic resonance angiography may be helpful in depicting the vascular abnormalities. With magnetic resonance cholangiography, the depiction of subtle biliary abnormalities may be helpful in cases of hemobilia. MRI is comparable to CT in the evaluation of masses that cause UGIB.
Similar to CT, MRI has no real role in the assessment of acute upper gastrointestinal bleeding. It may be helpful in depicting small visceral pseudoaneurysms or masses, but a normal MRI finding is often only a starting point for further investigation.
Ultrasonography
Ultrasonography has no role in the setting of acute upper gastrointestinal bleeding (UGIB). It may be helpful in establishing portal vein patency prior to transjugular intrahepatic portosystemic shunt (TIPS) placement in patients with variceal bleeding. Cross-sectional CT or MRI is used to detect occult sources of UGIB.
Nuclear Imaging
Tagged-RBC and sulfur colloid studies are not generally used for the evaluation of upper gastrointestinal bleeding (UGIB). The diagnosis of UGIB is usually established with clinical parameters and endoscopic means. Nuclear medicine studies are usually reserved for the investigation of lower gastrointestinal bleeding in areas that cannot be reached with endoscopy because of anatomical or technical reasons (ie, brisk bleeding). [13, 15]
In addition, significant artifacts associated with nuclear medicine bleeding scanning can be present in the upper abdomen; these are caused by cardiac and vascular activity and breathing motion. Blood from UGIB often pools in the cecum, and the exact site of bleeding is often difficult to ascertain.
Angiography
Angiography is often the next step if medical management or endoscopy fails to control upper gastrointestinal bleeding (UGIB). Angiography is minimally invasive; it often allows precise localization of bleeding; and it enables the use of therapeutic options, which include embolization or vasopressin infusion. A hemorrhage rate of 0.5-1.0 mL/min is required before it can be visualized with angiography. The detection of bleeding may be enhanced with carbon dioxide as an arterial contrast agent because of the low viscosity of the gas. [16, 17, 18, 19, 20]
Endoscopic evaluation is critical in providing information for subsequent angiography. [21] For example, if variceal bleeding is suspected instead of arterial bleeding, endoscopy can be used to guide subsequent therapy in favor of a transjugular intrahepatic portosystemic shunt (TIPS) procedure. [22] In cases such as hemorrhagic gastritis (shown in the images below), which is an important cause of UGIB caused by physiologic stress, the endoscopic diagnosis can guide subsequent vasopressin infusion. If a mass or recurrent bleeding from a suspected ulcer in the duodenum is present, the gastroduodenal artery can be embolized.
See the images below.
Angiographic evaluation of UGIB is usually performed via common femoral artery access achieved with the Seldinger technique. A catheter is directed into the celiac artery and superior mesenteric artery for angiography. Prior diagnostic examinations such as endoscopy or CT can be used to guide subsequent catheterization.
Acute arterial bleeding is seen as the extravasation of contrast medium of arterial opacity at the bleeding site. The extravasating contrast agent frequently flows toward the dependent part of the viscous, creating the pseudovein appearance. If the bleeding is demonstrated on the celiac or superior mesenteric angiogram, a more selective injection of the extravasating artery (superselective catheterization) is performed for confirmation of the bleeding and embolization. If contrast agent extravasation is not seen with the selective injections, superselective catheterization of the gastroduodenal, left gastric, and splenic arteries is performed.
Angiography is insensitive in the detection of venous bleeding, such as variceal hemorrhage from portal hypertension. Clinical suspicion and endoscopic findings are helpful in evaluating variceal bleeds. However, angiography can be helpful in the detection of as much as 50% of occult UGIB.
See the images below.
Degree of confidence
The degree of confidence in the angiographic diagnosis of upper gastrointestinal bleeding is high. Arteriography can be used to accurately identify 90% of acute UGIB. It is also useful in depicting occult bleeding in 50% of patients. However, a bleeding rate of 0.5-1.0 mL/min is required for the angiographic depiction of hemorrhage. Venous bleeding (eg, from variceal bleeding) is difficult to detect with angiography.
False positives and negatives
Bowel motion, prior barium examinations, and abnormal staining from inflammation or breathing artifact can hinder angiographic depiction of bleeding. Multiple superselective injections may be required for a confident diagnosis. A bleeding rate of 0.5-1.0 mL/min is required to visualize angiographic hemorrhage; otherwise, a false-negative angiogram results. Alternatively, if the bleeding has stopped at the time of study, the clinical parameters may be helpful in this distinction. Venous hemorrhage from portal hypertension might be another cause of false-negative findings.
What would you like to print?