Practice Essentials
Embolization is useful in a broad spectrum of clinical situations. Embolization can be particularly effective in cases of hemorrhage, regardless of whether the etiology is trauma, tumor, epistaxis, postoperative hemorrhage, or gastrointestinal hemorrhage. Embolization can be performed anywhere in the body that a catheter can be placed, including intracranial vasculature, head and neck, thorax, abdomen, pelvis, and extremities. With the availability of coaxial microcatheters, superselective embolizations can be performed. For most patients, embolization for hemorrhage is preferable to surgical alternatives.
Intra-abdominal hemorrhage secondary to liver and kidney injury is a major cause of morbidity and mortality. Endovascular arterial embolization is an established interventional radiology technique used to treat active bleeding. Its role in managing abdominal hemorrhage is growing, given the increasing trend toward conservative treatment. Literature data show that endovascular embolization represents the treatment of choice for acute abdominal bleeding of hepatic and renal origin, as it can provide complete therapeutic success in hemodynamically stable patients. [1]
Interventional radiologists are often called for emergent control of abnormal uterine bleeding. Postpartum hemorrhage (PPH) is the most common cause. It is defined as blood loss of 500 mL after vaginal delivery or 1000 mL after cesarean section, or any amount of blood loss that creates hemodynamic instability in the mother. PPH can be a life-threatening emergency and is a leading cause of maternal mortality requiring prompt action. Transcatheter uterine artery embolization is a nonsurgical, minimally invasive, extremely safe and effective treatment for controlling excessive bleeding in the female reproductive tract, usually after conservative measures have failed. [2] It offers an acceptable, effective alternative to hysterectomy, particularly for patients who desire future fertility. [3]
The main clinical treatments for tumor-associated hemorrhage include systemic therapy, application of hemostatic drugs, blood transfusion, symptomatic support therapy, and endoscopic interventional hemostasis. With the development of interventional radiology, it has been found that transcatheter arterial embolization can quickly detect and accurately embolize arterial blood vessels. This is the preferred treatment for patients with tumor-associated hemorrhage. [4]
The percutaneous nephrolithotomy method is most often used to treat urinary stone disease. Bleeding is the most feared complication of this method. Transcatheter coil or medical glue embolization is used to treat this bleeding complication. Subcutaneous fat tissue embolization for percutaneous nephrolithotomy-related bleeding is a safe and reliable treatment option. [5]
Life expectancy has increased, as has the number of elderly patients admitted to an emergency department with aneurysmal subarachnoid hemorrhage. These patients should be considered for treatment despite age, with endovascular embolization the most preferred option. [6]
A pilot study found that perioperative middle meningeal artery (MMA) embolization could be offered as the least invasive and most effectual means of treatment for patients with 1 or more recurrences of intractable chronic subdural hematoma (CSDH). Patients were divided into an embolization group and a conventional group. Older age and antiplatelet drug use were comparatively related to the embolization group (P< 0.05). Among imaging study variables, severe brain atrophy and hematoma bilaterality were the risk factors for necessity of MMA embolization (P< 0.05). Complication rate and functional outcomes were not significantly different between groups (P>0.05). To eliminate the arterial supply of the external membrane of CSDH, 2 branches of the MMA were selected and occluded by injection of polyvinyl alcohol particles. [7]
Pulmonary hemorrhage, also referred to as massive hemoptysis, is a potentially life-threatening condition involving bleeding from the pulmonary or bronchial vasculature. Because mortality is high with this condition, bronchial artery embolization is of paramount importance for rapid evaluation, stabilization, and proper definitive care. This is often considered first-line management for massive pulmonary hemorrhage. Site selection is usually based on radiographic signs of hypertortuosity, artery hypertrophy, aneurysm, or arteriovenous malformation (AVM). Once found, suspected sources of bleeds are embolized via microspheres, gelatin sponges, or coils. Re-bleeding will occur in approximately 30% of patients within 30 days. Lobe resection should be a consideration. With current technology, the complication rate of anterior spinal artery embolization is between 0 and 1%. [8]
Endovascular embolization has become an effective method for treatment of intractable epistaxis. However, complications such as facial pain, headaches, aphasia, hemiplegia, and transient blindness can occur during or after surgery. [9]
(See the images below.)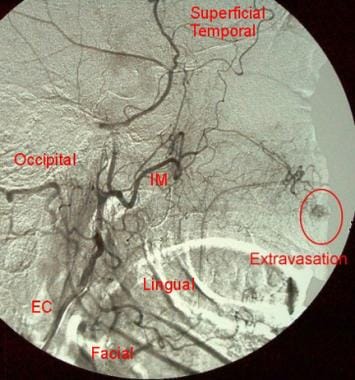 Digital-subtraction angiogram of the right external carotid artery (EC) in a 73-year-old woman with a 1-day history of epistaxis. This image demonstrates a suspicious blush of contrast off one branch of the internal maxillary artery (IM) within the highlighted area. Hemorrhage continued despite anterior and posterior nasal packing.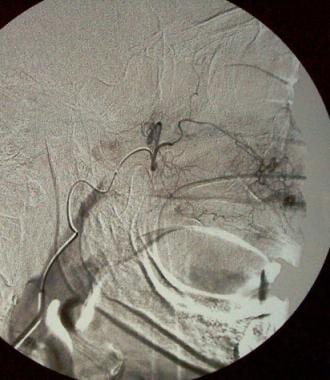 Digital-subtraction angiogram of the right internal maxillary artery in a 73-year-old woman with a 1-day history of epistaxis (same patient as in the previous image). This image confirms the area of blush and further demonstrates active extravasation from the sphenopalatine branch of the internal maxillary artery. A coaxial microcatheter was placed in the internal maxillary artery.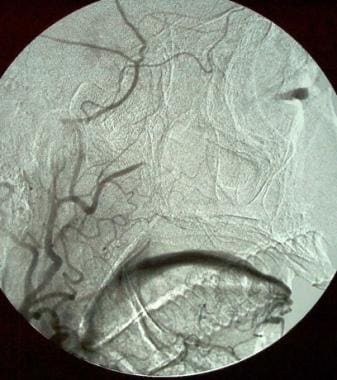 Postembolization digital-subtraction angiogram in a 73-year-old woman with a 1-day history of epistaxis (same patient as in the previous 2 images). This image demonstrates cessation of flow past the mid portion of the internal maxillary artery. The internal maxillary artery was embolized using polyvinyl alcohol. No further evidence of extravasation is seen.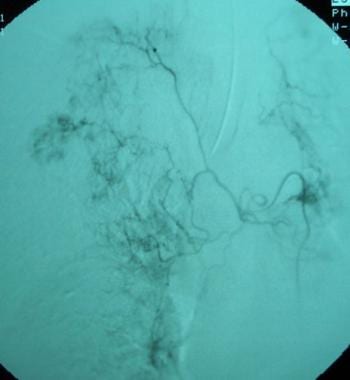 Bronchial artery embolization digital-subtraction angiogram of the right bronchial artery in a 46-year-old man with massive hemoptysis. Chest computed tomography scanning showed a consolidation of unknown etiology in the right upper lobe. Bronchoscopy confirmed the right upper lobe as the source of bleeding. The angiogram was performed with a Mikaelsson catheter in the descending thoracic aorta. The tip of the catheter is in the ostia to the right bronchial artery. The angiogram demonstrates an abnormally intense blush in the right upper lobe.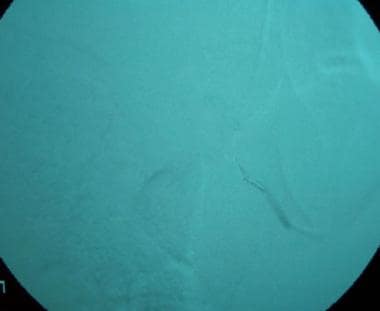 Bronchial artery postembolization digital-subtraction arteriogram in a 46-year-old man with massive hemoptysis (same patient as in the previous image). Four 1-cm straight coils were used to embolize the main trunk of the right bronchial artery. The arteriogram demonstrates complete embolization of the artery. The proximal trunk of the main artery is opacified.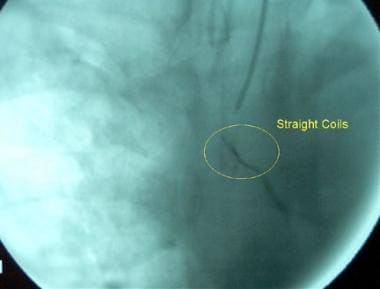 Bronchial artery embolization in a 46-year-old man with massive hemoptysis (same patient as in the previous 2 images). This arteriogram is an unsubtracted image of the previous image. The straight coils are demonstrated more clearly. The patient's hemoptysis resolved postembolization.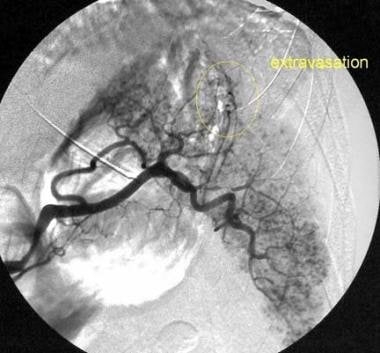 Splenic artery angiogram in a 32-year-old man who was an unrestrained passenger in a head-on motor vehicle accident (same patient as in the previous image). There are numerous small areas of contrast accumulation in the splenic parenchyma known as the "starry night" appearance, which is consistent with splenic injury. At the junction of the mid and superior poles, an area of active extravasation is highlighted within the circled area.
Technique and Equipment
Identifying hemorrhage
Embolization procedures begin with diagnostic angiography to identify the source of bleeding. For example, in epistaxis, angiography of the external carotid artery with attention to the internal maxillary artery can be helpful. [10, 11, 12, 13] In pelvic fracture, the internal iliac arteries are examined angiographically. [14, 15]
(See the images below.)
Selective or superselective angiography is more sensitive in finding the source of bleeding than are nonselective studies. [11, 16, 17, 18, 19, 20] Consequently, clinical suspicion and results of other imaging studies such as contrast-enhanced computed tomography (CT) scanning and radionuclide scans with technetium-99m (99mTc)–labeled red blood cells are important in guiding angiographic examination.
Palliative superselective vesical artery embolization is a feasible, effective, and safe procedure for controlling intractable hematuria in patients with pelvic malignancy. [21]
Choi and colleagues investigated the association between hepatic ischemic complications and hepatic artery (HA) collateral vessels and portal venous (PV) impairment after HA embolization for postoperative hemorrhage. After HA embolization, preserved HA flow (≥4 segmental HAs) lowered the risk of hepatic complications regardless of PV flow. Study authors concluded that transhepatic PV stent placement seems to be an effective intervention for prevention of hepatic complications in cases of poor HA collateral vessels and compromised PV flow. [22]
A retrospective analysis evaluated relevant management and rescue approaches for nasopharyngeal hemorrhage after radiotherapy for nasopharyngeal carcinoma. Nasopharynx hemorrhage after radiotherapy was mainly associated with erosion of the internal carotid artery or the maxillary artery by the tumor. Researchers determined that anterior and posterior nostril packing, endoscopic nasopharynx electrocoagulation, and digital subtraction angiography embolization are suitable for treating nasopharyngeal hemorrhage. However, effective hemostasis depends on early identification of the bleeding vessels. [23]
For intra-abdominal bleeding, as occurs after complex trauma, CT scanning may identify the site of acute bleeding because acute bleeding often demonstrates higher density (Hounsfield units [HU]) than older blood; this is termed the "sentinel clot sign." [24]
(For angiograms of abdominal wounds, see the images below.)
Hemorrhage is identified by active extravasation of contrast medium outside the confines of the vessel lumen. The angiographic appearance depends on rate and location of bleeding. Extravasating contrast medium may flow toward the dependent portion of the viscus; in the bowel, extravasated contrast may outline the mucosa. When the bleeding site and the artery have been identified on initial angiogram, a catheter—often a 3-French (3F) microcatheter—is placed as selectively as possible into the bleeding artery to confirm bleeding and to stop it with embolization.
Angiography in the setting of lower GI hemorrhage generally does not demonstrate unique diagnostic findings that explain the cause of bleeding—only the site of active bleeding. Thus, angiographic examinations are required during the episode of acute, brisk bleeding. In cases of recurrent occult GI bleeding, angiography can be performed electively in the hope of identifying a distinct finding such as angiodysplasia, AVMs, or intestinal varices. [24, 25]
A systematic review and meta-analysis was undertaken to compare postoperative hemorrhage rates between AVMs treated with and those treated without embolization prior to stereotactic radiosurgery (SRS). No significant difference in permanent neurologic deficits was identified between patients who had undergone embolization followed by SRS and those who had undergone SRS alone (odds ratio [OR] 1.175, 95% CI 0.626-2.206; P=0.616). Available data suggest that embolization before SRS did not reduce the postoperative hemorrhage rate and resulted in a significantly lower obliteration rate than that which occurred with SRS alone. [26]
Occasionally, provocative protocols that use angiography and infusions of lytic agents or heparin have been administered, although these techniques have produced mixed results. Carbon dioxide angiography may increase the yield of angiography in the acute GI bleeding scenario.
Pulmonary AVMs usually are congenital lesions, although they may occur after surgery or trauma. The congenital form is highly associated with hereditary hemorrhagic telangiectasia, also known as Osler-Weber-Rendu Syndrome. This condition has a genetic predisposition and is associated with liver AVMs; however, preemptive treatment of the latter is unwarranted. Screening head CT scanning or MRI is important for excluding intracranial AVMs. [27]
What would you like to print?