Overview
Overview
There are 2 forms of upper-extremity deep venous thrombosis (DVT): (1) effort-induced thrombosis (Paget-von Schrötter syndrome) and (2) secondary thrombosis. [1]
Effort induced thrombosis, or Paget-von Schrötter syndrome, accounts for 25% of cases. [2] Paget in England and von Schrötter in Germany independently described effort thrombosis more than 100 years ago. In this primary form of the disease, an underlying chronic venous compressive abnormality caused by the musculoskeletal structures in the costoclavicular space is present at the thoracic inlet and/or outlet.
In 75% of patients with secondary thrombosis, hypercoagulability and/or indwelling central venous catheters are important contributing factors. In fact, with the advent of central venous catheters, upper-extremity and brachiocephalic venous thrombosis has become a more common problem. [3, 4, 5, 6]
See the images below of DVT in upper extremities.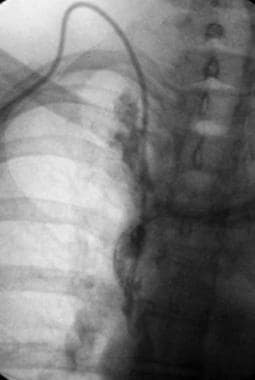 This contrast-enhanced study was obtained through a Mediport placed through the chest wall through the internal jugular vein to facilitate chemotherapy. A thrombus has propagated peripherally from the tip of the catheter in the superior vena cava into both subclavian veins.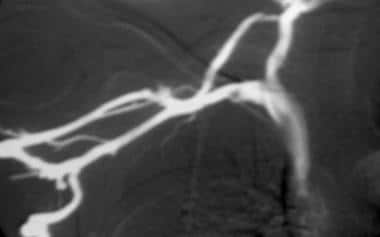 Thoracic outlet compression syndrome secondary to hypertrophied musculofascial bands. Venogram of the right upper extremity demonstrates a hemodynamically significant, notchlike stenotic defect in the subclavian vein with the patient's arm in the neutral position. Note filling of venous collaterals, even with the arm in the neutral position.
Preferred radiologic examination
Upper-extremity venous thrombosis can be diagnosed with color flow duplex imaging, with a sensitivity of 78-100% and a specificity of 90-100%. [7, 8, 9, 10]
The central veins cannot always be accurately imaged sonographically; therefore, contrast-enhanced venography remains an important diagnostic tool. In the assessment of effort-induced thrombosis, venographic views include abduction, external rotation, and extension views.
Radiography
Plain radiographic findings of a clavicle or first rib fracture or presence of a cervical rib can increase the suspicion of thoracic outlet syndrome and venous thrombosis.
See the radiographic images below.
Computed Tomography
CT is readily available and widely used. Upper-extremity and central venous thrombosis is often incidentally diagnosed on contrast-enhanced CT scans of the chest. The thrombus is hypoattenuating compared with the hyperattenuating vein.
This cross-sectional imaging modality provides excellent information about soft tissue structures (eg, tumor, lymphadenopathy) surrounding the vein that may account for the thrombosis.
See the CT images below.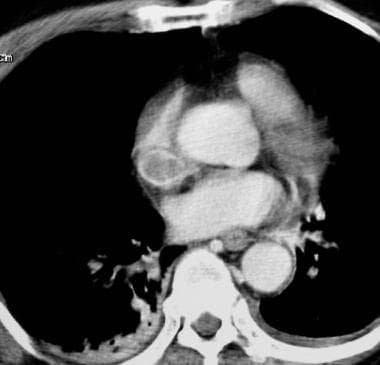 Superior vena cava syndrome in a patient with lung cancer. CT scan demonstrates a hypoattenuating thrombus that fills the superior vena cava. The patient was treated with anticoagulation alone.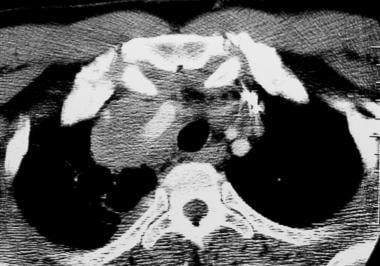 CT scan in a patient with non-Hodgkin lymphoma demonstrates a soft-tissue mass surrounding a hyperintense right brachiocephalic vein.
Magnetic Resonance Imaging
The strength of magnetic resonance venography is in the evaluation of the central veins of the chest; the subclavian vein; the brachiocephalic vein; and the superior vena cava, an area poorly visualized with ultrasonography. Thrombosis is diagnosed as a filling defect in the vessel.
Ultrasonography
Ultrasonography is the imaging modality of choice. Real-time ultrasonography and color flow Doppler imaging are rapid, noninvasive means for the diagnosis of deep venous thrombosis (DVT). The lack of full compressibility, the absence of color flow signal and augmentation, and visualization of thrombus are used to make the diagnosis.
In a study by Kleinjan et al, an algorithm consisting of D-dimer testing, clinical decision score, and ultrasonography safely and effectively excluded upper extremity DVT. [11]
Angiography
Patients with effort-induced thrombosis should undergo bilateral upper-extremity venography with provocative maneuvers.
For patients with renal insufficiency or allergy to contrast material, carbon dioxide and gadolinium-based materials are alternative contrast agents for venography. These agents can be used for diagnostic venography as well as for guiding catheter-directed thrombolysis.
Gadolinium-based contrast agents (gadopentetate dimeglumine [Magnevist], gadobenate dimeglumine [MultiHance], gadodiamide [Omniscan], gadoversetamide [OptiMARK], gadoteridol [ProHance]) have been linked to the development of nephrogenic systemic fibrosis (NSF) or nephrogenic fibrosing dermopathy (NFD). The disease has occurred in patients with moderate to end-stage renal disease after being given a gadolinium-based contrast agent to enhance MRI or MRA scans.
NSF/NFD is a debilitating and sometimes fatal disease. Characteristics include red or dark patches on the skin; burning, itching, swelling, hardening, and tightening of the skin; yellow spots on the whites of the eyes; joint stiffness with trouble moving or straightening the arms, hands, legs, or feet; pain deep in the hip bones or ribs; and muscle weakness.
Patients are positioned with their arm in the neutral, extended, and hyperabducted positions. The diagnosis is made when an intraluminal filling defect is seen or when a deep venous structure does not fill and collateral veins are visualized.
The compressive features seen with provocative maneuvers during contrast-enhanced venography can occur in asymptomatic patients; therefore, not all patients with venous compression have venous thrombosis.
See the images below.
What would you like to print?