Treatment
Approach Considerations
Therapeutic intervention is indicated in any symptomatic patient once the etiology of the symptoms has been defined.
For instances of upper-extremity claudication or acute thrombosis in which the problem has been attributed to the subclavian artery, intervention should be planned and executed. For patients in whom cerebrovascular symptoms predominate, a careful neurologic evaluation must be undertaken in order to isolate the problem. Once the anatomic aberration has been defined, intervention is indicated if the subclavian artery is involved.
Surgery to correct subclavian artery thrombosis is the treatment of choice. Interventions include catheter-based procedures and formal operative procedures. [11] Contraindications for surgical intervention include the following:
Inadequate distal runoff

Inadequate vessel size

Marked collateralization of the occluded area

Concomitant medical problems that would endanger the patient during a surgical intervention
Future therapy for subclavian artery thrombosis will most likely involve increased use of endovascular stents. [12, 13, 14, 15] As technology improves and a better understanding of restenosis issues is achieved, stenting of these lesions will be more commonplace. [16, 17] Stenting potentially allows successful treatment of patients with greater medical challenges; however, the presence of appropriate arterial runoff and adequate artery size are imperative for ensuring the success of the procedure.
In any operative procedure for subclavian artery thrombosis, care must be taken to protect the thoracic duct from damage.
Medical Therapy
Early diagnosis and therapy of subclavian artery thrombosis are indicated to prevent disabling upper-extremity ischemia and gangrene. As a temporizing measure, the use of catheter-directed thrombolytic therapy may be indicated for superimposed clot formation in an area of stenosis until definitive treatment of the obstruction can be undertaken. [18]
Prolonged anticoagulation therapy for an obvious mechanical problem is not indicated. Anticoagulation may be considered as supplemental therapy after surgical intervention.
Surgical Excision and Bypass
Subclavian artery occlusion secondary to thoracic outlet syndrome or muscular compression is treated by excision of the anatomic structure compressing the artery, whether muscle or bone. [19] The artery may or may not require additional reconstruction, depending on the presence or absence of intimal damage.
The occluded artery may require a bypass procedure, depending on the location of the occlusion or the presence of a subclavian steal syndrome. The bypass options include subclavian-carotid, subclavian-subclavian, and axillary-axillary bypasses. Another possible bypass option is transposition of the subclavian artery to the ipsilateral carotid artery.
Careful assessment of patients with thoracic outlet syndrome will be required because of the complexity of this problem, the multiple structures involved, and the high-profile medicolegal issues that arise with treatment of these patients. Operative treatment of the arterial complications of the thoracic outlet syndrome should be performed. However, careful evaluation of the potentially associated venous and neurologic pathologies should be undertaken prior to any operative therapy.
Preparation for surgery
After the appropriate diagnostic studies have been performed to define the problem, operative preparation should be carried out. Administer preoperative prophylactic antibiotic therapy in the form of a first-generation cephalosporin. Perform appropriate preoperative medical screening to assess for evidence of other atherosclerotic disease, such as coronary, carotid, or peripheral vascular occlusions. [18]
Bypass
For patients in whom the occlusion is secondary to atherosclerotic disease, perform a bypass of the area. For subclavian steal syndrome, a carotid-subclavian bypass using a ribbed synthetic tube graft is the procedure of choice (see the image below).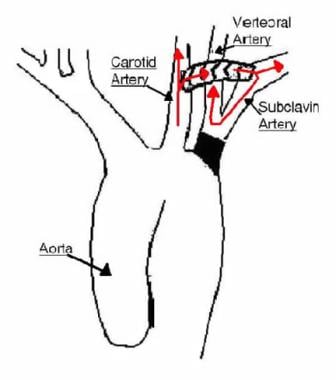 Carotid-subclavian bypass for subclavian steal syndrome.
Depending upon the location of the occlusion, subclavian-subclavian or axillary-axillary bypass can be undertaken using a ribbed synthetic conduit (see the image below).
Subclavian-subclavian or axillary-axillary bypass for subclavian artery occlusion.
Because of the position of the graft and the necessity of crossing bony structures in some cases, autologous vein conduits have limited patency.
Rib resection
For patients in whom thoracic outlet compression is the cause of the thrombosis, cervical rib resection via a supraclavicular incision appears to be adequate treatment. [20, 21, 22] Resection of the midportion of the clavicle is sometimes needed for exposure. Undertake arterial resection because the intima of the vessel is damaged.
Graft interposition may or may not be required. Redundancy of the normal adjacent artery may allow end-to-end reconstruction. If a graft is required for arterial reconstruction, a large autogenous saphenous vein or expanded polytetrafluoroethylene or Dacron fabric grafts may be used. First-rib resection may be indicated in these instances as well, depending on the size of the thoracic outlet. [23]
Angioplasty and Stenting
Angioplasty and stenting of stenotic and even occluded arteries have been undertaken successfully with adequate patency rates and minimal morbidity. [24] These interventions are particularly appropriate for atherosclerotic arteries.
A study to determine if stenting alone is superior proved inconclusive. [25] A study from Germany found that endovascular therapy was safe and effective for treating stenosis and occlusion of the subclavian artery and yielded excellent long-term patency. [26] A large-scale multicenter study from Japan found that primary endovascular therapy for subclavian artery disease yielded good outcomes with regard to perioperative complication and long-term patency rates. [27]
Newer ultrasonic therapies have shown promising results when applied to clot disruption in both the arterial and the venous system. [28]
Postoperative Care
Check distal upper-extremity pulses immediately after the operative procedure, while the field is still sterile. Maintain careful observation for the development of muscular compartment syndromes, and perform compartment measurements if indicated. Concomitant fasciotomies may be indicated, depending on the length of ischemia suffered by the extremity prior to revascularization.
Postoperative pleural effusions should be promptly evaluated for the presence of chyle, which would be indicative of thoracic duct injury. Prompt therapeutic measures should be undertaken if this complication occurs.
Complications
Complications of the procedure can include injury to the thoracic duct. Complications from surgical interventions to address the arterial occlusion can include graft occlusion (acute and chronic), stent migration, stent occlusion, bleeding, and infection.
Although postoperative bleeding is rare, the possibility that it may occur should be reviewed with the patient before the operative intervention. Bleeding complications should be promptly addressed by means of reoperation in order to correct the problem.
Long-Term Monitoring
Postprocedural angiography should be performed at prescribed times after the operative intervention in order to assess the patency of the graft or stent. One suggested timing sequence for the studies is at 1 month and 6 months, provided that the patient remains asymptomatic. In the interim, noninvasive Doppler imaging can be used to assess distal flow to the extremity.
What would you like to print?