Presentation
History
Patients may describe a history of trauma or, more frequently, strenuous use of the arm (>50% of cases). Common precipitating activities involve repeated hyperabduction and external rotation of the arm or backward and downward rotation of the shoulder. Causative activities may include participating in cricket, tennis, wrestling, lifting weights, water polo, gymnastics, baseball (see the image below), or chopping wood.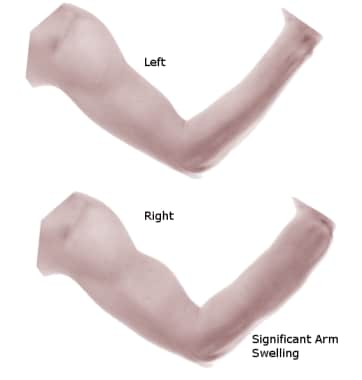 Young baseball pitcher who developed subclavian vein thrombosis with significant swelling of dominant right arm.
Because the symptoms of subclavian stenosis are fairly dramatic, most patients present promptly to the emergency department (ED), usually within 24 hours. They may report extensive swelling, along with a dull ache in the shoulder or axilla. The pain often is worsened by activity; conversely, it is often relieved by rest and elevation. Patients with catheter-associated axillary-subclavian vein thrombosis (ASVT) report similar symptoms of the ipsilateral arm or shoulder with the indwelling catheter.
Physical Examination
Not all patients with subclavian vein thrombosis are symptomatic. Those with symptoms may present with mild-to-moderate nonpitting edema and mild cyanosis of the hands and fingers on the affected side. Dilatation of subcutaneous collateral veins may be present over the upper arm and chest. This later sign may be the only clue to ASVT in otherwise asymptomatic patients with catheter-related venous thrombosis.
In a few cases, in which the diagnosis was missed or delayed or the patient presented late, the thrombus may have extended to the superior vena cava (SVC). These patients show most features of the superior vena cava syndrome (SVCS), including face and neck swelling, periorbital edema, blurred vision, and some degree of facial cyanosis. [9]
Complications
Pulmonary embolism (PE) may occur in as many as 20-36% of patients. Stroke may occur as a manifestation of paradoxic embolism in the presence of a patent foramen ovale.
Other complications can include the following:
What would you like to print?