Workup
Laboratory Studies
Patients with suspected thrombophilia should have a full workup for hereditary causes. This should include the following:
Lupus anticoagulant

Factor V Leiden mutation

Protein C

Protein S

Antithrombin III deficiency
If possible, blood for these tests should be drawn before anticoagulation is initiated because the coagulant factors listed above are reduced by heparin. When testing before anticoagulation is not possible, it may be performed 2 weeks after discontinuance of anticoagulants or factor X, which is equally affected by warfarin and can be drawn at the same time to serve as a benchmark for protein C and S.
Determine the complete blood count (CBC), prothrombin time (PT), activated partial thromboplastin time (aPTT), and fibrinogen levels before beginning anticoagulants and thrombolytics. Monitor every 6 hours to prevent adverse effects of excessive anticoagulation.
Other tests to be performed should be relevant to the cause of the thrombosis.
Imaging Studies
The goal of the evaluation is objective verification of the presence of thrombus in the subclavian vein. The following imaging studies are useful for evaluation.
Chest radiography
Chest radiography is generally the initial radiologic modality of choice. It may be helpful in the detection of lesions that may be compressing the subclavian vein, such as a cervical rib or an apical lung mass. However, in most cases, the chest radiograph is a very insensitive test and is not useful in determining the cause of subclavian vein thrombosis. In addition, in many cases, the cervical rib is missed on the initial radiograph.
Ultrasonography
Ultrasonography (US)—real-time B-mode, duplex Doppler, or color Doppler—is being used with increasing frequency in the diagnosis of subclavian vein thrombosis. Compared with venography, duplex US has high specificity but relatively low sensitivity.
Subclavian vein thrombi not visualized by duplex US usually are either nonocclusive mural thrombi or thrombi located in the proximal part of the vein possibly shadowed by the clavicle and sternum. This modality is the test of choice for both screening and follow-up. If it yields negative results in the face of strong clinical suspicion, alternative modalities should be used.
Venography of subclavian vein
Traditionally, venography of the subclavian vein (see the image below) has been used for diagnosis of subclavian vein thrombosis, but it requires cannulation of a peripheral vein of the arm. Edema of the affected arm sometimes makes this difficult. Digital subtraction may allow the use of a smaller amount of contrast infused into a smaller vein. Venography carries the risk of contrast-induced adverse effects. The technique is only used when thrombosis is strongly suspected despite a negative US study.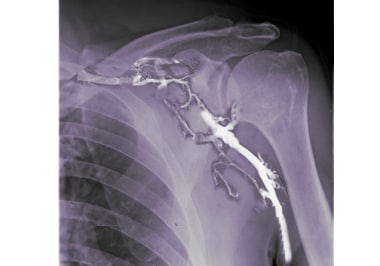 Venogram in patient with subclavian vein obstruction. Long-standing obstruction causes development of collaterals.
Computed tomography
Computed tomography (CT) can detect subclavian stenosis, but it has not been studied thoroughly enough to allow determination of its specificity and sensitivity. CT is sometimes used when venography and magnetic resonance imaging (MRI) are not readily available. CT requires use of contrast. CT can readily image both the intrathoracic and extrathoracic structures with excellent resolution. Three-dimensional CT angiography (CTA) rivals MRI and venography in both resolution and sensitivity. CT can also detect thrombus and the presence of any extrinsic disease that may be causing the subclavian vein thrombosis.
Magnetic resonance imaging
MRI is highly specific for detecting subclavian vein thrombi, but its sensitivity (80% for thrombi that completely occlude the lumen and 0% for partially occlusive thrombi) is too low for this modality to be considered reliable in this setting.
What would you like to print?