Workup
Chest Radiography
The usual way in which an asymptomatic mediastinal mass is identified is through a posteroanterior (PA; see the image below) or lateral radiograph of the chest for an unrelated cause. Chest radiography is obviously the first study that would be performed in an individual with symptoms referable to the thorax.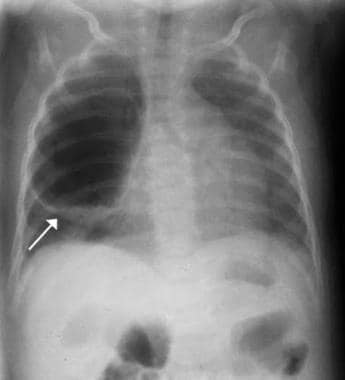 Posteroanterior chest radiograph showing large bronchogenic cyst causing compression of right mainstem bronchus and right lung in child.
The lateral chest radiograph findings (see the image below) are very helpful in determining the involved compartment of the mediastinum. This information, combined with the age, sex, and associated clinical findings, aids the physician in the proper choice of subsequent diagnostic studies.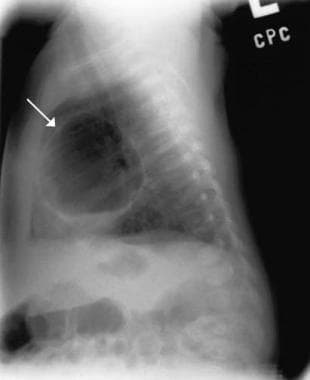 Lateral chest radiograph (same patient as in Image above) of large right-side bronchogenic cyst in child.
Foregut cysts are usually completely filled with fluid and have the appearance of a mediastinal mass. In the case of some cysts that may communicate with the tracheobronchial tree, the cyst may be completely or partially filled with air. This has the radiographic appearance of a radiolucent mass or a well-defined round lesion with an air-fluid level. (See the images below.)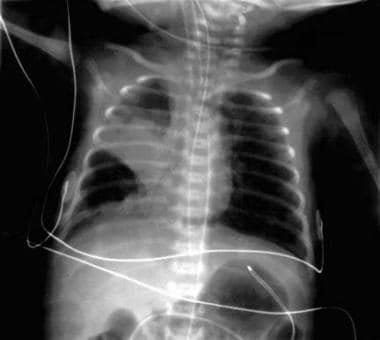 Chest radiograph of child with large right-side bronchogenic cyst. This cyst is partially filled with fluid and is also causing some compression of right lung.
Esophagography
In the past, the findings from barium esophagography have been used to help delineate masses or cysts found in the mediastinum. Computed tomography (CT) has generally replaced this study for the evaluation of most foregut cysts, especially bronchogenic cysts.
Barium esophagography has been used in patients who primarily present with symptoms of dysphagia. The displacement of the esophagus by neurenteric cysts and enterogenous or duplication cysts of the esophagus is usually seen clearly.
Computed Tomography of Chest and Mediastinum
CT is a routine part of the diagnostic evaluation of mediastinal tumors, cysts, and other masses. (See the image below.) CT scans can greatly assist in determining the exact location of the mediastinal tumor and in determining its relation to adjacent structures. [11] CT findings are also useful for differentiating masses that originate in the mediastinum from those that encroach on the mediastinum from the lung or other structures.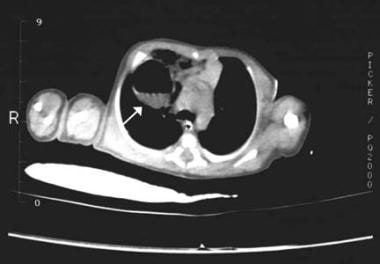 CT scan of child (same patient as in Image above) with large right-side bronchogenic cyst with air-fluid level.
Though not infallible, CT scans are very useful in differentiating tissue densities. Such differentiation greatly assists in distinguishing structures that are cystic or vascular from those that are solid.
As noted, CT with contrast has, in most cases, virtually replaced barium esophagography as an evaluation tool for these abnormalities in infants and children.
CT myelography has been performed in individuals with neurenteric cysts and neurologic symptoms to help determine the presence and level of spinal cord compression. [12]
Magnetic Resonance Imaging
Magnetic resonance imaging (MRI) is useful both in the initial diagnosis of a mediastinal mass and in follow-up evaluations after treatment. [34, 13] It provides superior vascular imaging and can help better delineate the relation of an identified mediastinal mass to nearby intrathoracic vascular structures. [11] It can be used to help differentiate between a possible mediastinal mass and a vascular abnormality (eg, an aortic aneurysm).
MRI offers direct multiplanar imaging. It can be used when iodinated contrast is contraindicated. Images provide increased detail in the subcarinal and aortopulmonary window areas and in the inferior aspects of the mediastinum at the level of the diaphragm.
MRI is superior to CT for the evaluation of masses located at the thoracic inlet or at the thoracoabdominal level.
In infants and children, MRI is excellent for helping delineate the relation of a neurenteric cyst with the spinal canal and the associated vertebral abnormalities.
Because the patient is not exposed to radiation, MRI may be preferred to CT by some physicians for the evaluation of a mediastinal cyst in a child or infant. However, children and infants require sedation when undergoing MRI. This factor may increase the risk for those pediatric patients with signs of airway obstruction who require such an examination. The physician may have to decide which risk is greater. [14]
FDG-PET/CT
Fluorodeoxyglucose (FDG)–positron emission tomography (PET)/CT is usually not appropriate for initial imaging of a clinically suspected mediastinal mass but may be appropriate for a mass that is indeterminate on CT or MRI. [31]
Radionuclide Scanning
Technetium (Tc)-99 pertechnetate scans have been used to help identify neurenteric cysts in the mediastinum, producing positive isotope uptake in gastric mucosa lining the cyst.
Ultrasonography and Echocardiography
Ultrasonography (US) has been used to differentiate solid from cystic mediastinal masses [15] and to assist in determining connections between a mass and adjacent structures. [16] US studies have been more useful in the evaluation of masses associated with the heart and in vascular abnormalities. In view of the accuracy and detail provided by CT, MRI, and selected radionuclide studies, US techniques, though potentially useful for differentiating mediastinal lesions, [17, 18] have not generally been used as primary tools in the evaluation of mediastinal tumors and cysts.
Antenatal US has been helpful in the discovery of a number of abnormalities in the fetal thorax, including bronchogenic cysts. These findings can greatly enhance care of the newborn. [19]
Arteriography
Very few indications exist for arteriography in the evaluation of a mediastinal cyst.
It may be helpful in differentiating between a bronchogenic cyst and an extralobar sequestration of the lung. It also may assist in determining whether the lesion in question originates from a mediastinal vascular structure, such as the heart or a great vessel.
Magnetic resonance angiography (MRA) will likely replace conventional angiographic methods when such studies are required in the workup of patients with mediastinal cysts.
Procedures
Transthoracic needle biopsy
In the past, percutaneous biopsy methods were believed too dangerous to use in the evaluation of mediastinal masses, and open surgical biopsy was the diagnostic procedure of choice.
Fine-needle aspiration (FNA) has been occasionally used for the diagnosis of primary bronchogenic cysts. However, most authorities do not recommend aspiration of a cyst, because a sample of the cyst wall, required for diagnosis, is not obtained by this method. In addition, most cysts recur after simple aspiration. This technique is not recommended for esophageal cysts. [20]
Cervical mediastinoscopy
Cervical mediastinoscopy is a commonly used surgical diagnostic procedure for evaluating the retrovascular pretracheal area of the mediastinum. It is used most commonly for staging of bronchogenic carcinoma and for evaluation of hilar and paratracheal lymphadenopathy.
Mediastinoscopy is not usually indicated for the evaluation of foregut or other mediastinal cysts in adults or children.
Anterior mediastinotomy
This parasternal approach to the mediastinum has been used most commonly in situations in which standard cervical mediastinoscopy was believed, or found to be, inadequate. The classic approach is to perform it in the upper left parasternal area in order to gain access to the aortopulmonary window and areas of the anterior mediastinum inferior to the aortic arch. In many centers, anterior mediastinotomy is being replaced by either extended cervical mediastinoscopy or video-assisted thoracoscopic surgery (VATS) techniques.
Like cervical mediastinoscopy, this procedure has no real role in the evaluation or treatment of mediastinal cysts in children or adults.
Posterior mediastinotomy
This is a rarely used procedure for biopsy of some of the posteriorly situated lymph nodes or a mass in the paravertebral sulcus. Posterior mediastinotomy is most commonly performed on the right side in a paravertebral location immediately lateral to the paravertebral muscles. As with anterior mediastinotomy, small segments of several ribs in the area may be excised for extrapleural access to the ipsilateral paravertebral sulcus.
The mediastinoscope also may be used for lymph node biopsy with this approach. It is rarely used for mediastinal tumors and cysts, because these are more appropriately managed by means of either standard thoracotomy or VATS. [21]
Video-assisted thoracoscopic surgery
VATS techniques have been used successfully for biopsy of various mediastinal masses and are commonly used for the sampling of perihilar lymph nodes. VATS findings can be used to confirm the diagnosis, and the technique has been used for resection of a number of mediastinal cysts. [22, 23]
Sternotomy and thoracotomy
In spite of the numerous minimally invasive options available for histologic diagnosis of mediastinal tumors and cysts, open surgical access is needed at times. In some cases, standard sternotomy or thoracotomy may be the safest method available to obtain an adequate tissue diagnosis and to perform appropriate resection. [24]
Histologic Findings
Foregut cysts
The cell type lining the inner aspect of the cyst helps identify these lesions histologically. Bronchogenic cysts are lined with ciliated, columnar epithelium. Hyaline cartilage, bronchial glands, and smooth muscle may also be seen in the wall of the cyst.
Esophageal cysts
Esophageal cysts are characterized by a double layer of smooth muscle in their walls. The cellular lining of these cysts ranges from squamous to ciliated columnar epithelium to gastric epithelium alone or in combination.
Neurenteric cysts often have two components. The intraspinal component is often thin-walled, having only a single layer of columnar epithelium within a thin layer of connective tissue. The extraspinal portion has a thicker wall with several layers of smooth muscle and contains gastric mucosa within.
Gastroenteric cysts in the mediastinum are thought to be identical to neurenteric cysts but without a communication or association with the spinal canal or vertebral column. Most of these cysts are lined with gastric mucosa, and many also have several of the normally seen gastric layers, including submucosa and muscularis.
Esophageal duplication cysts have been reported as lined with various cell types ranging from squamous to gastric to respiratory epithelium.
Mesothelial cysts, such as pleuropericardial cysts, are thin-walled and are lined with mesothelial cells.
Thoracic duct cysts
Thoracic duct cysts and other cysts of the lymphatic system are lined with occasional endothelial cells.
What would you like to print?