Workup
Imaging Studies
Chest radiography
Chest radiography is standard in the Advanced Trauma Life Support (ATLS) protocol for a trauma workup. Approximately 23-73% of traumatic diaphragmatic ruptures will be detected by initial chest radiography, with an additional 25% found on subsequent films. [17] Chest radiography is most sensitive for detecting left-side hernias. Chest radiographic findings that indicate traumatic rupture include the following:
Abdominal contents in the thorax, with or without signs of focal constriction ("collar sign")

[17]

Elevated hemidiaphragm (>4 cm higher on the left than on the right)

Distortion of diaphragmatic margin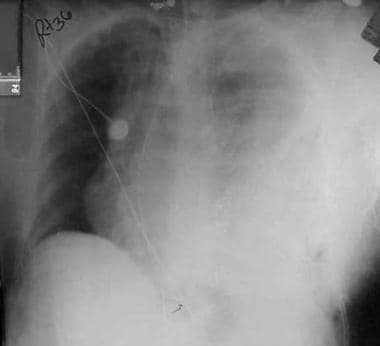 Preoperative chest radiograph in a 53-year-old woman who was a restrained passenger in an automobile accident. Note the bowel contents in the left hemithorax. Nasogastric tube can be seen in the thorax.
Computed tomography
Conventional computed tomography (CT) has been reported to have a sensitivity of 14-82%, with a specificity of 87%. [18] Helical (spiral) CT has increased sensitivity, 71-100%, with higher sensitivity on the left than on the right. [17] CT findings indicative of rupture include the following:
Direct visualization of injury

Segmental diaphragm nonvisualization

Intrathoracic herniation of viscera

"Collar sign"

Peridiaphragmatic active contrast extravasation
Ultrasonography
Ultrasonography (US; specifically, focused assessment with sonography for trauma [FAST]) has been reported to detect diaphragmatic hernias. [3] During visualization of each upper quadrant, the movement of the diaphragm was noted to be decreased in patients with diaphragmatic hernias. This technique is limited in patients who are on mechanical ventilation because of the positive pressure of the thoracic cavity. [3]
Procedures
In stable patients in whom an isolated diaphragmatic tear is suspected, diagnostic laparoscopy or video-assisted thoracoscopic surgery (VATS) is indicated.
What would you like to print?