Workup
Approach Considerations
Patients with postinfarction ventricular septal rupture (VSR) are best managed in an ICU setting, even if stable. Close monitoring of the vital signs is mandatory. Fluid should be administered with great caution as the patients often have pulmonary edema.
In the setting of renal dysfunction, a nephrologist should be consulted for optimization prior to surgery.
Laboratory Studies
The following lab studies may be useful in the workup of postinfarction ventricular septal rupture (VSR):
Blood coagulation parameters including platelets, prothrombin time (PT) and partial thromboplastin time (PTT)

Cross and type at least 4-8 units of blood
Imaging Studies
On plain chest radiography, 82% of patients with postinfarction ventricular septal rupture (VSR) demonstrate left ventricular enlargement, 78% have pulmonary edema, and 64% have a pleural effusion. These findings are nonspecific and do not exclude other causes, such as a ruptured papillary muscle.
M-mode transthoracic echocardiography (TTE) and transesophageal echocardiography (TEE) have been used to help diagnose postinfarction VSR. TTE findings have been improved with the use of color-flow Doppler methods to visualize the VSR. In addition, echocardiography can help assess the presence of any mitral valve pathology. (See the image below.)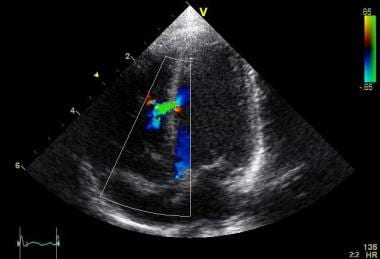 Postinfarction ventricular septal rupture. Ventricular septal defect on echocardiography.
Electrocardiography
No electrocardiographic (ECG) features are diagnostic of postinfarction VSR, though ECG indeed provides some useful information. Persistent ST-segment elevation associated with ventricular aneurysm is common. ECG may reveal atrioventricular block in one third of patients. ECG can also be used to help predict the anatomic location of the septal rupture. (See the image below.)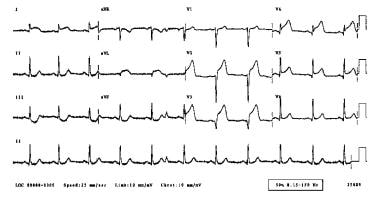 Postinfarction ventricular septal rupture. Acute anterior myocardial infarction on ECG.
Catheterization and Pressure Measurement
Left-heart catheterization with coronary angiography is recommended in all stable patients. This procedure is time-consuming and carries some degree of morbidity in already compromised patients; accordingly, good judgment is required when this test is ordered.
An important diagnostic test for differentiating ventricular septal rupture (VSR) from mitral valve insufficiency is catheterization of the right heart with a Swan-Ganz catheter. In the presence of a VSR, oxygen concentration between the right atrium and the pulmonary artery is stepped up. In addition, a pulmonary capillary wedge pressure tracing is beneficial for differentiating acute mitral regurgitation (MR) from VSR.
Left- and right-side pressure measurements help estimate the degree of biventricular failure and are useful in monitoring the response to perioperative therapy. Whereas right-side failure is more common in patients with postinfarction VSR, left-side failure and refractory pulmonary edema are more prominent in patients with a ruptured papillary muscle. However, one third of patients with postinfarction VSR also have some degree of MR secondary to left ventricular dysfunction. Only rarely is VSR also associated with ruptured papillary muscle.
Procedures
Most patients will benefit from intra-aortic balloon counterpulsation (IABCP). Because of low ejection fraction, tissue perfusion may be poor. Hence, the patient's distal pulses must be closely monitored to avoid ischemia when the intra-aortic balloon pump (IABP) is inserted.
What would you like to print?