Presentation
History
Patients at risk for acute graft versus host disease (GVHD) and chronic GVHD are those undergoing allogeneic hematopoietic-cell transplantation (HCT).
Acute GVHD
Acute GVHD may initially appear as a pruritic or painful rash (median onset, day 19 posttransplantation; range, 5-47 d). [2]
A hyperacute form of GVHD has been described as a disorder including fever, generalized erythroderma, and desquamation developing 7-14 days after transplantation.
After the skin, the next most frequently involved target of GVHD is the liver, where the disease causes asymptomatic elevation of bilirubin, alanine aminotransferase (ALT), aspartate aminotransferase (AST), and alkaline phosphatase levels similar to those observed with cholestatic jaundice. Pruritus ensues, with hyperbilirubinemia. Hepatic coma is rare.
Acute GVHD may involve the distal small bowel and colon, resulting in diarrhea, intestinal bleeding, cramping abdominal pain, and ileus. The diarrhea is green, mucoid, watery, and mixed with exfoliated cells forming fecal casts. Voluminous secretory diarrhea may persist despite cessation of oral intake. Approximately 13% of patients who receive HLA-identical transplants may present with upper gastrointestinal (GI) enteric GVHD manifesting as anorexia and dyspepsia without diarrhea. This is most common in older patients.
Acute GVHD also has been associated with increased risk of infectious and noninfectious pneumonia and sterile effusions, hemorrhagic cystitis with infective agents, thrombocytopenia, and anemia. Hemolytic-uremic syndrome (thrombotic microangiopathy) has been observed in patients given cyclosporine who developed severe GVHD.
Chronic GVHD
Chronic GVHD is viewed as an extension of acute GVHD. However, it also may occur de novo in patients who never have clinical evidence of acute GVHD, or it may emerge after a quiescent interval following the resolution of acute GVHD. [3] Manifestations are as follows:
Ocular manifestations may include burning, irritation, photophobia, and pain due to a lack of tear secretion. [37]

Oral and GI manifestations include dryness, sensitivity to acidic or spicy foods, and increasing pain after day 100 (chronic GVHD). Chronic GVHD may affect the esophagus, resulting in symptoms of dysphagia, odynophagia, and insidious weight loss.

Obstructive lung disease, with symptoms of wheezing, dyspnea, and chronic cough that is usually nonresponsive to bronchodilator therapy, is a clinical feature of chronic GVHD.

Neuromuscular manifestations include weakness, neuropathic pain, and muscle cramps.
Physical Examination
Skin (maculopapular exanthema) findings are as follows:
Lesions are red to violet and typically first appear on the palms of the hands, soles of the feet, cheeks, neck, ears, and upper trunk. They can progress to involve the whole body.

In severe cases, bullae may be observed, and vesicles may form.

Chronic GVHD can lead to lichenoid skin lesions or sclerodermatous thickening of the skin, which sometimes causes contractures and limits joint mobility. See the images below.

Acute graft versus host disease (GVHD) involving desquamating skin lesions in a patient after allogeneic bone marrow transplantation for myelodysplasia. Courtesy of Romeo A. Mandanas, MD, FACP.

This boy developed stage III skin involvement with acute graft versus host disease (GVHD) despite of receiving prophylaxis with cyclosporin A. The donor was his HLA-matched sister; the sex disparity increased the risk for acute GVHD. Courtesy of Mustafa S. Suterwala, MD.

Same boy as in previous image progressed to grade IV graft versus host disease (GVHD). High-dose cyclosporin A and methylprednisolone had been administered intravenously. He later died from chronic pulmonary disease due to chronic GVHD. Courtesy of Mustafa S. Suterwala, MD.
Hepatic findings include hyperbilirubinemia, which can manifest as jaundice, cause pruritus, and lead to excoriations from the patient's scratching. Portal hypertension, cirrhosis, and death from hepatic failure are rare.
Ocular findings in patients with acute GVHD include hemorrhagic conjunctivitis, pseudomembrane formation, and lagophthalmos. These complications worsen the prognosis. With chronic GVHD, keratoconjunctivitis sicca is common. Because of the dryness, punctate keratopathy (minimal or severe erosions of the cornea) may ensue.
Oral findings include atrophy of the oral mucosa, erythema, and lichenoid lesions of the buccal and labial mucosae. These are significantly correlated with chronic GVHD. See the image below.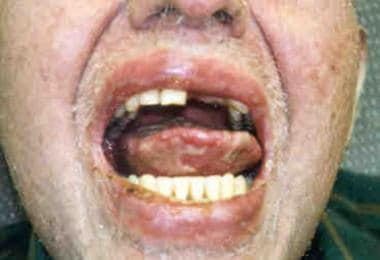 Oral mucosal changes in a patient with chronic graft versus host disease (GVHD). Note the skin discoloration (vitiligo), which can be a result of GVHD. Courtesy of Romeo A. Mandanas, MD, FACP.
Other findings include the following:
Pulmonary findings: Bronchiolitis obliterans causes prolonged expiratory breathing phase (wheezes).

GI findings: Diffuse abdominal tenderness with hyperactive bowel sounds may accompany secretory diarrhea of acute GVHD. In severe ileus, the abdomen is silent and appears distended.

Neuromuscular findings: Findings of the autoimmune phenomenon of myasthenia gravis or polymyositis are sometimes observed in chronic GVHD.

Vaginitis and vaginal strictures have been described in chronic GVHD.

Autoimmune thrombocytopenia and anemia have also been described with chronic GVHD.
Acute GVHD is a clinicopathologic syndrome involving the skin, liver, and gut. Staging and grading is important in determining the management and prognosis and for comparing the results of immunosuppressive prophylaxis. See Tables 2 and 3, below.
Table 2. Clinical Staging of Acute GVHD (Open Table in a new window)
| | | | |
| --- | --- | --- | --- |
| Stage | Skin Findings | Liver Findings (Bilirubin Level, mg/dL) | Good Findings |
| + | Maculopapular rash on < 25% of body surface | 2-3 | Diarrhea 500-1000 mL/d or persistent nausea |
| ++ | Maculopapular rash on 25-50% of body surface | 3-6 | Diarrhea 1000-1500 mL/d |
| +++ | Generalized erythroderma | 6-15 | Diarrhea >1500 mL/d |
| ++++ | Desquamation and bullae | >15 | Pain with or without ileus |
Table 3. Clinical Grading of Acute GVHD (Open Table in a new window)
Overall Grade

Stage

Skin

Liver

Gut

Functional Impairment

0 (None)

0

0

0

0

I (Mild)

+ to ++

0

0

0

II (Moderate)

+ to +++

+

+

+

III (Severe)

++ to +++

++ to +++

++ to +++

++

IV (Life-threatening)

++ to ++++

++ to ++++

++ to ++++

+++
Chronic GVHD has manifestations similar to those of systemic progressive sclerosis, systemic lupus erythematosus, lichen planus, Sjögren syndrome, eosinophilic fasciitis, rheumatoid arthritis, and primary biliary cirrhosis. The median time of diagnosis in HLA-identical sibling recipients is 201 days after transplantation; diagnosis is earlier in patients receiving marrow from HLA-nonidentical related or unrelated donors (159 or 133 d, respectively). Staging and classification helps in predicting the patient's prognosis; see Table 4, below.
Table 4. Clinicopathologic Classification of Chronic GVHD (Open Table in a new window)
Classification

Clinicopathology

Limited

Localized skin involvement and/or hepatic dysfunction due to chronic GVHD

Extensive

Generalized skin involvement or localized skin involvement and/or hepatic dysfunction due to chronic GVHD, plus 1 of the following:

- Liver histology showing chronic aggressive hepatitis, bridging necrosis, or cirrhosis

- Involvement of the eye (Schirmer test with < 5-mm wetting)

- Involvement of minor salivary glands or oral mucosa demonstrated on labial biopsy

- Involvement of any other target organ
Different screening studies have been used to diagnose and stage chronic GVHD. See Table 5, below.
Table 5. Screening Studies for GVHD by Organ or System (Open Table in a new window)
| | | |
| --- | --- | --- |
| Organ or System | Clinical Findings | Screening Studies |
| Skin | Dyspigmentation, xerosis, erythema, scleroderma, onychodystrophy, alopecia | Skin biopsy with a 3-mm punch-biopsy sample from the back and forearm areas |
| Mouth | Lichen planus, xerostomia | Oral biopsy with sample from lower lip |
| Eyes | Sicca, keratitis | Schirmer test |
| Liver | Jaundice | Alkaline phosphatase, aspartate aminotransferase, bilirubin determinations |
| Lungs | Obstructive and/or restrictive lung disease | Pulmonary function studies, arterial blood gas analysis |
| Vagina | Sicca, atrophy | Gynecologic evaluation |
| GI (nutrition) | Protein and calorie deficiency | Weight, measurement of muscle and/or fat stores |
| Multiple (clinical performance) | Contractures, debility | Determination of Karnofsky score and Lansky play index |
What would you like to print?