Technique
Approach Considerations
The application of heart-lung transplantation is limited by the availability of suitable donors. All potential donors have succumbed to brain death secondary to some form of catastrophic event. The condition necessitates ventilator dependency in order to maintain organ viability. In this situation, the lungs become susceptible to injury because of neurogenic pulmonary edema, fat embolism, infectious processes, and atelectasis. These events, coupled with underlying pulmonary pathology in some potential donors, exclude the use of many organs.Direct major chest trauma also precludes donation.
Because of the lung tissues' short preservation time (4-6 hours), procurement distances are limited.
Potential heart-lung donors must meet brain-death criteria and be free of cardiopulmonary pathology. Donors who smoked may be acceptable candidates, provided that their pulmonary function is preserved and no evidence of infection or malignancy exists.
Current donor criteria include the following:
Age younger than 50 years

Clear lung fields on chest radiographs

Arterial oxygen tension (P aO 2) >100 mm Hg on 40% inspired oxygen and >300 mm Hg on a 100% oxygen challenge

No evidence of tracheobronchial infection on bronchoscopy

Low peak inflation pressures
Once donor criteria are met, the donor and potential recipients are matched according to ABO compatibility and organ size. Size matching has been accomplished by various methods, including measurement of chest circumference, assessment of chest wall dimensions on chest radiographs, and estimation of height- and weight-adjusted lung volumes. Ideally, to avoid postoperative compression atelectasis, the donor organs for heart-lung transplantation should be slightly smaller than those of the recipient.
The final decision regarding the suitability of the donor heart-lung allograft can be made only by direct inspection.
Transplantation of Heart and Lung
A median sternotomy incision is made for initial inspection of the heart and lungs. The heart and lungs are mobilized with minimal handling of the pulmonary tissue. The heart is flushed with cold cardioplegia solution while the lungs are simultaneously flushed with cold modified Collins solution after prostaglandins are administered into the pulmonary artery.
The heart-lung block is then removed and placed into a sterile cold electrolyte solution for transport. Care is taken to occlude the trachea during storage and transport.
The recipient operative procedure is performed by using cardiopulmonary bypass. The heart and lungs are removed, with care taken to preserve the phrenic nerves and to address the bronchial artery circulation so as to prevent postoperative bleeding complications.
Next, the donor heart and lungs are inserted (see the image below). The tracheal anastomosis is performed first. The right atrial anastomosis is performed next, followed by the aortic anastomosis. Care is taken to keep the donor trachea as short as possible because of the limited vascularity of the area.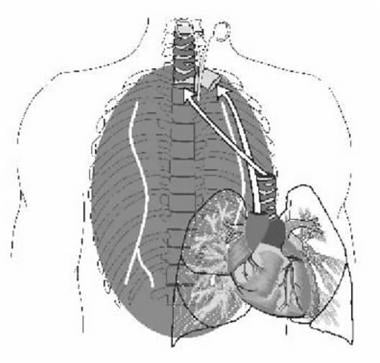 Operative procedure for heart-lung allograft implantation.
In addition to the immunosuppressants required for the transplant procedure itself, medications to treat concomitant conditions, including hypertension and diabetes, are required.
Complications
Rejection
Cardiac rejection is monitored by serial endomyocardial biopsies. However, this is not a satisfactory method of assessing pulmonary rejection, because the 2 types of rejection can occur discordantly. Rejection is considered likely when radiographic changes in the lung fields are present. Examination of the cellular content of the bronchoalveolar lavage fluid is an appropriate surveillance method.
If rejection is suggested but not confirmed, treatment is initiated nevertheless. Treatment consists of steroid pulses (methylprednisolone 500-1000 mg/day for 3-5 days), monoclonal antibody treatment, or polyclonal antibody therapy. Cardiac rejection is treated in a similar fashion.
Implantation response
The implantation response is a transient and reversible deterioration in compliance, gas exchange, and pulmonary vascular resistance. It generally occurs immediately after the operation and persists for as long as 1 week. The etiology of the process is multifactorial, including lymphatic disruption, ischemia-reperfusion injury, denervation, surgical trauma, fluid overload, and inadequate preservation (to name a few).
Improvements in preservation techniques, coupled with judicious postoperative diuresis, lead to improved pulmonary function and resolution of the problem.
Infection
The transplanted lung is extremely susceptible to injury and infection. Early mobilization of the patient and aggressive pulmonary therapy may reduce this postoperative complication. Bacteriologic culture of the donor and recipient trachea may demonstrate potential pathogens and guide appropriate prophylaxis. Diagnosis is confirmed by taking a careful history of the patient's exposure and by obtaining a bronchoalveolar lavage specimen for culture.
Cytomegalovirus (CMV) infection represents a particular hazard. The infection may be a reactivation of recipient disease caused by the immunosuppression or a de novo infection arising from donor tissue, transfused blood, or other sources. Radiographically, diffuse reticular infiltrates appear in the lung fields. The process proceeds rapidly to respiratory failure and death if aggressive treatment is not initiated. For prophylaxis, patients are generally started on ganciclovir 5 mg/kg/day; for treatment, the same drug and dosage are used.
Late viral, fungal, and bacterial infections can occur, depending on exposure. Vigilance and careful historical documentation of the patient's activities and exposure often provide valuable clues to the infectious agent and guide therapy. Diagnosis and treatment must be prompt.
Allograft vascular disease and bronchiolitis obliterans
Allograft vascular disease of the coronary arteries of the transplanted heart and obliterative bronchiolitis of the transplanted lung remain the main causes of late graft failure and death. In the coronary arteries, a concentric myointimal hyperplasia develops; in the lungs, squamous metaplasia and fibrous replacement of the bronchioles develop. In both cases, the process is progressive.
The etiology of the process continues to be elusive. Current research indicates that initial ischemia-reperfusion injury of the allograft, coupled with repeated rejection episodes, may play a contributing role. To date, the only available therapy is retransplantation. [8]
What would you like to print?