Workup
Laboratory Studies
The initial evaluation for posttransplant lymphoproliferative disease (PTLD) should include a complete history and physical examination, complete blood cell count, comprehensive chemistry panel, and Epstein-Barr virus (EBV) evaluation. Attention should be given to the metabolic panel for signs of tumor lysis syndrome.
Elevated lactate dehydrogenase (LDH) concentrations may represent rapid cell turnover, but this has not been shown to be prognostic in PTLD. Additional laboratory tests specific for allograft function should also be obtained.
The EBV status of the recipient usually is established pretransplantation. Donor EBV status may not be routinely tested because the incidence of infection with EBV in the general adult population is so high.
In primary EBV infection, EBV viral capsid antigen immunoglobulin M (IgM) titers are elevated. Reactivation of EBV infection is characterized by more than a 4-fold rise in EBV viral capsid antigen immunoglobulin G (IgG) titers, compared with previously recorded EBV viral capsid antigen IgG titers. No change in titer suggests past infection. However, in immunocompromised patients, the antibody titer response may be a less reliable marker of acute infection or reactivation; thus, the absence of change in EBV antibody titers does not exclude a diagnosis of PTLD.
The EBV viral load in the peripheral blood, measured by quantitative PCR, is the most commonly used laboratory test to monitor patients who are at risk for developing PTLD after solid organ transplantation (SOT) or bone marrow transplantation. A single elevated EBV PCR value is less informative than a trend of rising (or falling) values over time. Because testing for EBV by blood PCR is performed using different techniques in different laboratories, it may not be valid to compare results from one laboratory to another. A negative EBV PCR does not rule out the presence of PTLD.
The diagnosis of PTLD can only be made by histologic confirmation of tumor tissue. PTLDs are categorized pathologically by the WHO classification system (see Background and Histologic Findings). Histopathologically, the lesion may demonstrate plasmacytic hyperplasia, B-cell hyperplasia, B-cell lymphoma, or immunoblastic lymphoma. Less commonly, T-cell lymphoma or Hodgkin lymphoma may manifest as PTLD.
Evaluation of tumor tissue for the presence of EBV is very important and is typically performed with immunohistologic staining of paraffin-embedded tissue. In situ hybridization with the EBV-encoded RNA (Epstein-Barr early region [EBER]-1) probe (which labels EBV-encoded RNA in infected cells) is a reliable means of detecting EBV in tissue. While the majority of PTLDs are EBV-positive, EBV-negative PTLDs are seen typically in tumors that present late post transplantation.
Establishing the clonality of the lesion is also important. Tumors can be monoclonal, oligoclonal, polyclonal, or mixed. Clonality evaluation is typically performed by immunohistochemical staining of surface immunoglobulin light chains or by molecular determination of immunoglobulin or T-cell receptor rearrangement.
Imaging Studies
Radiological evaluation includes computed tomography (CT) or magnetic resonance imaging (MRI) scan of the neck, chest, abdomen, pelvis, and head, looking for evidence of any abnormal nodal or extranodal masses.
The role of [18 F]2-fluoro-2-deoxyglucose (FDG) positron emission tomography (PET)/CT scanning is still under evaluation. However, PET/CT can be useful for staging disseminated disease.
Procedures
Obtaining bone marrow aspirate and biopsy is appropriate to determine whether marrow is involved in the disease process.
If a suspicion of CNS or neurological involvement exists, lumbar puncture should be performed for routine cerebrospinal fluid (CSF) evaluation and examination of the CSF for malignant cells. In addition to the standard tests, the fluid may also be analyzed for EBV DNA, using polymerase chain reaction (PCR).
Histologic Findings
The pathological diagnosis of posttransplant lymphoproliferative disease (PTLD) is based on the World Health Organization (WHO) classification and includes the following 4 main categories [3] :
Early lesions
Polymorphic PTLD
Monomorphic PTLD
Classic Hodgkin lymphoma
The monomorphic subgroup includes both B-cell and T-cell neoplasms. [45] This classification system is now universally accepted for defining distinct subtypes of PTLD. In practice, however, a clear separation between the different subtypes is not always possible; early lesions, polymorphic PTLD, and monomorphic PTLD probably represent a spectrum of disease, and more than one subtype may sometimes be present in a given patient.
Prior to the adoption of the WHO system for classification of PTLD, an alternative classification system had been proposed by Knowles et al in 1995. This system classified PTLD into the following 3 distinct categories:
Plasmacytic hyperplasia, which arises most commonly in the oropharynx or lymph nodes and nearly always is polyclonal, with a lack of oncogene or tumor suppressor gene alteration
Polymorphic B-cell hyperplasia and polymorphic B-cell lymphoma, which can be nodal or extranodal, nearly always are monoclonal, usually contain a single form of EBV, and lack oncogene or tumor suppressor gene alteration
Immunoblastic lymphoma with widely disseminated disease, which is monoclonal, contains a single form of EBV, and contains alterations of one or more oncogene or tumor suppressor genes
This classification system is no longer routinely used. However, some earlier literature may reference it.
The images below show histologic findings consistent with PTLD.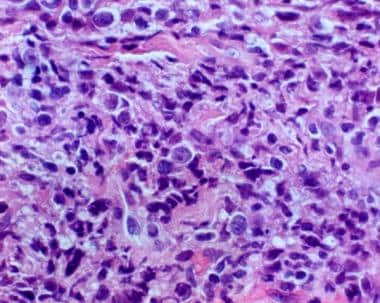 Biopsy of gingival tissue (400 X) with hematoxylin and eosin stain demonstrates polymorphous infiltrate of atypical lymphoid cells, which is consistent with posttransplant lymphoproliferative disease (PTLD).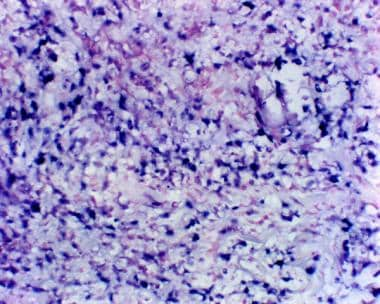 Biopsy of gingival tissue (400 X). Epstein-Barr virus encoded RNA (EBER) study shows numerous positive cells, which is consistent with posttransplant lymphoproliferative disease (PTLD).
What would you like to print?