Workup
Laboratory Studies
While frequently obtained, a complete blood cell count or hemoglobin level is rarely helpful in the initial workup of the suspected splenic injury. These are helpful in providing baseline values and, when performed serially, in diagnosing ongoing blood loss or hemodilution due to volume resuscitation.
Imaging Studies
Focused abdominal sonographic technique
Focused abdominal sonographic technique (FAST), observing for the presence or absence of fluid in the peritoneal cavity, may be performed rapidly and safely in trauma patients.
FAST is poor for delineating organ-specific anatomy with any reliability in the emergency setting. In addition, the learning and interpretation curve is rather steep when compared to DPL.
In experienced hands, visualization of fluid in the right upper quadrant, the left upper quadrant, and the pelvis suggests solid organ injury (or mesenteric injury) and the possibility of splenic injury.
CT scanning
In the stable patient, CT scanning provides structural evaluation of the spleen and surrounding organs.
Intravenous contrast injected at the time of scan improves the clinician's ability to determine the severity of injury. Active bleeding from the splenic parenchyma can be missed with a noncontrast CT scan.
A splenic contrast blush noted by a helical CT scanner has a greater propensity to require splenic exploration in most series. [11, 12] See the image below.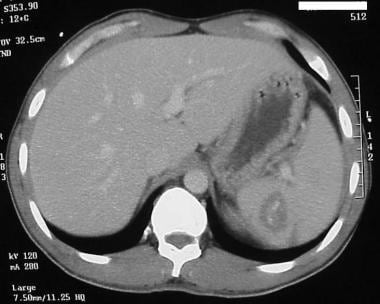 Intra-parenchymal blush observed on helical CT scan.
Multidetector CT scanners have improved diagnostic capabilities but may still miss some vascular injuries. [13]
Angiography
Angiography is rarely the first choice for evaluation of the patient with a splenic injury, but it is being used more frequently for primary therapeutic management of splenic injuries.
Angiography is usually performed after CT scanning images are obtained showing an arterial contrast blush or active extravasation. Angiography is less of a diagnostic modality and more of a preparation for therapeutic angioembolization of active bleeding sites.
MRI
MRI has been reported as an option in the patient with renal failure or significant contrast allergy.
Other Tests
Radioisotope studies
These are rarely helpful in this day of rapid, detailed, high-resolution CT scanners.
These studies should probably be eschewed as a diagnostic option in the trauma patient unless no other confirmatory tests are available.
Diagnostic Procedures
Diagnostic peritoneal lavage
DPL is a method of rapidly determining if free intraperitoneal blood is present. This test is especially useful in the hypotensive patient.
DPL is fast and inexpensive. It has a low complication rate in experienced hands.
FAST has replaced DPL in many institutions because it is less invasive, but it has not yet been shown to be more sensitive or specific than DPL in most published studies.
Histologic Findings
Histologic findings may help to explain why a minor trauma resulted in a major splenic injury. Splenic rupture may follow after a seemingly minor transfer of kinetic energy because of organ expansion with capsular thinning or an abnormal internal architecture with reduced elasticity to the parenchyma. Such events may happen with splenomegaly due to hematologic abnormalities (eg, hereditary spherocytosis), infectious diseases (eg, malaria), and liver disease (eg, portal and splenic hypertension).
Staging
Splenic injury is graded using the standards published by the Organ Injury Scaling Committee of the AAST. Categories range from grade I (minor) to grade V (major) and correlate to the need for laparotomy. These grades are used in conjunction with nonoperative assessment (eg, CT scanning, angiography), operative intervention by laparotomy, or postmortem by autopsy. Some studies comparing CT staging with operative staging indicate that CT scanning overestimates the injury by as much as 10%. However, CT scan findings correlate well with the need for operative intervention.
What would you like to print?