Workup
Laboratory Studies
Laboratory studies are helpful in the management of flail chest and its associated physiologic abnormalities, but no single test confirms the diagnosis of the condition. Chest x-rays occasionally demonstrate the fractured ribs, but may not show all fracture sites, and underlying pulmonary contusion may be initially masked by hypovolemia. See the image below.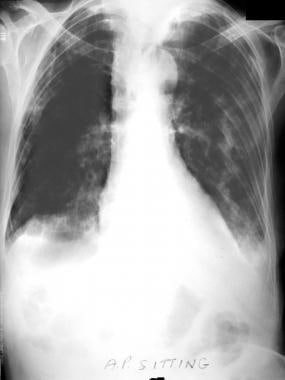 Multiple left rib fractures, pulmonary contusion, and hemothorax in an elderly man after a motor vehicle accident.
Arterial blood gas (ABG) measurements show the severity of the hypoventilation created by both the pulmonary contusion and the pain of the rib fractures, and are helpful at baseline to assess the need for mechanical ventilation and to follow the patient during management.
Imaging Studies
Portable anteroposterior (AP) or more formal posteroanterior (PA) chest radiography is the simplest and easiest radiologic test to perform to delineate the number of fractured ribs. Plain films can miss rib fractures and pneumothoraces however. The flail chest diagnosis is a clinical observation that is supported by the radiologic identification of the fracture pattern.
Saggital and coronal reformats of a thoracic MSCT scan also identifies rib fractures quite well. [14] Because many of these patients sustain concomitant internal thoracic injury, thoracic CT scanning images may be available for reasons other than rib fracture identification (ie, evaluation of an abnormal mediastinal contour). Three-dimensional (3-D) reconstruction of helical CT images is also possible though not widely available. See the image below.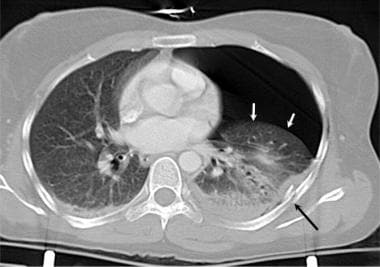 Axial computed tomography image of the chest in a patient with left posterior rib fractures. The left pneumothorax (white arrows) is associated with a displaced posterior left rib fracture (black arrow). Secondary effects on the left lung include a pulmonary contusion and volume loss.
What would you like to print?