Workup
Approach Considerations
The following laboratory studies may be indicated for suspected epididymitis:
Urinalysis - Pyuria or bacteriuria (50%); urine culture indicated for prepubertal

[6]

and elderly patients

Complete blood count (CBC) - Leukocytosis

Gram stain of urethral discharge, if present

Urethral culture, nucleic acid hybridization, and nucleic acid amplification tests (these tests aid in detection of N gonorrhoeae and C trachomatis)

Performance of (or referral for) syphilis and HIV testing in patients found positive for C trachomatis or N gonorrhoeae infection

The use of C-reactive protein (CRP) and erythrocyte sedimentation rate (ESR) to differentiate epididymitis from other causes of acute scrotum is currently under investigation
If mumps orchitis is clinically suspected but the diagnosis is in doubt, use immunofluorescent antibody testing to confirm the diagnosis. Urinalysis and culture findings are negative in mumps orchitis.
Amiodarone plasma levels or antibodies are not helpful in the diagnosis of amiodarone-induced epididymitis.
Imaging studies
Use imaging studies (see the images below) to help distinguish acute epididymitis from the more ominous testicular torsion. However, clinical judgment must guide interpretation of imaging results, as they are neither 100% sensitive nor specific.

Scrotal sonogram demonstrating the presence of a hydrocele and an enlarged epididymis in a patient with epididymitis. The echogenic white area is the normal testicle surrounded by the hydrocele.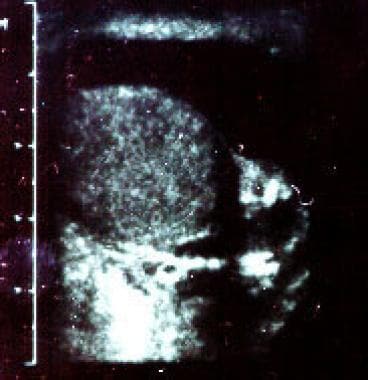 Scrotal sonogram showing the testes adjacent to the inflamed epididymis with a reactive hydrocele.
Do not allow studies to delay intervention or exploration if testicular torsion is suspected because testicular viability drops significantly with delay. In addition, the clinical evaluation is paramount and imaging studies should be used if the examination findings are indeterminate. Confirmatory imaging is unnecessary in a patient with a clear history consistent with epididymitis; ultrasonographic results are positive in only 69% of patients with clinical epididymitis.
MRI has high sensitivity and specificity for testicular torsion and is useful for differentiating epididymitis and testicular torsion when ultrasound findings are inconclusive. [16]
Radiologic studies are recommended in children who have bacteruria and acute epididymitis in order to evaluate for structural abnormalities (found in >50% of these patients). In infants with bacteruria and epididymitis, in whom anatomical abnormalities are more common than in older children, a voiding cystourethrogram (VCUG) and abdominal ultrasonography are recommended. Retrograde urethrography is also indicated to evaluate for urethral stricture disease as symptoms dictate.
Radiologic studies for mumps orchitis are not indicated, although a reactive hydrocele is common. Patients with tuberculous epididymitis [17] require a full workup for systemic TB. This may include chest radiography, renal function tests, or computed tomography (CT) or excretory urography.
Along with radiologic evaluation, cystourethroscopy may be indicated to evaluate for structural abnormalities in children, as radiographic and clinical suspicion dictates.
Go to Epididymis Imaging for complete information on this topic.
Scrotal exploration or aspiration
Scrotal exploration or aspiration of the epididymis is rarely needed. If it is needed, it is performed by a urologist. Perform a scrotal exploration if torsion or tumor cannot be ruled out and for the complications of acute epididymitis and orchitis (eg, abscess, pyocele, testicular infarction). Diagnosis of intrascrotal disorders is often confirmed during orchiectomy.
Laboratory Findings in Acute Epididymitis and Nonviral Orchitis
The WBC count may be elevated with a left shift (10,000-30,000 cells/μL). A midstream urine culture and Gram stain are useful in guiding therapy. Urinalysis findings are positive for pyuria in only 25% of patients and are sterile in 40-90% of patients.
Obtain a urethral swab culture (before void, after prostate massage) for gonorrheal and chlamydial infections if the patient is in the at-risk age group or if the patient is older than 40 years and not monogamous. Gonorrheal infections often demonstrate gram-negative diplococci on smear, while chlamydial infections can be established in two thirds of cases when only WBCs are seen on smear. A chlamydia polymerase chain reaction (PCR) assay is highly specific and sensitive for chlamydial infection.
Perform blood cultures if the patient is systemically ill.
It is recommended that pediatric patients be evaluated for underlying congenital anomalies via abdominopelvic ultrasonography, voiding cystourethrography, and, in some cases, cystoscopy, especially when the urine culture result is positive. Debate is ongoing as to whether further work-up is necessary only in those with recurrent episodes or also after a first episode of epididymitis or epididymo-orchitis.
Ultrasonography
Color Doppler ultrasonography
Color Doppler ultrasonography is important in the diagnostic workup of epididymitis, not only for diagnosing epididymitis but to rule out testicular torsion. The sensitivity for torsion in color Doppler ultrasonography is 82-100%, and the specificity is 88.9-100%. [18] The sensitivity of color Doppler ultrasonography for epididymitis is 92-100%. [19, 20] This test is the most widely available; however, it is examiner-dependent. The effectiveness of the examination can be limited by pain and patient size (eg, infants). It should also be reserved for patients with indeterminate examination, history, or laboratory workup findings.
Increased blood flow occurs with epididymitis (see the image below); no flow occurs with torsion. Testicular tumors can also appear hyperemic. [21]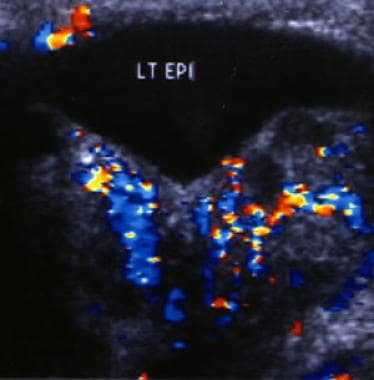 Color Doppler sonogram of the left epididymis in a patient with acute epididymitis. The image demonstrates increased blood flow in the epididymis resulting from the active inflammation.
The examination may reveal epididymal enlargement or a reactive hydrocele of mixed echogenicity (inhomogeneous echogenicity). Use ultrasonography to help detect a scrotal abscess, as well as complications of epididymitis and bacterial or pyogenic orchitis.
Chronic epididymitis is characterized by an enlarged testis and epididymitis, as well as by a thickened tunica vaginalis with a heterogeneous echo pattern and the presence of course calcifications. The testicle may be atrophic and hypoechoic or heterogeneous from testicular infarction secondary to compromise of the testicular blood flow due to intratesticular edema.
Go to Epididymis Imaging for complete information on this topic.
Contrast-enhanced ultrasonography
One of the sequelae of epididymitis is segmental, and even global testicular infarction. Contrast-enhanced ultrasonography may help distinguish this situation. [22]
Radionuclide Scanning and Scintigraphy
Sensitivity for torsion is 90-100% in technetium-99m (99m Tc) scanning, and specificity is 89-97%. Use99m Tc scanning with imaging every 2 seconds for 2 minutes after injection of the tracer.
Acute epididymitis is characterized by increased tracer uptake, while torsion is characterized by defective uptake in the scrotum. Late torsion may result in inflammation that resembles epididymitis.
The study's usefulness is limited by availability, cost, and difficulty with interpretation. Hydrocele and abscess cause false-positive results. Spontaneous detorsion and intermittent torsion may cause false-negative results.
Radionuclide scintigraphy is used to assess testicle perfusion, yet it provides little anatomic information. Decreased perfusion suggests torsion. Increased or normal perfusion suggests epididymitis but also may be reported with actual torsion.
What would you like to print?