Workup
Laboratory Studies
Laboratory study results in patients with Leydig cell tumors are usually nonspecific. Levels of testicular tumor markers such as serum alpha-fetoprotein (AFP), beta human chorionic gonadotropin (beta-HCG), and lactate dehydrogenase (LDH) should be within the reference range in pure Leydig cell tumors.
The steroid secretion of Leydig cell tumors varies. Serum testosterone levels are usually elevated; however, serum estradiol levels may also be increased, especially when feminization is evident.
Urine and serum endocrinological tests such as urine ketosteroids, plasma cortisol, or the dexamethasone suppression test may help differentiate Leydig cell tumors from other adrenocortical disorders. Leydig cell tumor endocrine function is independent of the hypothalamus-pituitary-gonadal hormonal axis and should not demonstrate a response to adrenocorticotropic hormone stimulation or dexamethasone suppression.
Imaging Studies
Scrotal ultrasonography is typically performed to confirm the diagnosis, especially in patients in whom the physical examination findings are equivocal. [4, 5] On color Doppler ultrasonography (CDUS), a typical Leydig cell tumor appears as a round, infracentimeter hyperechoic mass with a clear delineation from the surroundings; lobulated margins are seen in up to 50% of cases. [16]
MRI can reveal small nonpalpable Leydig cell tumors not otherwise visible on sonograms. On T1-weighed imaging, the tumors are not visible before administration of contrast agents, since they have similar signal intensity as normal testicular parenchyma. They appear with marked enhancement after intravenous injection of contrast material. Other testicular tumors do not show a similar pattern of enhancement. [17]
CT scanning of the abdomen and chest radiography are indicated if malignancy is suspected.
Contrast-enhanced ultrasound (CEUS) is a possible future imaging technique for Leydig cell tumors. CEUS demonstrates hypervascularization in these cases. In CEUS, Leydig cell tumor is suggested by findings of a short filling time or by a circumferential vessel with rapid centripetal filling. [18]
Histologic Findings
Macroscopically, Leydig cell tumors present as well-circumscribed, yellow to brown masses within the testicle.
Microscopically, these tumors are composed of large, closely packed cells with eosinophilic cytoplasm, bland nuclei, and small nucleoli (see image below). Reinke crystals are pale-staining, cylindrical, rectangular, or rhomboid inclusions that are pathognomonic for Leydig cell tumors and are found in up to 30% of patients with such tumors. [2] Microscopic features such as necrosis, marked pleomorphism, lymphovascular invasion, increased mitotic activity, and DNA aneuploidy are more consistent with a malignant variant. [19]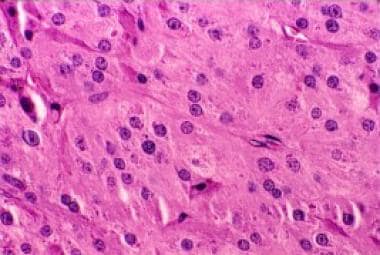 Leydig cell tumor.
Immunohistochemical markers such as alpha-inhibin, [20] calretinin, [11] and melan-A have also been shown to be valuable in the identification of Leydig cell and other sex cord–stromal testicular tumors. Alpha-inhibin is expressed in all Leydig cell tumors and calretinin is useful in distinguishing Leydig cell tumors from Sertoli cell tumors. [15]
What would you like to print?