Treatment
Approach Considerations
Appropriate treatment of priapism varies, depending on whether the patient has low-flow or high-flow priapism. Most priapism cases are the low-flow ischemic type.
Treatment of low-flow priapism should progress in a stepwise fashion, starting with therapeutic aspiration, with or without irrigation, followed by intracavernous injection of a sympathomimetic agent. Repeated injection of a sympathomimentic agent should be performed before considering surgical intervention. [7] Although all cases of priapism require prompt consultation with a genitourinary medicine specialist, emergency department (ED) personnel who have appropriate training and protocols may begin treatment with saline irrigation and injection. Treatment of high-flow priapism focuses on identification and obliteration of fistulas.
In patients with priapism secondary to other disorders, attempt to treat the underlying condition whenever possible. Treatment for priapism secondary to sickle cell disease includes hydration, alkalization, analgesia, and oxygenation to prevent further sickling. Hypertransfusion and/or exchange transfusions may be required to increase the hemoglobin concentration to higher than 10% and decrease hemoglobin S to less than 30%. In a study of 239 exchange transfusions performed in adult patients with sickle cell disease and major priapism refractory to other medical therapies, Ballas and Lyon reported that none of the patients developed any neurological complications (eg, headache, seizures, neurological deficits, obtundation). [25]
The potential medical and legal pitfalls in the treatment of priapism deserve special attention. Meticulous documentation is essential and helps protect the physician from future litigation by a patient who may be upset by a poor outcome despite appropriate management and careful counseling at the time of treatment.
Prompt treatment and referral to a urologist is strongly encouraged. At least 50% of patients with priapism have persistent impotence, either because of the priapism event or its treatment, and legal liability exposure is higher than that seen in many other urologic diseases.
Prehospital Care
Any patient who has an erection for longer than 4 hours, especially if he has a predisposing illness (eg, sickle cell disease) probably should receive therapy for priapism. Most cases, if seen early enough in their course, respond to conservative measures.
Examples of immediate treatment that can be suggested prior to arrival at the hospital may include the use of ice packs to the perineum and penis or asking the patient to walk up stairs. The latter strategy is thought to work via an arterial steal phenomenon. External perineal compression may also be a useful temporizing measure in the ED or prehospital setting. If these measures fail to produce rapid detumescence, patients should not delay transfer to the hospital.
Low-Flow Priapism
Treatment should progress in a stepwise fashion, accompanied by supportive care and the identification and treatment of reversible causes. Intracavernosal phenylephrine is the drug of choice and first-line treatment of low-flow priapism because the drug has almost pure alpha-agonist effects and minimal beta activity. In short-term priapism (< 6 h), especially drug-induced cases, intracavernosal injection of phenylephrine alone may result in detumescence.
Some studies suggest that oral terbutaline orally, at a dose of 5-10 mg, followed by another 5-10 mg 15 minutes later, if required, produces resolution in about one third of patients. Oral pseudoephedrine, 60-120 mg orally has also been suggested as a potential therapy due to its alpha-agonist effect. The exact efficacy of this medication orally is unknown. Oral agents may be a reasonable treatment option to use while preparing for aspiration/injection. If no resolution occurs within 30 minutes, injection therapy is required.
Long-term, continuous use of phosphodiesterase type 5 (PDE5) inhibitors (eg, sildenafil), although off-label, has shown benefit in controlling recurrent ischemic priapism. [14] A retrospective study of regimented PDE5 inhibitor dosing in patients with recurrent ischemic priapism found that of 24 evaluable patients, 22 (92%) reported improvement in priapism outcomes, with nine patients reporting resolution. Priapism-related emergency department visits per month decreased 4.4-fold; duration and frequency of priapism also decreased significantly. [26]
Similarly, evidence supporting noninvasive treatment of ischemic priapism is sparse, but attempting it poses minimal risk as long as it does not delay the use of more definitive treatment. Conservative treatments described in the literature include application of an ice pack, cold showers, masturbation, and lower-limb exercise (eg, stair climbing). [27]
Aspiration/injection of the corpus cavernosum
First perform a penile nerve block. Inject around the entire base of the penile shaft with 1% lidocaine without epinephrine or bupivacaine without epinephrine. Providing anesthesia will increase patient comfort and improve patient cooperation with the sometimes-painful penile aspiration procedure.
After anesthesia is ensured, use a 19-gauge needle attached to a large syringe to puncture the corpus cavernosum. The needle should be inserted through the shaft of the penis laterally to avoid the corpus spongiosum and urethra ventrally and the neurovascular bundle dorsally.
Aspirate 20-30 mL of blood from either the 2-o'clock or 10-o'clock position while milking the shaft. Because multiple communications exist from one corpus to the other, aspiration usually is required on one side only. If initial aspiration of the corpus cavernosum reveals bright red blood rather than dark venous blood, consider an arterial cause for priapism and treat as for high-flow cases.
Aspiration alone has a success rate of around 30%. Aspiration may be difficult because of the sludging of blood within the corpus cavernosum. Saline irrigation and repeated aspirations may improve flow dynamics. If this procedure is not successful, phenylephrine, epinephrine, or methylene blue may be instilled into the corpus cavernosa.
For the injection, use a mixture of 1 ampule of phenylephrine (1 mL:1000 mcg) and dilute it with an additional 9 mL of normal saline. Using a 29-gauge needle, inject 0.3-0.5 mL into the corpora cavernosa, waiting 10-15 minutes between injections. Monitor vital signs and apply compression to the area of injection to help prevent hematoma formation.
If phenylephrine is not available, epinephrine can be used. [28] However, epinephrine has more adverse effects and is considered second-line treatment. Another second-line treatment is instillation of methylene blue.
Alternatively, the corpora cavernosa can be irrigated with a diluted solution of phenylephrine. A diluted solution can be infused 10-20 mL at a time.
If aspiration or injection is successful in producing detumescence, place an elastic bandage around the shaft of the penis to ensure continued emptying of the corpora and to compress the puncture site.
For full description of these procedures, see Penile Injection and Aspiration.
High-Flow Priapism
Acutely, observation alone may be sufficient for high-flow priapism, because many cases resolve spontaneously, and even with prolonged priapism these patients are unlikely to experience significant pathological damage or impaired erectile function. Compression therapy may be successful in certain cases, especially children; continuous compression may be maintained with a strap-on dressing. [17]
Selective angiography with subsequent embolization of the offending vessel has been shown to be effective with few long-term complications in some studies. Selective arterial embolization can be done using autologous blood clot, gelatin sponge, microcoils, or chemicals. [29, 30, 7] Patients who do not respond to more conservative measures may benefit from this approach.
Surgical ligation of the fistula may be required. However, potential complications of this procedure include long-term impotence.
Surgical Care
Distal shunt in the form of a transglanular-to-corpus cavernosal scalpel or needle-core biopsy (Ebbehoj or Winter technique) is the first reasonable approach for refractory cases (see image below). A unilateral shunt is often effective. Bilateral shunts are used only if necessary (usually apparent after 10 min).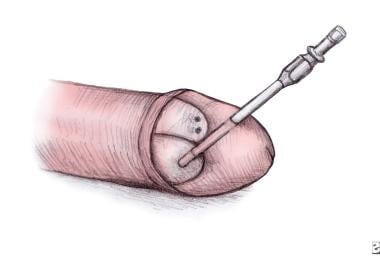 Priapism. Winter shunt placed by biopsy needle, usually under local anesthetic.
The El-Ghorab procedure is a more aggressive open surgical cavernosal shunt and is indicated if the Winter shunt fails.
For patients with prolonged low-flow priapism, some authors recommend considering caverno-dorsal vein shunting (Barry shunt). In this procedure, the surgeon transects the superficial or deep dorsal vein of the penis and anastomoses it to the corpora cavernosa. An advantage of the procedure is that if priapism recurs priapism during the initial post-surgical period, the patient can "milk" the tumescence into the shunt. [31]
Osomonov et al reported successful caverno-dorsal vein shunting in a patient with 76-hour stuttering priapism, without subsequent erectile dysfunction. [32] Micoogullari et al used caverno-dorsal vein shunting in 10 patients with low-flow priapism that failed to respond to drainage of the corpus cavernosum. Detumescence occurred in all patients, and 8 of the 10 maintained erectile function. Micoogullari et al consider caverno-dorsal vein shunt a treatment of choice for refractory low-flow priapism. [32]
Proximal shunt surgery (eg, Quackel shunts) are cavernosal-spongiosum shunts (unilateral or bilateral) and are performed via a perineal approach (see image below). Such shunts are rarely effective if a more distal shunt (eg, El-Ghorab procedure) has already failed, because thrombosis of the corpora is usually already present. [33]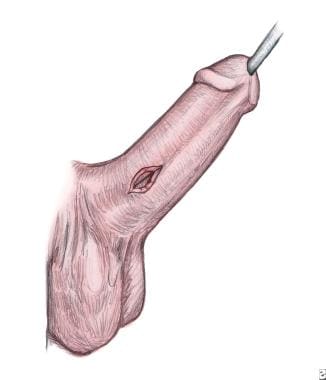 Priapism. Proximal cavernosal-spongiosum shunt (Quackel shunt) surgically connects the proximal corpora cavernosa to the corpora spongiosum.
A Grayhack shunt is a cavernosal-saphenous vein shunt (rarely necessary or indicated; see image below).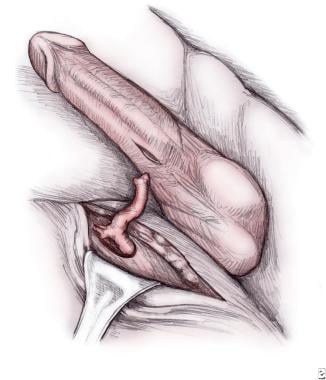 Priapism. Proximal cavernosal-saphenous shunt (Grayhack shunt) surgically connects the proximal corpora cavernosum to the saphenous vein.
Reed-Maldonado propose an algorithm for the treatment of ischemic priapism that uses duration of priapism as decision points. For patients with priapism for less than 24 hours in whom aspiration/injection fails, and in those who present more than 24 hours after onset, these authors recommend the use of anticoagulation with shunting. Anticoagulation consists of aspirin, 325 mg orally, and heparin, 5000 units subcutaneously, given preoperatively. Postoperatively, anticoagulation with aspirin (81 mg/day orally) and clopidogrel (75 mg/day orally) is continued for 5 days. [34]
Prolonged low-flow priapism results in a variable degree of cavernosal fibrosis and a subsequent loss of penile length. The delayed insertion of a penile prosthesis can be difficult, with high complication rates. Immediate insertion of a penile prosthesis in patients with prolonged low-flow priapism is simple and maintains penile length. This may be offered to patients at initial presentation, as the complication rate is low and the subsequent outcome excellent. [35, 36, 37, 38]
Fuchs et al describe successful use of corporal decompression through a penoscrotal approach for treatment of ischemic priapism that has failed to respond to distal shunt procedures. In this technique, the initial incision and dissection are identical to those used for implantation of a penoscrotal inflatable penile prosthesis; an approximately 2-cm incision is then made in the corpora, corporal decompression is performed using a pediatric Yankauer suction tip, and the sludged blood is expressed with firm manual pressure. [39]
In a case series, this approach was effective in 6 of 6 patients with prolonged ischemic priapism that was refractory to multiple prior treatments, including at least 1 distal shunt. All patients required no additional intervention and all noted immediate relief of pain postoperatively. In contrast, in an earlier series of similar cases treated with placement of a malleable penile prosthesis, 3 of the 8 patients required a total of 8 revision surgeries during a median follow-up of 41.5 months. [39]
Sickle Cell Disease
Key steps in the management of sickle cell disease–associated priapism include oxygenation, analgesics (eg, intravenous morphine), hydration, alkalization, and exchange transfusions to increase the hematocrit value to greater than 30% and to decrease the hemoglobin S (HbS) value to less than 30%. Although conservative management has commonly been advocated in the literature, several studies have questioned its efficacy, and most experts advocate emergent surgical decompression when conservative management fails.
Ekong and colleagues reported successful use of automated red cell exchange transfusion (ARCET) in five patients with sickle cell disease who were experiencing severely affected by stuttering priapism. Immediately after undergoing ARCET, with a target post-transfusion HbS level below 10%, all five became completely free of stuttering priapism. All five experienced recurrences as their HbS percentage increased towards the end of the ARCET cycle, but with subsequent cycles, most of the patients remained essentially free of stuttering priapism. [40]
Special Concerns
Priapism in females is extremely rare but has been described. No single therapy has been shown to be effective. Consider terbutaline in the first instance and consultation with a urologist.
Neonatal priapism may result from birth trauma or other conditions at birth.
Stuttering or recurrent priapism may occur in patients with sickle cell trait or disease. Usually self-limiting in nature, over time such episodes may lead to erectile dysfunction.
Consultations
Early consultation with a urologist is recommended, especially when less-invasive measures in the ED fail to resolve priapism or a high-flow condition is suspected. If a urologist is not available at the presenting institution, the patient should be transferred to an appropriate tertiary care center where a urologist is available. Refractory priapism may require urologic consultation for placement of a corpus cavernosum–corpus spongiosum shunt.
Consultation with a cardiologist may be appropriate for patients with cardiac disease or hypertension. Consultation with a hematologist is indicated for patients whose priapism is a complication of SCD.
Long-Term Monitoring
Ensure adequate follow-up care with a urologist if therapy in the ED is successful. Patients with identified underlying disorders should follow up with the appropriate specialist.
Some patients may have recurrent priapism. These patients may be prescribed a home supply of terbutaline. Instruct these patients on how to self-administer this medication either as a 5-mg tablet or a 0.25-0.5 mg subcutaneous injection prior to presentation.
Patients with sickle cell disease may also benefit from intramuscular leuprolide (Lupron) injections prescribed by a urologist. Leuprolide is a gonadotropin-releasing hormone (GnRH) agonist and thus should be avoided in patients who have not fully matured sexually. [7]
A small study (in 8 patients) describes suppression of testosterone with ketoconazole and prednisone for treatment of recurrent priapism. [41] In a more recent study involving 17 patients, starting ketoconazole at 200 mg 3 times daily and prednisone at 5 mg daily for 2 weeks, then tapering to ketoconazole 200 mg nightly for 6 months, proved reasonably effective, safe, and inexpensive. [42] This therapy should be initiated by a urologist because testosterone measurements may be necessary to monitor therapy.
Finasteride proved effective for preventing recurrent priapism in a study of 5 adolescents and children with sickle cell disease; most of these patients responded to a dosage of 1 mg a day. [43] Several other treatments have been reported with variable success rates, including phosphodiesterase-5 enzyme (PDE-5) inhibitors, antiandrogens, and other medications. [14, 43, 44, 45, 46]
What would you like to print?