DDx
Diagnostic Considerations
Trigonitis must be differentiated from keratinizing squamous metaplasia (leukoplakia), as the latter is generally considered a premalignant lesion that can progress to squamous cell carcinoma in as many as 20% of cases. Leukoplakia and trigonitis have many similar features, including risk factors and appearance. What distinguishes leukoplakia from trigonitis is its histology, which is characterized by downward growth of rete pegs (acanthosis), cellular atypia, and dysplasia. [16] See the image below.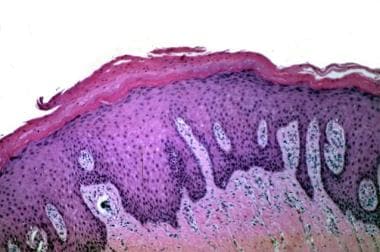 Keratinizing squamous metaplasia of the bladder.
Other problems to be considered in the differential diagnosis of trigonitis include the following:
Bladder cancer

Bladder stone

Bladder trauma

Cystitis

Interstitial cystitis

Pelvic pain syndrome
Differential Diagnoses
What would you like to print?