Workup
Laboratory Studies
Urinalysis and urine culture can be performed to exclude infection, as is often done prior to cystoscopy.
Imaging Studies
Imaging studies are not necessary to confirm the diagnosis. In one study of transabdominal ultrasonography, women with asymptomatic, cystoscopically-confirmed trigonitis had thickening of the muscosa around the bladder neck when compared with women who had cystoscopically normal bladders. [15]
Other Tests
Other tests are not necessary to confirm the diagnosis of trigonitis, but may assist in the workup for associated symptoms.
Procedures
Cystoscopy is necessary to make the diagnosis. Grossly, the lesion appears as a glistening, fluffy white patch of bladder mucosa with well-defined borders. See the image below.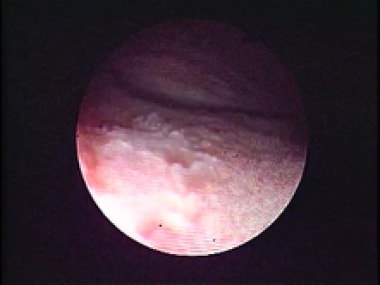 Cystoscopic appearance of trigonitis as a well-defined white area overlying the trigone.
Usually recognized by its distinct gross appearance and typical location in the trigone, biopsy of the lesion is usually deferred. However, biopsy may be warranted in males, females with hematuria, pediatric patients, or if the lesion is outside of the trigone because such lesions are more likely to be keratinizing and potentially precancerous.
Histologic Findings
Nonkeratinizing squamous metaplasia of the trigone is composed of stratified squamous epithelium that often contains abundant glycogen. The basal cell layer has prominent nuclei with condensed chromatin and nucleoli. The surface cells are linked by desmosomes and are longitudinally oriented. Jost et al found the mitotic index within these lesions to be 0.17%, higher than the expected value of 0%. [16] See the image below.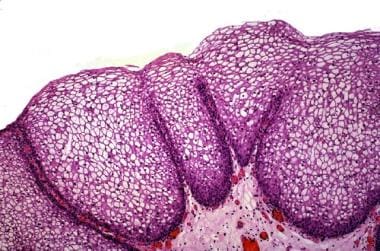 Nonkeratinizing squamous metaplasia. Stratified squamous metaplasia is usually seen in the bladder neck and trigone. Note the lack of densely eosinophilic layer, representing keratin, at the luminal side, in contrast with the earlier figure.
What would you like to print?