Treatment
Medical Therapy
Consultation with a urologist should be obtained in patients with urinary tract obstruction, as in hydronephrosis or urinary retention. A patient with complete urinary tract obstruction; any type of obstruction in a solitary kidney; obstruction with fever or infection; or renal failure needs immediate attention by a urologist. Patients with pain that is uncontrolled with oral medications or with persistent nausea and vomiting that causes dehydration also need immediate urological attention.
A partial urinary tract obstruction in the absence of infection can be initially managed with analgesics and prophylactic antibiotics until a complete urologic evaluation is performed and definitive management is completed.
Antibiotics are often given for prophylaxis and should cover common urinary tract pathogens. Commonly used antibiotics include trimethoprim-sulfamethoxazole, nitrofurantoin, cephalosporins, and fluoroquinolones.
Pain secondary to urinary tract obstruction is often managed with oxycodone, hydrocodone, acetaminophen, and nonsteroidal anti-inflammatory drugs.
Surgical Therapy
The goal of surgical intervention is to completely relieve the urinary tract obstruction. This can be evaluated with reimaging to ensure that the obstruction is resolved, as well as kidney function monitoring with creatinine testing. The recovery of renal function depends on the severity and duration of the obstruction.
Different interventions can be performed to temporarily relieve the obstruction. Surgical intervention is usually obtained once the point of obstruction is identified with radiographic imaging. Different procedures carry different relative and absolute contraindications. Prior to any elective surgical intervention, the urine should be sterile and all coagulation parameters should be normal.
In the setting of pelvic trauma with possible urethral disruption, some urologists advocate placement of a suprapubic catheter instead of a Foley catheter because a Foley catheter can worsen the urethral disruption, introduce infection into a pelvic hematoma, and worsen pelvic bleeding.
When dealing with a pregnant woman with an obstructed urinary tract, some urologists place a ureteral stent, while others prefer placement of a percutaneous nephrostomy tube.
When patients have had previous abdominal or pelvic surgery, some urologists may prefer placing an open suprapubic tube instead of a percutaneously placed tube, in order to avoid causing bowel injury.
Before any surgical intervention or any manipulation of the urinary tract, broad-spectrum antibiotics should be initiated to prevent infection or urosepsis. Ideally, before any manipulation is performed, the urine should be sterile. However, this may not be possible in cases of emergent surgical intervention. Urine culture along with the administration of broad-spectrum antibiotics is important.
If cystoscopy and stent are needed emergently, coagulation is not a concern. If percutaneous drainage is necessary, coagulopathies should be corrected.
Lower urinary tract obstruction
Lower urinary tract obstruction (bladder, urethra) can be relieved with a urethral catheter or a suprapubic tube or catheter.
Urethral catheter
A urethral catheter (size 8F-24F) is a flexible external catheter that extends from the bladder through the urethra. A physician or nurse can place it. If catheter placement is difficult, a urologist may be needed to avoid urethral trauma. The urologist may need to perform urethral dilation, cystoscopy, or both to pass the catheter. The catheter can be left indwelling, or, as an alternative, the patient can perform clean intermittent catheterization. If blood is present at the urethral meatus after pelvic trauma and suspicion of urethral injury exists, a urologist should be consulted prior to catheter placement. Retrograde urethrography needs to be performed to rule out urethral injury.
Suprapubic tube or catheter
If a Foley catheter cannot be passed, a suprapubic tube can be placed percutaneously (at the bedside) or in an open fashion (in the operating room). A suprapubic tube is placed on the lower anterior abdominal wall, approximately 2 finger-breadths above the pubic symphysis. Ultrasound guidance should be used for bedside procedures to ensure proper placement without injury to adjacent structures. In patients with previous abdominal surgery, adhesions and scar tissue may have changed the normal bowel location, so an open approach may be preferred. See the image below.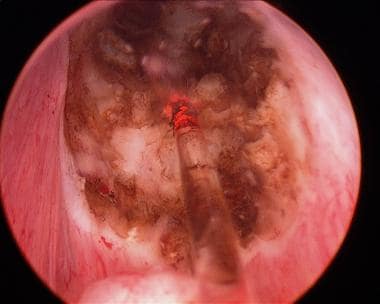 Cystoscopic image of vapor-resection of an obstructing prostate. Obstructing lateral lobes can be seen proximal to the verumontanum.
Upper urinary tract obstruction
Upper urinary tract obstruction (ureter, kidney) can be relieved with a ureteral stent or a nephrostomy tube
Ureteral stent
A ureteral stent is a flexible tube that extends from the renal pelvis to the bladder (see the image below). It can be placed during cystoscopy to relieve obstruction along any point in the ureter. A ureteral stent generally needs to be changed every 3 months.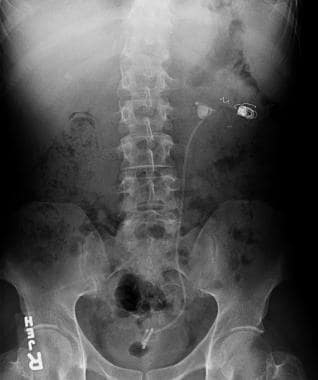 Kidney-ureter-bladder (KUB) image displaying a large right-sided renal stone and an indwelling ureteral stent.
Nephrostomy tube
A nephrostomy tube is a flexible tube that is placed through the back directly into the renal pelvis. If a ureteral stent cannot be placed cystoscopically in a retrograde fashion, a percutaneous nephrostomy tube can be inserted for relief of hydronephrosis. If needed, a ureteral stent can then be passed in an antegrade fashion through the nephrostomy tube tract.
Reconstruction
In cases of ureteral stricture not amenable to ureteral stent placement or in patients requiring definitive therapy, a ureteroureterostomy or pyeloplasty may be performed in cases of strictures of the ureter or ureteropelvic junction respectively. In addition, the use of ileum or mucosal grafts may be indicated in select scenarios that are not amenable to these approaches. Adjuncts such as a Psoas hitch or Boari flap may be used to achieve added length in stricture repair of the upper tract if clinically indicated. If reconstruction cannot be done, autotransplant or nephrectomy may be performed.
Urologic emergencies
The following are urologic emergencies that require immediate attention and intervention:
Complete urinary tract obstruction

Any type of obstruction in a solitary kidneyObstruction with fever, infection, or both

Kidney failure

Pain that is uncontrolled with oral medications

Nausea and vomiting that causes dehydration
Postoperative Details
After relief of long-standing urinary tract obstruction, patients may experience postobstructive diuresis. [11] This physiologic diuresis is usually self-limiting and can be managed conservatively with fluid replacement and, if needed, electrolyte replacement. Postobstructive diuresis is defined as diuresis of more than 200 mL/h for at least 2 hours. Patients with severe diuresis should receive intravenous fluid replacement in the form of half-normal saline at 80% of the hourly urine volume for the first 24 hours, then 50%. Postobstructive diuresis usually lasts 24-72 hours. Most cases are not severe enough to require this level of attention. Observation of these patients should be considered in cases where they have significant output to evaluate for the development of electrolyte abnormalities for 24 hours.
Long-Term Monitoring
Definitive treatment at the point of obstruction is needed after the acute obstruction is resolved. Adults and children often have different etiologies of urinary tract obstruction. Thus, various definitive surgical treatment options are available for each condition. After definitive treatment is achieved, a final imaging study is obtained to verify complete relief of the obstruction. The type of study performed, as well as the timing of the study, is left to the discretion of the urologist.
What would you like to print?