Treatment
Approach Considerations
Clinical management of vesicoureteral reflux (VUR) is complex and should be individualized. The main health concern in patients with VUR is the occurrence of febrile urinary tract infection (UTI) or pyelonephritis, which may lead to renal scarring, hypertension, and renal insufficiency. On the other hand, VUR has a high rate of spontaneous resolution, especially in young patients and with low-grade VUR.The goals of treatment are to minimize over-treatment in patients with low risk of UTI and to prevent renal scarring.
Three approaches are used to treat children with vesicoureteral reflux (VUR), as follows:
Active surveillance

Medical treatment

Surgical treatment
The International Reflux Study found that children can be managed nonsurgically with little risk of new or increased renal scarring, provided they are maintained infection free. The chance of spontaneous resolution of reflux is high in children younger than 5 years with grades I-III reflux and in children younger than 1 year (especially boys). Even higher grades of reflux (grades IV-V) may resolve spontaneously as long as the child remains infection free. Estrada and colleagues have published comprehensive nomograms to predict spontaneous resolution of VUR. [14, 15]
Thus, the philosophy of medical management is based on the knowledge that low-grade reflux resolves spontaneously and sterile reflux does not damage the kidney. Medical management involves the following:
Administering long-term suppressive antibiotics

Correcting the underlying voiding dysfunction (if present)

Conducting follow-up radiographic studies (eg, voiding cystourethrography [VCUG], nuclear cystography, dimercaptosuccinic acid [DMSA] scan) at regular intervals
The philosophy of surgical management is based on the knowledge that high-grade reflux and persistent reflux in adolescents is not likely to resolve with continued medical therapy, especially in grade III reflux or greater. Another consideration in opting for surgical reflux management is the effect of repeated testing on patients and parents. In addition, lack of compliance with medical treatment may also dictate a surgical approach. Surgical therapy options include open surgical procedures and endoscopic injection of a bulking agent.
Relative indications for surgical management of VUR include the following;
Grades IV and V reflux

Persistent reflux despite medical therapy (beyond 3 y)

Breakthrough UTIs in patient who are receiving antibiotic prophylaxis

Lack of renal growth

Multiple drug allergies that preclude the use of prophylaxis

A desire to terminate antibiotic prophylaxis (either by the physician or the patient/parents)

Medical noncompliance.
Absolute indications for surgical management include the following:
Breakthrough pyelonephritis

Progressive renal scarring in patients receiving antibiotic prophylaxis

An associated ureterovesical junction abnormality
Ureteral reimplantation is contraindicated as a first-line therapy in patients with secondary VUR, which may arise as an inappropriate increase in detrusor filling pressure. Causes of secondary reflux include chronic bladder outlet obstruction, neurologic disorders (eg, myelomeningocele, spinal cord injury), and overactive bladder. All of these disease processes lead to poor bladder compliance; therefore, treating detrusor dysfunction before performing ureteral reimplantation is recommended. If the physician neglects the bladder and proceeds with ureteral implantation first, the risk of recurrent reflux is high, or, if the bladder wall is abnormally thickened, the risk of distal ureteral obstruction is greater after surgical treatment. Contraindications to surgery include detrusor instability or Hinman syndrome.
Active Surveillance
Bladder and bowel training is the mainstay of conservative treatment. Measures for a bladder regimen include behavior modification protocol to ensure that the child empties his/her bladder completely at regular intervals (every 3 h), adequate hydration, and constipation prevention.
Constipation is a symptom of that is common in patients with VUR and increases the risk of UTI and should be addressed aggressively. Maintaining a good level of hydration prevents constipation and contributes to the prevention of UTI, as it stimulates more frequent micturition. A diet rich in fibers may help in obtaining soft stools. Persistent constipation should be treated with laxatives. [1]
Circumcision may also be part of the conservative management in boys younger than 1 year of age, as it decreases UTI risks.
Timed voiding with or without biofeedback, a regular bowel regimen, and intermittent catheterization are the cornerstones of treating dysfunctional voiding due to Hinman syndrome.
Children with detrusor instability are treated with anticholinergic medications, fluid intake monitoring, and timed voiding observation. Ensure that the anticholinergic therapy does not exacerbate pre-existing constipation.
Spontaneous resolution rates decrease as patient age increases and with higher grades of reflux. Consider recommending surgical intervention in children with reflux that has persisted for more than 3 years with no improvement in the grade of reflux if it is grade II or greater.
Medical Care
Continuous antibacterial prophylaxis decreases the incidence of pyelonephritis and subsequent renal scarring for low-to-moderate grades of reflux. Therefore, nonsurgical management is appropriate for mild-to-moderate VUR (ie, grades I-IV) in the absence of breakthrough infections or anatomic abnormalities, as discussed above.
Antibiotic therapy must cover all likely pathogens in the context of this clinical setting. In the case of repeat UTIs in patients with VUR, long-term antibiotic prophylaxis was not shown to be preventive and increased the risk of bacterial resistance to treatment drugs in further infections by 3-fold. [16]
The Randomized Intervention for Children with Vesicoureteral Reflux (RIVUR) trial evaluated the role of antimicrobial prophylaxis in the prevention of recurrent UTI and renal scarring in 607 children with VUR. Study participants received trimethoprim-sulfamethoxazole (TMP-SMX) or placebo and were followed for 2 years. Renal scarring was evaluated by baseline and follow-up. At the end of the study, 10% of the children had renal scarring. Antimicrobial prophylaxis did not decrease the risk of renal scarring. Children with renal scarring were significantly older (median age, 26 versus 11 months; P=0.01), had a second UTI before enrollment (odds ratio [OR], 2.85; 95% confidence interval [95% CI], 1.38 to 5.92), were more likely to be Hispanic (OR, 2.22; 95% CI, 1.13 to 4.34), and had higher grades of VUR (OR, 2.79; 95% CI, 1.56 to 5.0). The proportion of new scars in renal units with grade 4 VUR was significantly higher than in units with no VUR (OR, 24.2; 95% CI, 6.4 to 91.2). [17]
TMP-SMX is an effective antibiotic used to treat uncomplicated UTIs and prevent recurrent infections. Trimethoprim can be used alone (without sulfa) in patients with a sulfa allergy and is available in a liquid form.
Double-suppressive regimens of TMP-SMX every morning and nitrofurantoin every evening may be effective when single-agent prophylaxis fails. Adult dosing is 5-10 mg/kg/d PO. Dosing in toilet-trained children > 3 months is 5-10 kg/d PO hs. It is not recommended in children < 3 months.
Nitrofurantoin is an antibiotic used specifically for uncomplicated lower UTIs. It does not alter gastrointestinal bacterial flora and achieves high concentration in urine. It is not indicated for use in pyelonephritis or perinephric abscess. Adult dosing is 5-10 mg/kg/d PO. Dosing in children >3 months is 1-2 mg/kg/d PO hs.
In children < 3 months, amoxicillin is preferred. This semisynthetic penicillin derivative has broad-spectrum antibiotic activity against gram-positive and gram-negative bacteria (beta-lactamase negative). It is effective for treatment of uncomplicated or recurrent cystitis and also may be used as a long-term suppressive agent to prevent recurrent cystitis. However, rates of microbial resistance to amoxicillin have been steadily increasing over the last 20 years. Adult dosing is 250-500 mg PO tid or 500-875 mg PO bid. Pediatric dosing is 5 mg/kg/d PO.
Anticholinergics
These agents are bladder relaxant medications that control detrusor overactivity, which is a common secondary cause of VUR. Secondary causes of reflux from poor bladder compliance may be effectively treated with proper use of anticholinergic agents.
Oxybutynin (Ditropan) inhibits action of acetylcholine on smooth muscle and has direct antispasmodic effect on smooth muscles, which in turn cause bladder capacity to increase and uninhibited contractions to decrease. Adult dosing is 5 mg PO bid/tid; dosing of oxybutynin extended release (Ditropan XL) is 5-30 mg PO qd. Pediatric dosing is 1-5 mg PO bid/tid; dosing of the extended-release formulation is not established.
Tolterodine tartrate (Detrol, Detrol LA) is a competitive muscarinic receptor antagonist for overactive bladder. It differs from other anticholinergic types in that it has selectivity for urinary bladder over salivary glands. It exhibits a high specificity for muscarinic receptors and has minimal activity or affinity for other neurotransmitter receptors and other potential targets, such as calcium channels. In adults, dosing is 1-2 mg PO bid; dosing of tolterodine tartrate extended release (Detrol LA) is 2-4 mg PO qd (adjust dose according to individual response and tolerability). Pediatric dosing is not established.
Surgical Care
Ureteral reimplantation
Surgery (ureteral reimplantation or ureteroneocystostomy) is the definitive method of correcting primary reflux, especially in the setting of anatomic abnormalities. Surgical principles of successful reimplantation include the following:
Creating a long submucosal tunnel to provide a 5:1 tunnel-to-diameter ratio
Providing good detrusor muscle backing
Avoiding ureteric kinking
Creating a tunnel in the fixed area of the bladder
Standard antireflux ureteral reimplantation procedures include the transtrigonal (Cohen), intravesical (Leadbetter-Politano), and extravesical detrusorrhaphy (Lich-Gregoir) techniques. The common goal of these operations is to prevent VUR by creating an effective flap-valve mechanism at the ureterovesical junction.
Complications due to ureteral reimplantation of the ureters occur in less than 1% of cases, and include the following:
Bleeding in the retroperitoneal space

Infections

Ureteral obstruction

Injury to adjacent organs

Persistent reflux
Of note, surgical correction of VUR has not been demonstrated to decrease the frequency of recurrent nonfebrile UTIs. These infections occur in the lower tract, thereby indicating that the risk to the kidneys may have been reduced by preventing ascent of the bacteria to the upper urinary tract. The antireflux therapy does not completely prevent pyelonephritis, as a small percentage of patients who have undergone antireflux surgery re-present with pyelonephritis. These infections may be due to the host predisposition to infection rather than to anatomic factors.
Several investigators have reported that laparoscopic and robotic surgery may be a possible alternative to open ureteral reimplantation. Animal and human studies have demonstrated the feasibility of the technique but have not shown a significant improvement over currently available techniques. Advantages to these techniques are more obvious in the older patient who may have decreased pain and convalescence time.
Endoscopic treatment
The principle of this procedure is to inject, under cystoscopic guidance, a biocompatible bulking agent underneath the intravesical portion of the ureter in a submucosal location. The bulking agent elevates the ureteral orifice and distal ureter in such a way that the lumen is narrowed, preventing regurgitation of urine up the ureter but still allowing its antegrade flow. The procedure is performed with general anesthesia on an outpatient basis and has received increasing attention. [18, 19] See the image below.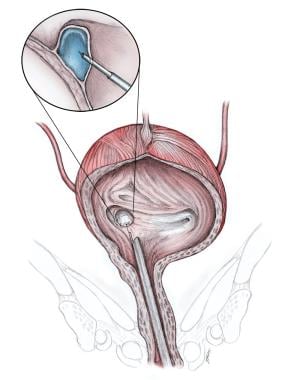 View of a ureteral orifice before and after endoscopic treatment.
Over the last 20 years, several bulking agents have been evaluated. These include polytetrafluoroethylene (PTFE or Teflon), collagen, autologous fat, polydimethylsiloxane, silicone, chondrocytes, dextranomer/hyaluronic acid (Dx/HA) [20] and polyacrylate-polyalcohol copolymer (PPC). [21] Concerns about PTFE particle migration have precluded approval by the US Food and Drug Administration (FDA) for use in children, and compounds such as collagen and chondrocytes have not stood the test of time.
Dextranomer/hyaluronic acid (Deflux, Q-Med USA) is the only FDA-approved endoscopic treatment of VUR in children. An initial clinical trial showed that this method was effective in treating reflux. A meta-analysis by Elder et al demonstrated that, after one treatment, the resolution rate of reflux per ureter for grades I and II was 78.5%; grade III, 72%; grade IV, 63%; and grade V, 51%, all compounds being considered. [1] Retreatment can be performed up to 3 times, bringing the aggregate rate of resolution to 85%. Improvement in injection techniques may yield better results.
Since its approval, the overall success rate after a second injection has been reported between 68% and 92%, depending mainly on the reflux grade. The success rate after a single injection is 50–70%. [22] Complications are rare with the procedure, with transient ureteral obstruction and UTIs being the most commonly reported.
Introduced in 2008, PPC (Vantris, Promedon, Cordoba, Argentina) is a biocompatible, synthetic, non-absorbable bulking agent used outside the United States. A 5-year prospective follow-up reported successful resolution of reflux was 86.4% after single injection, 99.4% after a second injection, and 100% after the third. The only serious complication observed was late ureteral obstruction after PPC injection correcting high-grade reflux, which required ureteral re-implantation in 8% of children. [21]
Preoperative Details
Prior to antireflux surgery, obtain informed consent.
Discuss potential risks and complications (eg, persistent reflux, ureteral stricture, development of de novo contralateral reflux, ureteral obstruction, infection, bleeding).
Document the absence of UTI prior to surgery. If a UTI is noted, surgery should postponed until the infection is eradicated by administering broad-spectrum intravenous or oral antibiotics.
Intraoperative Details
The procedure is as follows:
After satisfactory induction of a general anesthetic, place the patient in a supine fashion, with legs in the frog-leg position.
Sterilize the patient with povidone-iodine soap from umbilicus to mid-thigh and drape the patient so that the urethra may be accessed with the lower abdomen in the center of the field.
Create a low transverse incision approximately 1 cm above the symphysis pubis.
Carry the incision down to the rectus abdominis muscle.
Divide the rectus fascia in the midline and mobilize it from the underlying rectus muscles.
Bluntly separate the rectus and pyramidalis muscles at the midline, thus exposing the prevesical space and bladder.
Carefully dissect the peritoneum off the dome of the bladder and develop the lateral perivesical space.
At this point, further dissection varies based on the type of ureteral reimplantation planned.
Extravesical (Lich-Gregoir) reimplantation
The procedure is as follows:
Fully mobilize the bladder from the space of Retzius and lateral pelvic sidewalls with a gentle blunt dissection.
Insert a self-retaining abdominal wall retractor.
Identify the ipsilateral obliterated hypogastric artery.
Locate the ureter medial to the pelvic portion of the obliterated hypogastric artery. Free the refluxing ureter down to its insertion into the bladder wall.
Use electrocautery to incise the bladder muscle down to mucosa for a distance of 3-5 cm from the ureterovesical junction. Undermine the lateral edges of the incision to create a trough that forms a new bed for the ureter.
Carefully lay the ureter in the newly created trough. Then, close the detrusor muscle over the ureter with interrupted 2-0 or 3-0 absorbable sutures.
Consider leaving a closed-suction drain in the prevesical space and leave the Foley catheter indwelling.
Remove the Foley catheter 24-48 hours after surgery and remove the drain 24 hours later.
Extravesical detrusorrhaphy (Hodgson-Zaontz)
The procedure is as follows:
Following the initial dissection, extravesically dissect out the ureter down to the ureterovesical junction. Dissect the terminal ureter free from perivesical tissues but leave its attachment to the bladder mucosa intact.
Perform electrocautery to incise the bladder muscle down to the mucosa for a 5-cm arc around the ureterovesical junction. Undermine the lateral edges of the incision to create a trough that will form a new bed for the ureter. It is important not to open the mucosa of the bladder.
Telescope the ureter into the bladder so it courses within a long subepithelial tunnel. Neither a ureteral stent nor a perivesical drain is needed.
Leave the indwelling Foley catheter overnight.
Intravesical reimplantation
The procedure is as follows:
Following the initial dissection, open the bladder in the midline using electrocautery.
Place a self-retaining retractor.
Cannulize the refluxing ureter with a 3.5-5F feeding tube. Secure the tube to the distal ureter with a traction suture.
Create a circumferential incision around the ureteral orifice. With careful dissection, the distal ureter is completely freed from the intramural portion of the bladder.
Then, fashion a new submucosal tunnel 4-5 times the diameter of the ureter using sharp and blunt dissection.
The nomenclature for the different types of intravesical reimplantation vary based on the location of the new ureteral hiatus (where the ureter enters the bladder wall) and the course of the ureter, as follows:
The Politano-Leadbetter repair creates a new ureteral hiatus more cephalad to the original ureteral hiatus.

The Glenn-Anderson repair creates a new ureteral hiatus more distal to the original hiatus.

The Cohen repair creates a ureteral tunnel that is directed laterally across the trigone (transtrigonal) toward the contralateral side.
After reimplanting the ureter with adequate detrusor backing, a feeding tube may be left in the ureter to prevent ureteral obstruction from postsurgical edema. A trend has emerged for not leaving a stent in the ureter unless transient obstruction is a concern.
The feeding tube may be brought out either through the urethra in females or through a separate stab incision in the lower quadrant of the abdomen. It may also be brought out through the incision.
Drain the bladder with a Foley catheter. Close the bladder in 2 layers with running 3-0 absorbable sutures.
Endoscopic treatment
After induction of satisfactory general anesthesia, the patient is placed in the relaxed lithotomy position and the genitalia and perineum are prepared in a sterile manner.
Cystourethroscopy is carried out using a deflected lens scope. The bladder and ureteral orifices are inspected.
An injection needle is then advanced, bevel up to the ureteral orifice. The orifice is kept open by hydrodistending it with irrigation fluid; the needle is then advanced into the ureter. A submucosal puncture is made and the bulking material is slowly injected.
As it spreads in the submucosal space, the material elevates the intravesical ureter, and the orifice acquires an inverted smile appearance. The needle is slowly withdrawn after between 0.5 and 2 mL of material has been injected. A second injection may be carried out at the base of the newly created mound to further elevate the ureteral orifice.
The bladder is emptied and reinspected. Any bleeding vessels may be cauterized with a Bugbee electrode.
Postoperative and followup care
Continue intravenous antibiotic administration until the patient is tolerating a diet.
Manage bladder spasms with anticholinergic medication or belladonna and opium (B&O) suppositories. Diazepam can also be helpful for severe bladder spasms.
Discharge the patient within 1-2 days.
Continue postoperative antibiotic prophylaxis until radiographic findings confirm complete resolution of reflux.
Obtain a postoperative renal ultrasonography in 1-2 months. Perform follow-up renal ultrasonography in one year. If the results are normal, patients can be seen as needed.
Perform nuclear cystography in 3 months following any surgical treatment. However, in children who poorly tolerate cystography, it is reasonable to consider forgoing the follow-up cystography following open surgery, given the high (>98%) success rates. Perform interval renal ultrasonography annually for 3 years.
Complications
Complications include the following:
Persistent, transient, contralateral reflux

Postoperative ureteral obstruction

Hematuria

Urosepsis

Anuria
Persistent, transient, contralateral reflux
Persistent reflux of the reimplanted ureter and development of de novo reflux of the contralateral side are usually temporary and resolve spontaneously. Transient postoperative reflux is usually caused by detrusor instability of the healing bladder.
Persistent reflux of the ipsilateral ureter in the absence of secondary causes (eg, poorly compliant bladder) is usually caused by a technical error. Some technical problems associated with ureteral reimplantation include inadequate ureteral mobilization, short intramural tunnel, inadequate anchoring of the ureter, and inappropriate placement of the ureteral orifice. Reoperate in this setting or consider endoscopic treatment if the reflux is grade III or less.
Most contralateral reflux is caused by recurrent or previously undiagnosed reflux that is now evident in the absence of the pop-off valve, which was previously provided by the refluxing ureter. Physicians can manage most of these patients conservatively, and patient symptoms usually subside spontaneously.
If a patient experiences persistent or severe vesicoureteral reflux (VUR) following repair, perform a thorough workup, including urodynamics, imaging, and cystoscopy. Correct failed repairs or poor tunnels with repeat surgical repair.
Postoperative ureteral obstruction
Ureteral edema, intraureteral blood clots or mucous, bladder spasms, or submucosal bladder hematoma may cause acute ureteral obstruction in the early postoperative period. Ureteral angulation or ureteral hiatus that is made too tight may also cause acute ureteral obstruction. Ischemia, an incorrect tunnel construction, or an incorrect tunnel position may cause chronic postoperative ureteral obstruction.
When diagnosing ureteral obstruction, conduct renal ultrasonography, intravenous pyelography, or nuclear renography to confirm diagnosis. Most postoperative ureteral obstructions resolve spontaneously; however, temporary ureteral stenting may be necessary. Nephrostomy tube placement is rarely required. Ureteroscopic dilation and stent placement may correct mild obstruction or stenosis. Percutaneous placement of a nephrostomy tune may be necessary if a transvesical approach is not achievable.
Repeat reimplantation may be required for more severe cases. Ensure that the ureter is transected outside the bladder during reoperation and consider using a psoas hitch or transureteroureterostomy because of its inadequate length.
Bladder diverticula may complicate reimplantation surgery either at the site of bladder closure or at the reimplantation site. This may necessitate reoperation if the diverticula drains poorly or is associated with reflux or an obstruction.
Urinary extravasation indicates incomplete healing of the bladder or implanted ureterovesical junction. Prolonged catheterization or stenting is warranted.
Hematuria
Gross hematuria after ureteral reimplantation is common. Persistent bleeding or clots indicate inadequate hemostasis at the time of operation. Hematuria is often self-limited and does not require operative intervention; however, continue prolonged catheterization until hematuria resolves. Patients rarely need transurethral fulguration or reoperation.
Urosepsis
Urosepsis is due to an untreated UTI or ureteral obstruction. To prevent sepsis, clear preoperative urine cultures of infection. If ureteral obstruction causes urosepsis, relieve the obstruction promptly and institute the appropriate antibiotics.
Anuria
Anuria is rare and may indicate dehydration or bilateral ureteral obstruction. Provide therapy via intravenous fluid challenges and furosemide. Check ureteral catheters for patency. If ureteral catheters were not used, obtain upper tract imaging studies such as ultrasonography to rule out bilateral ureteral obstruction. Manage bilateral ureteral obstruction with percutaneous nephrostomy tubes.
Long-Term Monitoring
Yearly ultrasonography helps to monitor renal growth, to detect hydronephrosis, and to evaluate bladder anatomy and voiding dynamics (filling and emptying). However, this is not mandatory, especially if the patient has not had evidence of febrile UTI and has had normal findings on initial ultrasonography.
Radionuclide cystography every year to every 24 months helps monitor presence or resolution of VUR and helps to grade the amount of reflux. Compare with earlier studies to determine a trend toward resolution.
Obtain nuclear cystography during regular follow-up studies in a patient with known reflux. Although not as anatomically accurate as the standard VCUG, nuclear cystography provides adequate information regarding the current status of VUR. The main advantage of performing nuclear cystography is that it exposes the child to less radiation and may be more sensitive in revealing VUR.
Consider a DMSA scan if the child develops evidence of pyelonephritis, and this should be performed at least 6 months after resolution of the pyelonephritis.
What would you like to print?