Workup
Laboratory Studies
Blood study results in perinephric abscess include the following:
Complete blood cell count (CBC) usually reveals leukocytosis with a shift to the left

White blood cell count (WBC) that exceeds 15,000 cells/μL is uncommon

Anemia occurs in 42% of cases

The erythrocyte sedimentation rate is elevated

Azotemia may be present

Blood culture identifies the pathogen in fewer than 50% of cases
Urine study results in perinephric abscess include the following [9] :
Urinalysis shows pyuria in 75% of patients

Proteinuria is a common finding

Hematuria occurs in 30% of patients

Urine cultures are positive in 43-75% of cases
Imaging Studies
Computed tomography (CT) and renal ultrasonography have become the preferred techniques for diagnosing perinephric abscesses. In approximately 50% of cases, chest radiography can show a pleural effusion, elevated ipsilateral hemidiaphragm, atelectasis, and a lower-lobe infiltrate.
Computed tomography
CT scanning is the diagnostic modality of choice because it is more sensitive and accurate in diagnosing an intra-abdominal abscess (90%) than ultrasonography (see image below). CT scanning is also more effective in defining the precise location, size, degree, and extent of the loculation in relation to other retroperitoneal structures.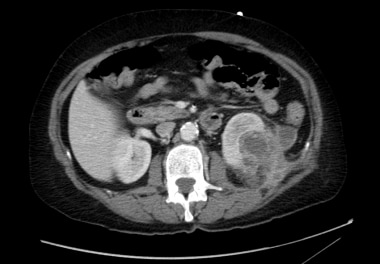 Diagnostic CT prior to intervention.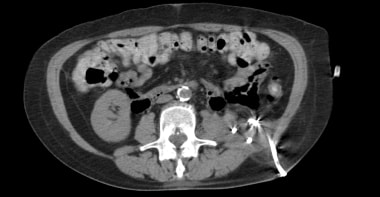 CT post percutaneous drainage.
The typical appearance of a perinephric abscess on a CT scan is that of a soft-tissue mass (20 Hounsfield unit) with a thick wall that may enhance after introduction of intravenous contrast material (ie, the Rind sign). Other findings on CT scans may include the following:
Renal enlargement

Focal parenchymal decreased attenuation; fluid, gas, or both in and around the kidneys

Focal thickening of the Gerota fascia

Obliteration of adjacent tissue planes
Ultrasonography
Ultrasonography can demonstrate the fluid collections that may be poorly visualized with radiography. Ultrasonography is used as a screening tool to assess for obstructive uropathy (when suspected), to exclude another intra-abdominal or retroperitoneal process, and to exclude suppurative renal complications. Findings on ultrasonography depend on the homogeneity of the abscess contents. Ultrasonography is able to reveal abscesses 2 cm or larger in diameter.
Findings may include the following:
A hypoechoic or a nearly anechoic mass displacing the kidney

A fluid debris level

A thick irregular wall

The image below depicts an anechoic fluid collection in perinephric abscess.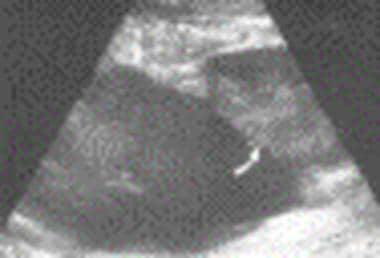 Sonogram showing large anechoic fluid collection in perinephric abscess (arrow).
Findings may also include increased echogenicity if gas bubbles are present in the cavity and an echogenic collection that tends to blend with normally echogenic fat within the Gerota fascia.
Advantages of ultrasonography include its noninvasiveness, lack of radiation, portability, relative accessibility, capability to be used as an initial screening tool, and its capability to be helpful in carrying out percutaneous drainage.
In one study, ultrasonographic results were falsely negative in 36% of cases when compared with CT scanning. Notably, the findings mentioned are not specific because they can also be seen in urinoma, hematoma, and lymphocele.
Radiography
A plain abdominal film may show different abnormalities; however, film findings can be normal in 40% of patients. When radiography results are positive, the findings include the following:
The psoas margin is absent; however, findings may be falsely positive bilaterally in 3% of healthy patients and falsely positive unilaterally in another 10% of cases

Renal masses are apparent

Absent renal outlines with increased density in the region of the kidney are seen in 50% of cases

Displacement and rotation of the kidney can occur from collection of fluid in certain portions of the perinephric space

Radiopaque renal calculi are present

Retroperitoneal gas may be due to gas-forming bacteria such as E coli, Aerobacter aerogenes, and, rarely, Clostridium species

Gas may have a mottled appearance, or it may surround the kidney completely

Scoliosis with a concavity toward the abscess occurs in approximately 50% of cases

Displaced bowel gas may be due to mass effect from a large abscess on the adjacent duodenum, stomach, or colon

Infiltration of the flank stripe can occur from widening of the extraperitoneal flank fat
Intravenous pyelography
Intravenous pyelography (IVP) results are abnormal in 80% of cases. However, this study is being performed less frequently. When results are positive, the abnormalities include the following:
A kidney with little or no function is present in 64% of patients

Calicectasis or calyceal stretching occurs in 39% of patients

Calculi are present in 14% of patients

Renal displacement occurs in 4% of patients

Renal fascia may be opacified, thickened, and displaced

Rarely, extravasation of contrast material into the perinephric space can be observed
Angiography
Renal arteriography is rarely necessary because of the more commonly available CT angiography and MRI angiography. Findings include the following:
Vasoconstriction (as opposed to vasodilatation), which is a unique response to inflammation, may be seen

Persistent arterial filling (staining) after the kidney has reached the nephrotomographic phase; however, distinguishing the abscess from hypovascular necrotic neoplasms may be difficult

Increased number and size of the perforating arteries extending from the kidney

Tissue blush

Displacement of the renal capsular artery away from the kidney
None of the above angiographic abnormalities is pathognomonic.
Mobility tests
More specific information is obtained from the assessment of renal mobility using fluoroscopy or obtaining inspiration-expiration films. This mobility test provides a specificity rate of 85%. Normal kidneys move 2-6 cm with respiration; however, a kidney with perinephric abscess is fixed to the surrounding tissues and does not move during respiration (Mathe sign).
Magnetic resonance imaging
On MRI, thick pus has high signal intensity on T1 images. Abscesses are more visible on T1 images, but if those that extend into adjacent structures are more visible on T2 images. T2-weighted images show the central portion of abscess as high signal intensity, and the wall has medium-to-low intensity.
Advantages of MRI include no radiation exposure, better contrast sensitivity, the fact that it is not affected by metal clips or bone, better delineation of underlying soft tissues such as psoas muscle, and its usefulness in patients with allergy to contrast or renal insufficiency. Disadvantages include the long imaging time, insensitivity to calcifications and small gas collections, limited use in some patients with pacemakers, contraindication with intracranial aneurysm clips, and expense.
Radionuclide imaging
In radionuclide imaging, gallium citrate (Ga-67) is rarely especially useful when the local anatomy is distorted because of congenital anomalies, previous surgery, polycystic kidney disease, and chronic pyelonephritis. This scan has a true positive rate of 90% and a true negative rate higher than 90%.
Disadvantages include the possibility of obtaining a false-positive result in conditions such as pyelonephritis, acute tubular necrosis, vasculitis, and neoplasms; high radiation exposure; and a delay of as long as 72 hours before imaging can be performed.
A WBC scan labeled with indium (In-111) is more sensitive, and it may be helpful for diagnosis.
What would you like to print?