Workup
Laboratory Studies
Urinalysis
Urinalysis provides rapidly available information in patients who may have a renal laceration; however, the data obtained must be viewed within a rational framework.
If gross hematuria is not present, a microscopic examination is advisable. Although in general, the degree of hematuria correlates with the likelihood of urinary tract trauma, renal injury with no hematuria has been reported. Reliance on urinalysis as the only modality to help diagnose renal trauma is fraught with difficulty. In fact, injuries such as renal artery laceration or avulsion may not generate any hematuria.
One study documents that 63% of patients with multisystem trauma had hematuria, of which 12.5% had a proven injury. [10] Other investigators have shown that as many as 11% of patients with renal gunshot wounds did not have hematuria. [11]
Thus, the presence or absence of hematuria should be viewed in the clinical context and not used as the sole decision point in the assessment of a patient with a possible renal laceration.
Imaging Studies
Intravenous pyelography
All penetrating renal and hemodynamically unstable blunt renal trauma patients who require immediate surgical exploration should undergo one-shot, high-dose intravenous urography (IVU) prior to any renal exploration. [12] One-shot trauma IVU consists of 2 mL/kg of body weight of standard 60% ionic or nonionic contrast injected intravenously, followed by a single abdominal radiograph 10 minutes later. No scout film is necessary.
In children, 2-3 mL/kg of nonionic contrast is preferred. [13] For a satisfactory study, a systolic blood pressure above 90 mm Hg is needed. In order to save time, the contrast can be injected at the time of the initial resuscitation. Unstable patients who are emergently taken to the operating room, should be stabilized first and undergo one-shot IVU in the operating room once they are stabilized. The major limitation of intravenous pyelography (IVP) is that it can seldom, by itself, define the full extent of the injury. [14]
The purpose of the IVU is to determine the presence of two functioning renal units, the presence and extent of any urinary extravasation, and, in penetrating injuries, the likely course of the missile. Radiopaque markers (paper clips) taped to the skin at the bullet entrance and exit sites help predict the likelihood of the kidney being in the missile's path.
IVU is highly accurate for establishing the presence or absence of renal injury. [15] When it comes to staging parenchymal injury, however, IVU findings are usually nonspecific and not sensitive. [16, 17] Abnormal or equivocal IVU findings warrant further exploration or radiographic staging. For the hemodynamically stable patient, further and more accurate staging can be achieved with CT scanning. [18, 19] For unstable patients with abnormal IVU findings, surgical exploration is warranted.
Advantages of IVP are as follows:
Allows functional and anatomic assessment of both kidneys and ureters

Establishes the presence or absence of two functional kidneys

May be performed in the emergency department or operating room
Disadvantages of IVP are as follows:
Multiple images are required for maximal information, although a one-shot technique can be used

The radiation dose is relatively high (0.007-0.0548 Gy)

A full IVP usually requires a trip to the radiology suite

Findings do not reveal the full extent of injury (one investigation of penetrating trauma showed normal findings on six of 27 IVP examinations; all of those six patients had renal injuries)
Computed tomography
For stable patients, renal injury can be most accurately and completely imaged and staged using computed tomography (CT). [18, 19] CT imaging is both sensitive and specific for demonstrating parenchymal lacerations and urinary extravasations, delineating segmental parenchymal infarcts, and determining the size and location of the surrounding retroperitoneal hematoma and/or associated intra-abdominal injury (spleen, liver, pancreas, and bowel).
CT imaging has largely replaced the once standard IVU and arteriography. In the acute setting, CT scanning has completely replaced arteriography because it can also accurately delineate segmental and major arterial injuries. The present role of arteriography is with delayed renal bleeding or delayed arteriovenous fistula formation, for which super-selective arterial embolization is used. [20] Renal artery occlusion and global renal infarct are noted on CT scans by lack of parenchymal enhancement or a persistent cortical rim sign. Although reliable for demonstrating renal infarct, the disadvantage to using the rim sign is that it is usually not seen until at least 8 hours after injury. [21]
The advent of fast-scanning and image-reconstructing helical CT scanners has reduced turnaround times for abdominal trauma imaging to the 10-minute range. Seventy to 90 seconds before initiating helical CT scanning, 150-180 mL of intravenous contrast is given at 2-4 mL per second. Helical CT imaging is so quick (usually under 2 min) that only the arterial phase (20-30 seconds) and the early cortical phase (40-70 seconds) of the kidney are obtained. Arterial-phase imaging helps delineate any renal artery injury, while the early cortical phase still misses most parenchymal injuries.
Therefore, in order to complete the proper evaluation and staging of renal injuries, later imaging in the nephrogram phase (>80 seconds) is needed to detect renal parenchymal and venous injury, while delayed images (2-10 min) are often required to detect urine and blood extravasation. On delayed CT images, extravasated urine can be distinguished from blood in that it accumulates, while extravasated arterial contrast dilutes out after the bolus of contrast is stopped. [13, 22]
In children, four-phase CT with intravenous contrast (noncontrast, arterial, nephrographic, and pyelographic phases) is the choice for initial imaging. However, ultrasonography might also be used in children with minimal symptoms. [23]
Advantages of CT are that it (1) allows unsurpassed functional and anatomic assessment of the kidneys and urinary tract, (2) helps establish the presence or absence of 2 functional kidneys, and (3) allows for the diagnosis of concurrent injuries.
Disadvantages are that (1) it requires intravenous contrast in order to maximize information about functionality, hematoma, and, possibly, bleeding; (2) the patient must be stable enough to go to the scanner; and (3) full urinary assessment is dependent on the timing of contrast and scanning in order to view the bladder and ureters.
Angiography
With the advent of accurate and quick CT imaging, the uses for arteriography with renal trauma have diminished. Renal arteriography does provide the opportunity to stage the injury and, if necessary to embolize bleeding points at the same time. [15] However, in the acute setting, it is rarely used (renal arteriography and embolization for renal trauma) because it is time consuming and patients with active bleeding need to undergo immediate exploratory laparotomy. Furthermore, during laparotomy, the kidney can be explored and surgically reconstructed. Arteriography and superselective embolization continues to play an important role in the evaluation and treatment of symptomatic posttraumatic arteriovenous fistulas or persistent delayed renal bleeding. [20]
Advantages are that it (1) has the capacity to aid in both the diagnosis and treatment of renal injuries and (2) may further define injury in patients with moderate IVP abnormalities or with vascular injuries.
Disadvantages are as follows:
Invasive

Requires contrast

Requires mobilization of resources to perform the study, which may be time-consuming

Requires moving the patient to the radiology suite
Ultrasonography
Experience with the evaluation of suspected acute renal traumatic injury by ultrasonography has been primarily from Europe. [24] In well-trained and experienced hands, renal lacerations and hematomas can be reliably identified and delineated. Limitations of ultrasonography include an inability to distinguish fresh blood from extravasated urine and an inability to identify vascular pedicle injuries or segmental infarcts. Only with close color and pulsed Doppler interrogation can a vascular injury be diagnosed. Furthermore, concomitant rib fractures, bandages, intestinal ileus, open wounds, or morbid obesity severely limit renal visualization.
In general, the accuracy of ultrasonography for evaluating the retroperitoneum is variable, time consuming, and highly operator dependent. Therefore, the routine use of ultrasonography for screening acute renal trauma is not advocated.
However, ultrasonography has proven useful and reliable for evaluating blunt intra-abdominal injuries by detecting the presence of hemoperitoneum. In hemodynamically unstable patients, it is used as a less invasive replacement for diagnostic peritoneal lavage. In stable blunt trauma victims, ultrasonography is used to direct patients to CT imaging when hemoperitoneum is noted and to observation in those with negative findings
Advantages are as follows:
Noninvasive

May be performed in real time in concert with resuscitation

May help define the anatomy of the injury
Disadvantages are as follows:
Optimal study results related to anatomy require an experienced sonographer

The focused abdominal sonography for trauma (FAST) examination does not define anatomy and, in fact, looks only for free fluid

Bladder injuries may be missed.
Diagnostic Procedures
Operative diagnosis
Depending on the mechanism of injury, many patients who sustain renal laceration have associated intra-abdominal injuries that require urgent exploration. The clinical situation may have precluded the opportunity to perform the aforementioned diagnostic modalities.
The surgeon should be prepared to make the diagnosis of renal injury intraoperatively. Lateral retroperitoneal hematomas may alert the surgeon to the presence of renal laceration. Direct evidence of penetrating trauma should also provide evidence of renal laceration. Other renal trauma, including renal pelvis or ureteral injuries, should be sought and identified.
Although the medical consensus is not complete, evidence exists that not all perirenal hematomas discovered at laparotomy require exploration. Theories range from simple observation to exploration with vascular control. The optimal course depends on the physician's experience and the institution's resources. Increasingly, even severe renal injuries are being safely managed nonoperatively.
Staging
Using the clinical information, the indications for radiographic imaging may be tailored to detect patients with a significant chance of having a major renal laceration (considered grades 3-4).
Based on the experience at San Francisco General Hospital, Brandes and McAninch recommend imaging patients with the following categories of injuries [25] :
Blunt trauma and gross hematuria

Blunt trauma, microscopic hematuria, and shock

Major deceleration injury

Microscopic or gross hematuria after penetrating flank, back, or abdominal trauma or missile path in line with the kidney

Pediatric trauma patient with significant microscopic or gross hematuria

Associated injuries suggesting underlying renal injury
Blunt trauma and gross hematuria
Gross hematuria is the most reliable indicator for serious urological injury. The degree of hematuria, however, does not correlate with the degree of injury. In fact, renal pedicle avulsion or acute thrombosis of segmental renal arteries can occur in the absence of hematuria, while renal contusions can present as gross hematuria.
Blunt trauma, microscopic hematuria, and shock
Significant microscopic hematuria is greater than five red blood cells per high-power field (RBC/HPF) in the first voided or catheterized specimen. Shock is any presence of systolic blood pressure less than 90 mm Hg during transport or upon arrival in the emergency department. Blunt trauma patients with microhematuria and no shock have minor renal injuries in nearly all cases.
Miller and McAninch, based on findings in more than 2000 blunt renal trauma injuries, determined that a grade 2 or more severe renal injury will be missed in less than 0.2% of cases. [2] These patients are the victims of multiple trauma, and, thus, during the evaluation of other intra-abdominal injuries, most of the missed major renal injuries are be detected. When patients who were imaged for associated intra-abdominal injuries are included, only 0.03% of significant renal injuries were not identified.
Major deceleration injury
The kidney primarily floats free in a bed of fat contained within the envelope of the Gerota fascia. The kidney is fixed at only two points, the ureter and the vascular pedicle. Because of poor fixation, the kidney can be easily dislocated by sudden acceleration or deceleration.
Kidney dislocation can result in tearing of the collecting system at the ureteropelvic junction (UPJ) or tearing of renal artery intima, resulting in partial-to-complete vessel occlusion. Such injuries can occur with major deceleration, as in head-on motor vehicle accidents (MVA) or falls from great heights, or from marked flexion extension, as with pedestrian versus motor vehicle collisions. Pediatric patients are particularly prone to this mechanism of injury. In general, all rapid deceleration injuries warrant renal imaging, even in the absence of hematuria. [12, 26]
Pediatric trauma patient with significant microscopic or gross hematuria
In comparison to adults, children's kidneys are relatively much larger for their body size. The kidneys are also not as well protected with perirenal fat, which is usually scant, and lower ribs that are incompletely ossified. Therefore, children are particularly prone to injury. However, the majority of blunt renal injuries are contusions that require no active therapy. Hypotension is often an unreliable predictor of significant renal injury, as children can maintain a normal blood pressure despite extensive blood loss. [27]
Traditionally, all children with any degree of microscopic hematuria after blunt trauma have undergone renal imaging. In a meta-analysis of all reported series of children with hematuria and suspected renal injury, [28] Morey et al noted that only 2% (11 of 548) of patients with insignificant microscopic hematuria (< 50 RBC/HPF) had a significant renal injury. Furthermore, these 11 patients all had other significant injuries that required abdominal and, thus, renal imaging. They concluded that renal injury is suggested in children in stable condition with gross or significant microscopic hematuria (>50 RBC/HPF) or with moderate-to-severe multisystem trauma (regardless of the hematuria degree), and these children should undergo renal imaging.
Patients who do not initially undergo renal imaging who have persistent or worsening hematuria should also be imaged. Although renal pedicle injuries can occur without hematuria, they are likely to be associated with severe multisystem trauma that requires abdominal imaging anyway. For suspected renal injury, CT scanning is the best study for staging a solid organ injury.
Associated injuries suggesting underlying renal injury
These include blunt trauma and a flank ecchymosis, lumbar vertebral or transverse process fractures, lower rib (11th or 12th) fractures, and severe mechanism of injury. Another indication for imaging is a penetrating flank or abdominal injury with which the entrance and exit sites (or radio-opaque density) are in the path of the kidney, regardless of the degree of hematuria.
Also see the Medscape article Imaging in Kidney Trauma and the flow chart in the image below.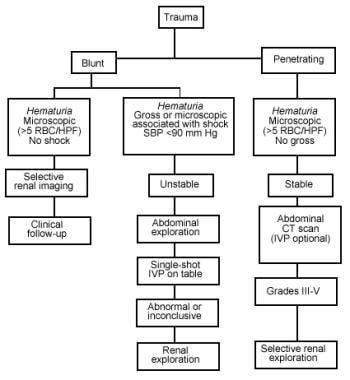 Flow chart for adult renal injuries; a guide for decision making. CT, computed tomography; IVP, intravenous pyelography; RBC/HPF, red blood cells per high-power field; SBP, systolic blood pressure.
Injury scaling
To determine the appropriate management for a renal injury, the renal injury first needs to be accurately staged. The American Association for the Surgery of Trauma (AAST) has defined renal trauma in five grades, as shown in the table below. [29, 30, 31, 32]
Table. American Association for Surgery of Trauma Renal Injury Scale (Open Table in a new window)
Grade

Type

Description

I

Contusion

Microscopic or gross hematuria, urologic studies normal

Hematoma

Subcapsular, non-expanding without parenchymal laceration

II

Hematoma

Non-expanding perirenal hematoma confined to renal retroperitoneum

Laceration

< 1.0 cm parenchymal depth of renal cortex

III

Laceration

> 1.0 cm parenchymal depth of renal cortex without collecting system rupture or urinary extravasation

IV

Laceration

Parenchymal laceration extending through renal cortex, medull, and collecting system

Vascular

Main renal artery or vein injury with contained hemorrhage

V

Laceration

Completely shattered kidney

Vascular

Avulsion of renal hilum that devascularizes kidney
What would you like to print?