Workup
Laboratory Studies
Perform wound cultures for aerobic, anaerobic, and fungal organisms from all avulsing or penetrating injuries. Cultures allow broad-spectrum coverage (which is based partially upon mechanism or geographic site of injury) to begin, while isolates allow directed treatment for completion of care.
A Gram stain of chronic wounds may allow directed therapy when an accurate history cannot be obtained to aid in appropriate coverage.
Urinalysis to assess for hematuria may be the only indication of urinary tract and possible urethral injury when symptoms are absent or history is not attainable.
Urine culture may aid in therapy, particularly with penetrating and contaminated wounds, even if drainage is not present.
Imaging Studies
Color Doppler ultrasound imaging, with or without contrast [6, 7]
Isolated blunt injuries are managed best with a thorough knowledge of the internal anatomy and testicular perfusion. Hematomas, intratesticular and extratesticular, are expected.
In one series, scrotal ultrasound sensitivity and specificity in penetrating scrotal trauma was 100% and 84.6%, respectively. [8]
A completely intact tunica albuginea is the only finding that can preclude scrotal exploration in the face of abnormal physical examination findings and evidence of hematocele on ultrasonography. The incidence of testis rupture or epididymal disruption in this scenario is at least 80%. Nonperfusion of the testis may indicate testicular torsion, vascular avulsion, or cord thrombosis and should be immediately explored.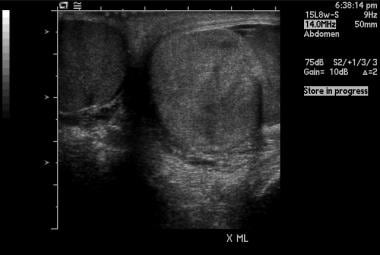 Transverse scrotal ultrasound image shows left intratesticular hematoma and hematocele consistent with testis rupture. Increased testis size on left is a soft sign, as hematoma alone could result in this finding.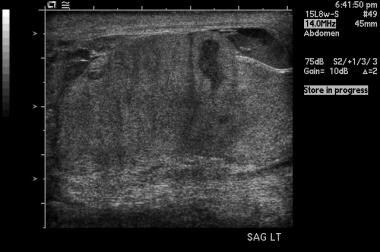 Longitudinal image of left testis showing discontinuity of tunica albuginea. This finding mandates scrotal exploration.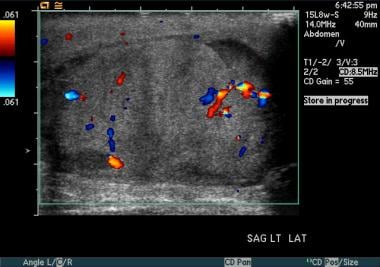 This longitudinal Doppler image shows perfused testicular tissue exuding through disrupted tunica albuginea, eliminating any doubt regarding the diagnosis of testicular rupture.
Retrograde urethrography
This study is warranted in suspected urethral injury, based upon mechanism of injury, findings of hematuria, or rectal examination that demonstrates hematoma or an abnormal prostate (eg, high-riding prostate, impalpable prostate).
CT scan
In multisystem trauma, the abdominopelvic CT scan may be extended to the upper thigh, which provides information regarding testis dislocation, anatomy of intratesticular structures, and some indication of perfusion. For cases in which short time to the operating room becomes important, this precludes ultrasound examination.
What would you like to print?