Workup
Laboratory Studies
Once a horseshoe kidney is diagnosed or suspected, further laboratory and imaging evaluation should be performed to assess the status of the kidneys and to look for treatable causes of renal pathology, as follows:
Urinalysis with urine culture should be performed. Abnormalities of the urine sediment should be evaluated as clinically indicated. Infection should be treated.

Serum chemistry with creatinine is recommended to determine baseline renal function.
Imaging Studies
Urogram protocol computed tomography (CT scanning of the abdomen and pelvis, with and without intravenous contrast) is the best initial radiologic study to determine anatomy and relative renal function. See CT scan below. Abdominal and pelvic CT scanning or renal ultrasonography is helpful to screen for the presence of stones, masses, or hydronephrosis.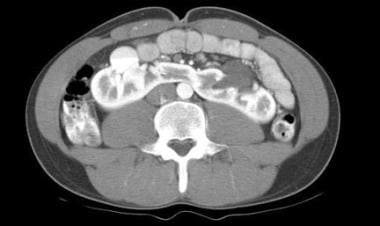 This CT scan demonstrates the isthmus of a horseshoe kidney. Note the uptake of contrast in the isthmus.
Other Tests
Further studies are performed as indicated and tailored to the clinical situation. These include the following:
Dedicated CT scanning of the kidneys with and without intravenous contrast

Diuresis renal scanning to assess renal function and drainage

Voiding cystourethrography to rule out concomitant vesicoureteral reflux
The frequency of vesicoureteral reflux in association with horseshoe kidney warrants voiding cystourethrography in all pediatric patients.
What would you like to print?