Workup
Laboratory Studies
Laboratory studies in patients with possible renoalimentary fistula include the following:
Complete blood cell count with differential – May provide evidence of sepsis

Serum electrolytes – The loss of alimentary contents through the fistula may lead to electrolyte abnormalities

Serum kidney function tests – Blood urea nitrogen (BUN) and creatinine values may help determine the degree of renal insufficiency, if any

Urine culture – Particularly with colonic fistula, bacteria in the urinary tract can result in urosepsis with any manipulation; if any predominant urinary pathogen is present on urine culture results or if fungal overgrowth due to prolonged antibiotic administration is present, directed therapy can be instituted

Tuberculosis (TB) skin testing, along with the collection of three early-morning first-void specimens for urine acid-fast bacilli (AFB) culture, are used to evaluate for TB when no other source is readily evident.
Imaging Studies
Renoalimentary fistulae may be diagnosed with the aid of either renal or alimentary imaging studies. The predominant direction of flow tends to be from the urinary tract to the GI tract, and renal imaging tends to reveal the lesions most often.
Renal imaging
Intravenous urography (IVU) may help identify the fistula. In chronic cases of renoalimentary fistulae, the kidney is often functioning poorly, which limits the value of performing an IVU.
Retrograde pyelography can often help establish the diagnosis and help define the exact location of the fistula within the upper urinary tract. In this procedure, which is performed under cystoscopic and fluoroscopic guidance, a catheter is introduced into the ureteral orifice and contrast is injected. The catheter can be advanced farther into the area under investigation, and more contrast can be injected to help confirm the diagnosis; however, extensive manipulation is discouraged because it may cause perforation or urinary sepsis. The configuration of the contrast in the bowel also may help identify the intestinal segment involved.
Cystoscopic examination of the bladder and ureteroscopic examination of the upper urinary tract can be performed while the patient is under anesthesia for retrograde pyelography. This is performed to help rule out urinary tract malignancy as an etiology.
Retrograde pyelography may fail to opacify small fistulae or to demonstrate fistulae proximal to an obstructing proximal ureteral calculus, which prevents passage of contrast into the proximal collecting system where the fistulous connection may be located. This study may be difficult to perform secondary to inflammatory changes of the bladder, preventing identification and cannulization of the ureteral orifice.
GI tract imaging
Upper GI series are useful for diagnosing renoalimentary fistulae potentially involving the duodenum or small bowel.
Barium enemas may be used to identify large bowel fistulae. A Gastrografin enema is usually preferable to a barium enema when a urinary fistula is expected because barium can cause obstruction and serve as a nidus for stone formation. However, the relative density of barium in comparison to urine allows the examiner to perform the Bourne test.
The Bourne test is performed when a fistula may be present between the colon and the urinary tract but the barium enema findings are not diagnostic. Urine is collected after the barium enema is performed and then centrifuged. If radiography of the centrifuge tube shows opacity due to barium, a connection between the urinary tract and the colon must be present. Care must be taken, especially in women, to avoid any contamination of the urine sample to be centrifuged with barium washed off the perineum during voiding.
Complete imaging and endoscopy of the GI tract are necessary in cases of spontaneous renoalimentary fistulae in order to rule out GI malignancy as an etiology.
CT scan and radiography
CT scanning is probably the most helpful study for discerning the underlying pathology of the renoalimentary fistulae, such as xanthogranulomatous pyelonephritis (XGP) or an abscess. CT scanning is routinely used to monitor treatment outcomes following radiofrequency ablation or cryoablation.
Findings from a plain film of the abdomen occasionally demonstrate air in the collecting system, but CT scanning yields better sensitivity for this finding. Free air under the diaphragm on plain films in a patient who has not undergone recent surgery may suggest a more extensive bowel defect and may indicate the need for more immediate surgical intervention.
Chest radiography can be helpful for detecting cardiopulmonary disease, which may influence intraoperative management, and is necessary for staging if the fistula is due to malignancy.
Nuclear imaging
Nuclear kidney scan findings may show that the affected kidney is not functioning, particularly in cases of XGP. If the affected kidney is not functioning, less complicated surgical approaches can be used, including simple nephrectomy and bowel repair rather than repair of both the intestinal and urinary component of the fistula.
Very small fistulae, which are difficult to localize using the standard methods mentioned above, may be made more evident with oral administration of an isotope or intravenous administration of isotopes concentrated in the urine followed by nuclear imaging of the abdomen. See images below.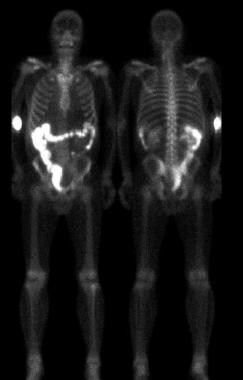 Renoalimentary fistula. A 61-year-old patient with a history of urinary diversion due to transitional cell carcinoma of the bladder presented with back pain and underwent a bone scan to evaluate for the presence of metastases. Bone scan findings revealed drainage of the urinary radioisotope into the colon.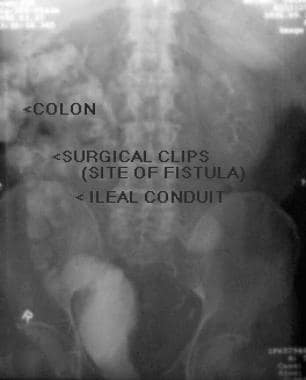 Renoalimentary fistula. A 61-year-old patient with a history of urinary diversion due to transitional cell carcinoma of the bladder presented with back pain and underwent a bone scan to evaluate for the presence of metastases. Bone scan findings revealed drainage of the urinary radioisotope into the colon (same patient as in the image above). Subsequent intravenous pyelography revealed contrast in the renal pelvis draining into the colon on the right.
Antegrade pyelography
Features of antegrade pyelography include the following:
Helps to reveal fistulae not visualized via retrograde pyelography

Allows intrarenal sampling of urine

The drainage catheter can be placed before or after completion
Other Tests
Oral agents
Proof of more elusive fistulae can be obtained by administering an oral dye that is not absorbed into the blood stream and monitoring the urine for color change.
Oral administration of finely powdered carbon particles over several days followed by daily collection of urine, which is then centrifuged and examined microscopically, can occasionally demonstrate fistulae that are only patent periodically. This type of fistula is occasionally seen in patients who are on bowel rest or have inflammatory conditions of the bowel that have responded well to medical treatment.
Electrocardiography
ECG findings can provide information about any underlying cardiovascular disease that may influence intraoperative management. Performing an ECG is particularly important if intestinal losses or renal insufficiency is causing electrolyte abnormalities.
Endoscopy
Perform cystoscopy in cases of pneumaturia and dysuria to help rule out the more common vesicoenteric fistula. Cystoscopy may show that air or intestinal contents are draining through the ureteral orifice on the affected side or may reveal evidence of bladder malignancy. The inflammatory reaction and edema associated with chronic urinary infection may preclude visualization of the ureteral orifices.
Ureteroscopy or percutaneous nephroscopy is more invasive and may expand the size of the fistula or cause urosepsis. However, these imaging techniques can allow direct visualization of the fistula tract, and findings can be diagnostic if upper tract transitional cell carcinoma is present.
Upper and lower GI endoscopy should be performed when the cause of the fistula is unknown. This procedure helps evaluate for the presence of GI malignancy or inflammatory bowel conditions.
Histologic Findings
Findings depend on the underlying pathology. For example, fistulization secondary to an abscess reveals neutrophilic infiltration and the presence of bacteria. Similarly, XGP might be associated with the presence of pathognomonic foamy macrophages. Cancer, usually a GI malignancy or extensive renal cell carcinoma, shows involvement of the tumor, which may be subtle if abundant surrounding inflammation is present.
What would you like to print?