Presentation
History
Most urethral caruncles are asymptomatic and are incidentally noted on pelvic examination; however, some may be painful and others may be associated with dysuria. Many individuals with a urethral caruncle present with bleeding or, more commonly, with the patient noticing blood on undergarments or with wiping; this may be mistaken for vaginal bleeding. [6]
Urethral caruncles are unlikely to explain voiding or storage symptoms in women. In fact, a comparison of lower urinary tract symptoms and urodynamic factors in incontinent women with and without caruncles found no differences. [7] Isolated case reports of urinary retention from urethral caruncle do exist, however. [8]
Physical Examination
On examination, caruncles most often appear clinically as a pink or reddish exophytic lesion at the urethral meatus (see the image below); in rare cases, they are purple or black secondary to thrombosis. Some caruncular lesions may resemble urethral carcinoma.
Urethral caruncles usually protrude posteriorly (at the 6 o'clock position).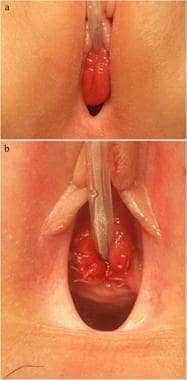 Photographs show the preoperative (a) and postoperative (b) appearance of a urethral caruncle in a 9-year-old girl. Courtesy of Journal of Medical Case Reports, Springer Nature.
What would you like to print?