Workup
Laboratory Studies
Obtain a urinalysis to rule out urinary tract infection when pain, discomfort, or dysuria is present or when an operative intervention is planned.
Diagnostic Procedures
A urethral caruncle is obvious on physical examination, and biopsy is unnecessary in the vast majority of cases.
Cystoscopy can be performed, either in the office or at the time of excision, to rule out more serious pathologies or when the origin of hematuria is uncertain. Cystoscopy is not necessary when the diagnosis is obvious, hematuria is absent, and no intervention is planned.
Sonography may be helpful in distinguishing urethral caruncle from other solid masses. On ultrasound, urethral caruncles are hypoechoic/isoechoic and rich in blood flow signal. [21]
Histologic Findings
Microscopically, a urethral caruncle resembles a bed of granulation tissue covered by either squamous or transitional epithelium. Infolding of epithelium may create papillary architecture. Inflammatory infiltration is common (see image below).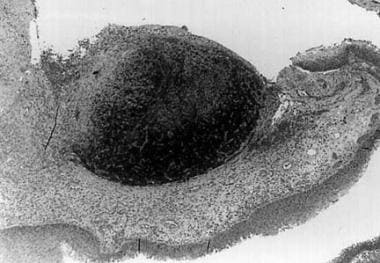 This image shows marked vascular engorgement and a polymorphous inflammatory infiltrate in the stroma. Surface epithelium is benign. Courtesy of GT MacLennan, MD.
A pathology series of 41 patients demonstrated mixed hyperplastic urothelial or squamous lining. [1] The stroma demonstrated fibrosis, edema, and/or inflammation. Immunohistochemistry for immunoglobulin G (IgG) and IgG4 has been shown in a subset of patients, suggesting a possible autoimmune factor in some patients. [22] This finding warrants further study.
What would you like to print?