Treatment
Medical Therapy
Medical therapy for urethral prolapse includes hygiene and local therapy with sitz baths and topical hormones, as well as, less commonly, topical antibiotics or steroids.
The effectiveness of medical therapy is debated in the literature. Some authors report that local application of an antibacterial ointment allows symptoms of the prolapsed mucosa to resolve. In one series, the prolapsed urethra persisted at a 3-year follow-up, even though the symptoms disappeared. [13] In another series, treatment of urethral prolapse with topical estrogen cream resulted in complete involution in 3-6 weeks, without recurrence. [14] Contemporary management focuses more upon restoring robustness to the urogenital tissues through topical hormone therapy, reserving antibiotics and steroids for more complex situations that warrant their specific use.
Current recommended medical therapy for prepubertal girls includes treatment with sitz baths and topical antibiotics and estrogen cream. The usual regimen consists of the application of estrogen cream to the prolapsed urethra 2-3 times daily for 2 weeks, in combination with sitz baths. The use of antibiotics is optional, depending on the patient's clinical presentation. Also critical to treating children is management of constipation or dysfunctional voiding; these lead to abdominal straining when defecating or voiding, which can promote prolapse of the urethral tissues.
For postmenopausal women with mild urethral prolapse, the recommended therapy consists of topical estrogen cream applied to the prolapsed urethra 2-3 times daily for 2 weeks, in combination with sitz baths. Antibiotics imay be prescribed if infection is present.
Failure of medical therapy or the presence of strangulated urethral prolapse mandates surgical excision.
Conservative therapy is not recommended when significant thrombosis, necrosis, or bleeding of the prolapsed urethra is present.
Surgical Therapy
If medical therapy does not reduce the prolapse, or if thrombosis, infection, or urinary obstruction is present, surgery is the treatment of choice. In one reported series, a comparison of treatment modalities (nonoperative vs excision) indicated that patients undergoing early local excision of the prolapse had the lowest complication rates and the earliest convalescence. [15, 16]
Procedures used to treat urethral prolapse include the following:
Keefe vaginal/urethral plication

Emmet handkerchief-through-buttonhole

Surgical reduction maintained with mattress sutures

Less commonly: cautery, fulguration, or cryosurgery to destroy or incise prolapsed tissue
The procedures described by Emmet and Keefe are difficult to perform on the smaller anatomy in a child.
Simple manual reduction and urethral catheterization for 1-2 days has been effective in minor cases of urethral prolapse; however, recurrence rates are high. Tying a ligature around the prolapsed mucosa over an indwelling urethral catheter causes the tissue to slough in a few days, however, this approach has largely fallen out of favor with many practitioners. [17] These procedures, and ablation via cauterization / fulguration / cryotherapy, have significant morbidity and can result in urethral strictures and meatal stenosis. They are also associated with partial recurrences, infection, and prolonged recovery. Consequently, these procedures are not commonly performed today.
Some practitioners feel that a prolapsed urethra is the result of inadequate attachment of the urethra to the pubis. As such, the herniated urethra should be reduced and the bladder and urethra attached to the posterior surface of the pubis and rectus abdominis muscles. However, the Hepburn procedure (ie, suprapubic vesicourethropexy) is too extensive an operation for this simple pathology and is no longer recommended.
The preferred method of removing the prolapsed urethra is excision of the everted mucosa with suturing of the incision and short-term catheterization. Several modifications of this procedure exist. Of these, complete circumferential excision and closure of the incision appears to be the most effective treatment and is associated with minimal complications.
According to Haverkorn et al, obesity does not appear to be a risk factor for additional complications after surgery. Although cure rates are lower, women with obesity have significant improvements in quality of life after surgery for stress urinary incontinence. [18] Additionally, in a study of 116 women with pelvic floor disorders, researchers found bariatric surgery–induced weight loss led to improvement in urinary continence disorders but no improvement in symptoms of urethral prolapse. [19]
Preoperative Details
Preoperative steps include the following:
Eradicate any coexisting urinary tract infection with appropriate antibiotics.

Discuss the potential benefits and risks when obtaining informed consent from the patient or parents. Complications unique to surgical excision include urethral stenosis, recurrence of prolapse, and rarely, urinary incontinence.
Intraoperative Details
In most cases, the operation can be performed in an outpatient setting.
Administer general anesthetic. Place the patient in a dorsolithotomy position, and sterilely prepare and drape the vaginal area. Place a Foley catheter. Excise the prolapsed urethra in one of the following ways:
Lowe and colleagues described a technique in which a meatotomy is performed to release the constricting meatal ring. The prolapsed mucosa is then manually reduced. This is subsequently followed by placing several absorbable mattress sutures through the mucosa and urethra, tying them to the periurethral vestibule. [20]

The Kelly-Burnham technique involves excising the prolapsed mucosa over an indwelling Foley catheter and closing the incision by approximating the normal urethral mucosa to the introital mucosa with interrupted absorbable sutures. In doing this, care is taken to not pull down any more urethra than is already prolapsed, because shortening the urethra may lead to urinary incontinence.

A modification of the Kelly-Burnham technique involves placing absorbable stitches in 4 quadrants of the prolapsed mucosa (see image below). [1] Next, each quadrant is incised between the holding sutures, up to the mucocutaneous junction. The prolapsed urethra is then excised in quadrants, followed by immediate approximation of the mucocutaneous junction with absorbable sutures.

Urethral prolapse. Intraoperatively, the prolapsed mucosa is excised in quadrants, and the 2 layers of smooth muscle are apposed together.
All of these operations serve 2 functions. They remove the nonviable tissue and restore the 2 muscle layers of the urethra to their normal state of apposition.
Postoperative Details
After surgery, leave the urethral catheter in place for 48-72 hours to allow continuous bladder drainage (see image below). Diverting the urine via a Foley catheter prevents irritation and stinging of the urethral mucosa during voiding. Catheterization is unnecessary in children.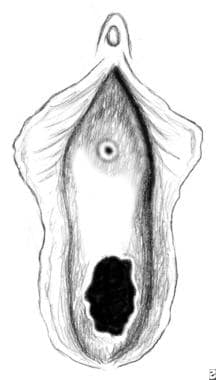 Urethral prolapse. Postoperative depiction of a normal-appearing urethra after surgical excision.
Discharge the patient home on oral antibiotics and supplemental narcotics.
Follow-up
The patient should return in 2-3 days for catheter removal. Schedule a follow-up visit for 4-5 weeks thereafter to evaluate the patient's voiding status and to examine the incision site. Following surgical excision of urethral prolapse in postmenopausal women, long-term topical estrogen therapy is recommended.
Complications
Postoperative complications are unusual, but the following have been reported:
Urethral stenosis

Urinary incontinence (extremely rare)

Acute urinary retention

Vaginal bleeding

Recurrence of prolapse

Bleeding from the suture line (early complication)

Meatal stricture (delayed complication of surgery)

Late recurrences (uncommon)
Outcome and Prognosis
Use of topical estrogen therapy in postmenopausal women with urethral prolapse usually suffices as a primary intervention, provided that the therapy is used long-term. For acute interventions that may be warranted based on bleeding and pain, excising the prolapsed mucosa and oversewing the edges provides the most definitive therapy with the fewest recurrences. Oversewing the mucosal edge restores coaptation of the longitudinal and circular-oblique muscle layers to prevent any future recurrence.
Future and Controversies
Optimal management of urethral prolapse consists of initials trials of medical therapy, followed by minimally invasive procedures for refractory conditions. Reported advantages of conservative therapy versus surgery and vice-versa are generally based on personal preference rather than objective randomized prospective studies.
Offering medical therapy, at least initially, to children and adults with minimal symptoms is prudent. Medical therapy is also appropriate for patients with a high risk of complications if undergoing general anesthesia. Careful follow-up is important.
All other patients, including those in whom medical therapy has failed, are good candidates for surgical excision of the prolapsed urethra. Complete excision with oversewing of the mucosa appears to have the highest success rate with the lowest prevalence of recurrences.
What would you like to print?