Treatment
Approach Considerations
To date, no known medical therapy exists for successful treatment of urethral diverticulum. Long-term low-dose antibiotic therapy may allow resolution of localized symptoms, but the anatomic abnormality remains. Surgery is the current treatment of choice. Surgical correction of urethral diverticula is indicated in patients with significant symptoms, including recurrent urinary tract infections, severe pain, dyspareunia, frequency, urgency, and postvoid dribbling. Additional indications for surgery include urethral calculi, urinary retention, and carcinoma.
Treat infected urethral diverticula with appropriate antibiotics prior to surgery. Active infection of the urinary tract or the diverticulum precludes surgical intervention until the infection is eradicated.
The presence of a urethral abscess may require transvaginal aspiration or incision and drainage under examination or with ultrasonographic guidance prior to definitive therapy.
Surgical Therapy
Multiple open surgical and endoscopic approaches have been described for the treatment of urethral diverticula, including the following [22] :
Transurethral saucerization of the diverticulum

Marsupialization of the diverticular sac into the vagina

Excision of the diverticulum
Transurethral saucerization of the urethral diverticulum involves incising the opening of the diverticulum to convert a narrow neck into a wide neck. In general, reserve this for distal diverticula because more proximal incision of the urethral wall may compromise continence.
The marsupialization of a diverticulum is performed by incising the urethrovaginal septum. It is essentially a generous meatotomy, which may result in vaginal voiding. As with endoscopic saucerization, overzealous incision or treatment of mid or proximal diverticula with this technique may result in urinary incontinence. This technique should be reserved for distal diverticula, although definitive reconstruction likely yields a better functional outcome. Distal marsupialization may lead to spraying of the urine stream and dyspareunia.
Numerous techniques are available for transvaginal excision. A popular transvaginal technique uses a vaginal flap. This technique allows complete excision of the diverticulum, closure of the urethral communication, reinforced coverage with periurethral fascia, and closure of the anterior vaginal wall. It allows a secure 3-layer closure without overlapping suture lines. See intraoperative images below.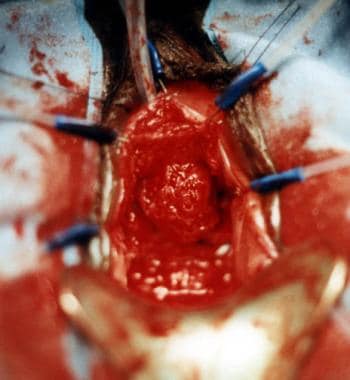 The anterior vaginal wall and the periurethral fascia have been dissected off, exposing the urethral diverticulum.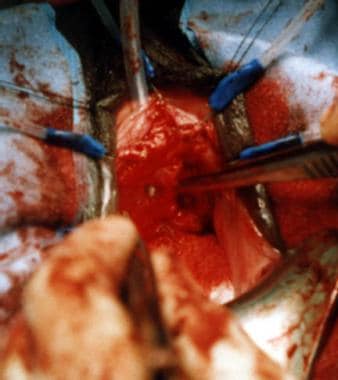 The urethral diverticulum has been excised sharply. Foley catheter is visible through the neck of the diverticulum.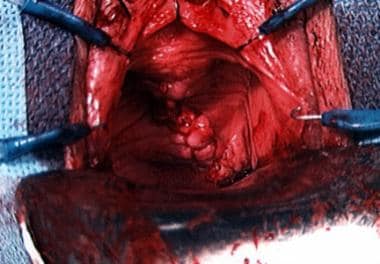 The urethral diverticulum is closed in 3 layers with nonoverlapping suture lines. The vaginal wall is closed.
Concomitant treatment of preexisting stress incontinence with autologous fascial pubovaginal sling can be used at the time of diverticulectomy to avoid a secondary procedure. However, since secondary anti-incontinence procedures are needed in only a small number of patients, up-front stress incontinence treatment may result in significant overtreatment, and staged anti-incontinence procedures continue to be a reasonable option for patients with persistent bothersome stress urinary incontinence (SUI) after diverticulectomy. [9]
In a study of patients with SUI who underwent excision of a urethral diverticulum, a second surgery to treat SUI was needed in only 13.9% of cases. [23]
Prior to surgery, proper antibiotic therapy is mandatory. Reconstructive surgery in a patient with active urinary and diverticular infection may lead to urethrovaginal fistula formation or recurrent diverticula. Preoperative counseling should include discussion of possible complications such as infection, bleeding, recurrent diverticulum, urethrovaginal fistula, and urinary incontinence.
Intraoperative Details
After general anesthesia is induced, place the patient in the lithotomy position. Sterilely prepare and drape the lower abdomen and genitalia. A percutaneous suprapubic catheter is often placed; many surgeons forego the suprapubic tube. After infiltrating the anterior vaginal wall with sodium chloride solution, make a U-shaped incision.
Mobilize the anterior vaginal wall flap to expose the diverticulum. Take care to prevent premature violation of the periurethral fascia or the diverticulum.
Transversely incise the periurethral fascia. Develop proximal and distal flaps of periurethral fascia and reflect them off the underlying diverticulum.
Dissect the diverticulum circumferentially down to its urethral communication and excise it completely. In the case of a very large diverticulum, the proximal portion may be left and the inner surface electrocauterized to destroy any epithelial elements.
Close the urethral defect vertically without tension using a running 3-0 or 4-0 absorbable suture incorporating both mucosal and muscular layers of the urethral wall.
Transversely reapproximate the periurethral fascia with a 2-0 or 3-0 absorbable suture constituting the second layer of closure to ensure that no dead space is left over the urethral repair. Planned interposition of a biological sling or Martius flap (labial fat flap) is performed before the third layer is started. The third layer of closure is the vaginal wall, which is closed with a running 2-0 absorbable suture.
Place an antibiotic-soaked vaginal pack and place both the suprapubic and urethral catheters to sterile drainage. The use of routine suprapubic tube drainage is left to surgeon discretion, but most experts have reserved suprapubic tube drainage for larger or more complex and extensive diverticula.
Important factors in operative success include precise anatomic dissection, a watertight closure, and closure in multiple layers. Avoid overlapping suture lines.
Postoperative Details
Continue intravenous antibiotics for 24 hours postoperatively, followed by oral antibiotics until the catheters are removed. Belladonna and opium (B&O) suppositories or oral anticholinergics prevent bladder spasms.
The morning after the operation, remove the vaginal packing. The patient is usually discharged home the following day with both catheters still indwelling.
Follow-up
Perform voiding cystourethrography 10-14 days postoperatively. Discontinue anticholinergics 24 hours before the voiding study. Remove the urethral catheter and instill the contrast into the bladder via the suprapubic catheter. If the surgeon elected not to place a suprapubic catheter, then place the contrast via the urethral catheter and allow the patient to void.
Carefully observe the urethra fluoroscopically during voiding. If no extravasation is observed and the patient empties the bladder to completion, remove the suprapubic tube. If the postvoid residual is more than 100 mL, leave the suprapubic catheter in place, intermittently unclamping it to drain the residual urine and perform residual urine checks until the bladder is satisfactorily emptying.
Some patients may present with extravasation during the first voiding study. If extravasation is observed, ideally more time is given to achieve optimal healing so the suprapubic catheter is placed to gravity drainage. Do not replace the urethral catheter. Perform repeat voiding cystourethrography in 7-10 days.
Complications
Patients with active diverticular infection may experience profuse bleeding during vaginal dissection. A large defect created during excision of a large diverticulum may result in urethral strictures. A large proximal diverticulum that extends under the trigone and bladder neck may result in the risk of ureteric injury. Operating on patients with active infection may lead to fistula formation. Urethrovaginal fistula formation is the most difficult complication of diverticular surgery. If it occurs, repair the fistula after an adequate period of healing, but usually several weeks to 3 months minimum healing should suffice.
Anterior vaginal infection is unusual but responds well to antibiotics. If a suburethral abscess forms, surgical drainage is required. If urethral diverticulum recurs, perform secondary surgery after a prudent period of observation. Secondary stress incontinence not present prior to surgical therapy may develop and is more likely in patients who undergo extensive dissection of the urethral wall or its lateral attachments or in the setting of large or proximal diverticula.
What would you like to print?