Workup
Laboratory Studies
No laboratory studies are mandated in the evaluation of an uncomplicated asymptomatic spermatocele. If the patient reports scrotal pain, a urinalysis is indicated to rule out epididymitis.
Imaging Studies
The preferred modality for evaluating scrotal pathology is high-resolution scrotal ultrasonography. Although many experienced physicians may be comfortable making the diagnosis based on history and physical examination, ultrasonography is useful to confirm the suspected diagnosis and to rule out any additional intratesticular pathologic condition.
Spermatoceles usually appear as cystic lesions that arise from the epididymal head; less commonly, they appear as an intratesticular lesion attached to the mediastinum testis. They are hypoechoic with posterior acoustic enhancement and usually cannot be differentiated from an epididymal cyst based on ultrasonographic findings. Occasionally, a spermatocele may have internal echoes within the cyst. An example of a spermatocele observed on scrotal ultrasonography is shown in the image below.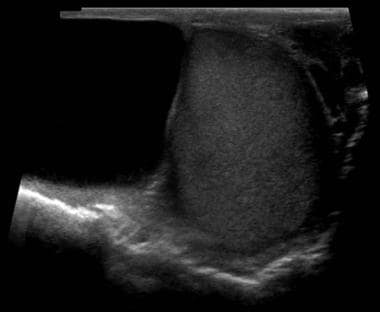 A scrotal ultrasound demonstrating a spermatocele visible to the left of a normal testis.
Color Doppler may reveal a "falling snow," resulting from internal echoes moving away from the transducer. [15]
Histologic Findings
Microscopic examination reveals a fibromuscular wall that is lined by cuboidal epithelium, as illustrated in the image below.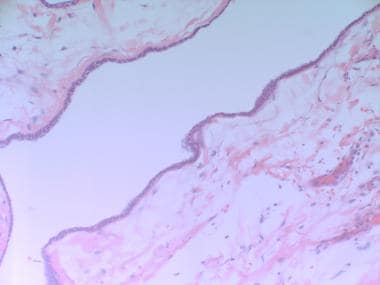 Microscopic view of spermatocele lined with cuboidal epithelium.
A gross specimen of a spermatocele is shown in the images below.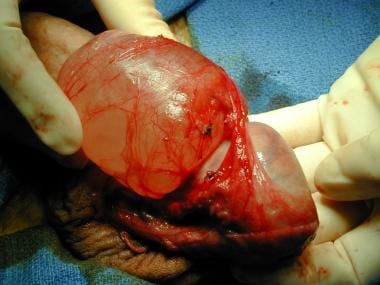 Intraoperative view of spermatocele with adjacent testicle and spermatic cord.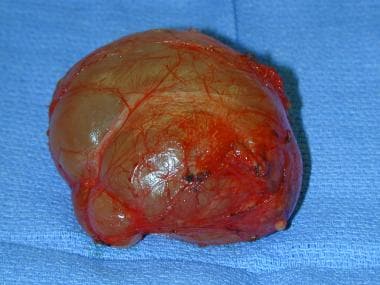 Spermatocele after complete excision.
What would you like to print?