Treatment
Medical Care
In the acute phase, the primary goals are symptomatic relief with hydration for the euvolemic state and adequate pain management. When the acute stone episode has resolved, the cornerstones of medical treatment are urinary alkalinization (ie, pH 6.5-7.0), hydration (ie, urinary output 1500-2000 mL/d), and allopurinol (ie, patients with hyperuricosuric calcium nephrolithiasis) to decrease serum and urinary uric acid levels. The authors have observed impressive dissolution of large uric acid stones (staghorn) with oral alkalinization (see the images below). These measures are effective for dissolving existing uric acid stones and for stone prophylaxis.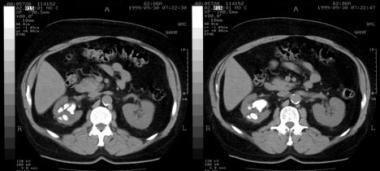 CT scan demonstrating right partial staghorn uric acid calculus. Uric acid stones appear dense on CT scan and radiolucent on kidneys, ureters, and bladder (KUB) imaging (not shown).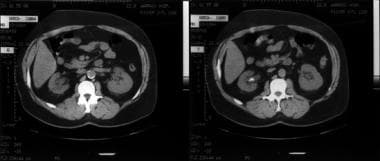 Follow-up CT scan of patient in the image above (ie, with partial staghorn uric acid calculus) 1 year later. This patient was treated with oral urinary alkalinization with sodium bicarbonate. Note only a small residual fragment is present (right image).
Febuxostat, an xanthine oxidase inhibitor, has been shown to decrease urinary uric acid excretion in calcium stone formers with hyperuricosuria. However, its role in preventing calcium or even uric acid stones remains to be defined and warrants future investigations. [1]
Surgical Care
In the acute phase, surgical intervention may be indicated to relieve urinary obstruction associated with infection or to relieve pain in patients who are not responding to medical treatment. Furthermore, a complete or high-grade ureteral obstruction may require intervention irrespective of the clinical symptoms. In all these circumstances, the urinary obstruction should be relieved. This may be achieved by retrograde insertion of a ureteral stent or a percutaneous nephrostomy tube.
Once the acute stone event has subsided, urinary alkalinization is the treatment of choice for dissolution of uric acid stones. Percutaneous or retrograde irrigation with alkalinizing agents was a common practice in the past. It was mainly used for dissolution of residual stone fragments after percutaneous or retrograde manipulations or in patients who did not tolerate systemic alkalinization. The most commonly used solutions are sodium bicarbonate (pH 7.0-8.0), tromethamine (THAM, pH 8.6), and 0.3 M tromethamine E (THAM-E, pH 10.5). These procedures require prolonged hospitalization and are currently not cost-effective compared with modern endourological modalities.
Surgical intervention (eg, percutaneous nephrolithotomy) may be necessary for treating large uric acid stones that do not dissolve with medical management.
Hyperuricosuric calcium stones are not amenable to chemolysis; surgical intervention may be indicated based on stone size.
Extracorporeal shockwave lithotripsy (ESWL) is the primary mode of treatment for renal and proximal ureteral stones up to 2.5 cm in maximal diameter. Uric acid stones fragment easily with ESWL, and this modality may improve oral chemolysis by increasing the stone surface. Larger stones may require percutaneous nephrolithotripsy. Intravenous or retrograde contrast via ureteral catheters or double-J stents may be necessary for visualization of the uric acid calculi during ESWL.
Ureteroscopy and intracorporeal lithotripsy are the treatments of choice for most large or impacted distal ureteral stones. All intracorporeal lithotripsy modalities, such as electrohydraulic, ultrasonic, or laser, are effective for uric acid stone fragmentation.
Consultations
Consultation with an internal medicine specialist may be helpful for gout. An oncologist may be consulted for management of myeloproliferative disease.
Diet
A diet with high fluid intake, low sodium intake, and moderate protein intake is recommended. Low sodium intake reduces sodium urinary excretion, which reduces monosodium urates that are catalysts for hyperuricosuric calcium nephrolithiasis. Additionally, decreased sodium intake reduces sodium urinary excretion, which reduces urinary calcium excretion.
Activity
Individuals with sedentary and white-collar occupations are at an increased risk for urinary stones; therefore, regular physical exercise may be beneficial in all persons who form stones. Physical activity may facilitate stone passage during acute renal colic.
Long-Term Monitoring
All patients should undergo regular follow-up imaging studies with KUB imaging, renal ultrasonography, or unenhanced CT scanning, as indicated. Measuring urinary pH is important to monitor the efficacy of urinary alkalinization and to adjust medications accordingly. A repeat 24-hour urinary collection after initiation of medical therapy is beneficial. Furthermore, with any significant change in medication or diet, a repeat 24-hour urinary collection is indicated.
Patients may titrate their own urinary alkalinization program with the aid of Nitrazine pH paper or other available pH monitoring systems. One should strive to maintain a urinary pH of 6.5-7.0. Medications may need to be adjusted during certain periods of the day.
What would you like to print?