Workup
Laboratory Studies
Laboratory evaluation is performed for diagnosis and surgical preparation. Diagnostic laboratory evaluation for urothelial cancer may include urinalysis, cytology, and urinary tumor marker levels.
Urinalysis can be used to detect microscopic and gross hematuria.
Conventional microscopic urine cytology may reveal tumor cells. Limitations of cytology include human interpretation and varying sensitivity. Urine cytology relies on a trained pathologist for examination. Thus, low-grade well-differentiated urothelial tumor cells that appear cytologically normal can contribute to a false negative rate of approximately 20%. In addition, well-differentiated tumors are thought to be more cohesive; thus cytology has a lower yield. For these low-grade well-differentiated tumors, cytology sensitivity can range from 35-65%. Conversely, for high-grade urothelial tumors, cytology can be highly specific and have very few false negative results. The false positive rate for urine cytology is approximately 1-12%, mostly due to urothelial atypia, inflammation, or changes associated with chemotherapy or radiation.
The search for more sensitive and specific urothelial tumor markers with the goal of decreasing the need for invasive procedures has led to the development of multiple molecular biology–based tests. These include tests targeting bladder tumor antigen (BTA) (BTA stat test and BTA TRAK test), nuclear matrix protein 22 (NMP-22), fibrin degradation products (FDPs), telomerase, hyaluronic acid and hyaluronidase, cytokeratins, Lewis X antigen, vascular endothelial growth factor (VEGF), soluble Fas, and surviving. Other tests include microsatellite analyses, fluorescent in situ hybridization (FISH) assays, and immunocytologic tests. Of these numerous markers under investigation, 6 are currently FDA approved for bladder cancer surveillance, including BTA, ImmunoCyt, NMP-22, and FISH.
BTA assays are based on an antibody-detectable tumor marker that is used to detect BTA, a basement membrane antigen released when cancer cells are invading and breaking down basement membrane.
The BTA stat test is used to identify a protein similar to human complement factor H. Bladder cancer cells exhibit factor H, which interacts with complement C3b to inhibit the membrane attack complex and protects from immune attack.
NMP-22 is a nuclear matrix protein associated with DNA replication. Higher levels of NMP-22 have been found in the urine of patients with bladder cancer.
Bladder cancer cells produce vascular endothelial growth factor (VEGF) to support angiogenesis. VEGF increases vessel wall permeability of blood and plasma proteins, such as plasminogen, fibrinogen, and other clotting factors. Escaped factors result in a fibrin clot that is broken down into FDPs, which are then released into the urine. Increased urinary FDPs have been observed in patients with bladder cancer.
Multiple chromosome alterations have been associated with bladder cancer. FISH is a technique that involves fluorescently labeled DNA probes to assess cells for chromosomal alterations. FISH can be used to identify cells in the urine that have the chromosomal abnormalities consistent with urothelial cancer.
ImmunoCyt is an immunocytochemistry assay that utilizes a mixture of 3 monoclonal antibodies that can detect bladder tumor cells in the urine.
Although most of the new tumor markers yield a better sensitivity than conventional urinary cytology, their specificity is not as good as conventional methods. A recent comparison of the urinary markers reported a sensitivity of 12-85% for cytology, 53-78% for BTA-Stat, 51-100% for BTA-TRAK, 50-65% for NMP-22, 50-65% for ImmunoCyt, and 69-100% for FISH.
The same study reported specificity of 78-100% for cytology, 69-87% for BTA-Stat, 73-93% for BTA-Trak, 60-95% for NMP-22, 62-78% for ImmunoCyt, and 65-96% for FISH. Some promising investigational tests are underway for telomerase and BLCA-4. BLCA-4 is a nuclear matrix protein with early reports suggesting it may have both high sensitivity and specificity for bladder cancer (96% and 81-100%, respectively). [19, 20]
New urine tumor markers have shown potential for clinical utility in screening for bladder cancer and potentially even diagnosing or predicting recurrence, but their high cost and lower specificity place them in a limited role. Often they are used in combination with cytology to add diagnostic dimensions, but they have not replaced the need for cystoscopy.
The general preoperative medical condition of the patient and the possible presence of metastatic disease should be assessed.
Serum electrolytes help reveal any concomitant medical condition and assess renal function.
Blood reserves and bleeding risk can be determined by a complete blood count, prothrombin time, and activated partial thromboplastin time.
Presence of infection can be investigated with a white blood cell count, urinalysis, and culture.
Liver function tests and alkaline phosphatase may be suggestive of liver and bone metastases.
A baseline EKG can help identify underlying arrhythmias. For patients at high surgical risk, cardiac clearance may be warranted.
Imaging Studies
Routine studies performed for staging bladder cancer include chest radiography, intravenous pyelography (IVP), CT scan of the abdomen and pelvis, bone scan, and liver function tests. Mandatory preoperative imaging focuses on diagnosing and staging bladder cancer. Staging evaluation is a valuable tool to help determine the probability of extravesical disease.
Intravenous pyelography (IVP)
IVP enables evaluation of the collecting system of the kidneys, ureters, and bladder for any associated tumors for those patients with cystoscopic evidence of bladder cancer. Retrograde pyelography during cystoscopy can serve as an alternative to IVP.
Computed tomography (CT) urography
In recent years, CT urography has become a viable option to image the upper urinary tract. The sensitivity and specificity of CT scans surpass that of IVP. Furthermore, since many patients undergo CT scanning of the abdomen and pelvis for bladder cancer staging, the upper urinary tract can be evaluated in the same setting. CT urography has now become the test of choice for upper urinary tract evaluation in cancer. [21] Attention does need to be paid to the patient's renal function, however. If intravenous contrast cannot be administered, retrograde pyelography can be used in combination with noncontrast axial imaging.
Magnetic resonance imaging (MRI)
Gadolinium-enhanced and gadolinium-excreted MRI scans have also been used to image the renal pelvis and ureters. Whether MRI is as accurate as IVP or retrograde pyelography is currently under investigation.
MRI generally does not provide more information than a CT scan. If bone metastases are suspected, MRI is more sensitive for detection than a CT scan or a radionucleotide bone scan. In addition, recently published studies using ferumoxtran-10-enhanced MRI suggest that this modality may improve lymph node staging in patients with bladder cancer.
Ureteroscopy
Ureteroscopy can help directly visualize and allow for biopsy of any suspicious lesion in the ureter or renal collecting system. However, ureteroscopy is invasive and is generally not performed without suspicion based on imaging studies.
Computed tomography
CT scanning of the abdomen and pelvis is more helpful in higher stage tumors to provide information regarding depth of tumor invasion, pelvic and paraortic lymphadenopathy, and the presence of liver or adrenal metastases. However, CT scans may fail to detect small nodal metastases in as many as 40% of patients. Liver metastases smaller than 2 cm in diameter are likewise difficult to detect. Also, CT scan is open to interpretation bias and can only estimate extravesical involvement.
CT scanning of the chest is the most sensitive test when evaluating for pulmonary metastases; however, many lesions smaller than 1 cm in diameter that may represent calcified granulomas are incidentally found. Plain radiography of the chest is less sensitive than CT for detection of metastases.
Bone scan
Bone scanning is not commonly performed in patients with normal alkaline phosphatase levels but may be performed as a baseline from which to compare future bone scans.
Positron emission tomography (PET)
Currently, PET scanning plays a limited role in the evaluation of bladder cancer. PET scanning has shown promise in detecting lymph node metastases or distant soft tissue metastases; however, because of the low urinary excretion of commonly used radioisotopes involved in PET scans, they are not yet helpful in the pelvic imaging of bladder cancer.
Diagnostic Procedures
Cystoscopy should be performed in all patients in whom bladder cancer is suggested.
Biopsy samples should be obtained from multiple sites (including the urethra) before partial cystectomy is considered.
Retrograde pyelography can be performed at the same time if findings from an IVP or CT urography are inconclusive to adequately evaluate the upper urinary tracts. With the advances in endoscopic equipment and fiberoptics, ureteroscopy has enabled direct visual inspection of any suspicious upper tract lesions, with the ability to obtain a biopsy specimen and even treat superficial lesions.
Selective saline wash cytologies or brush biopsies may be performed for further evaluation of the upper tract.
Transurethral resection with superficial and deep muscle biopsy is an important tool to evaluate the depth of invasion and tumor pathology. Bladder perforation and possible spillage of tumor cells outside of the bladder should be avoided. However, recent evidence suggests that, even with extraperitoneal or intraperitoneal perforation, the risk of extravesical tumor seeding is low.
Pelvic lymphadenectomy during cystectomy remains the most accurate way of identifying metastatic disease in the lymphatic system. Primary regions of lymphatic spread of bladder cancer include the perivesical, hypogastric, obturator, external iliac, and presacral nodes.
Histologic Findings
Primary solitary bladder cancer is a common indication for consideration of partial cystectomy. More than 90% of bladder cancers are urothelial carcinomas. Of these, 70% are papillary (see the image below), 10% are nodular, and 20% are mixed. When confined to the urothelium, the cancer is called carcinoma in situ. The other 10% of tumors are composed predominantly of squamous cell carcinomas (3-7%) and adenocarcinomas (2%). Secondary metastatic disease in the bladder accounts for less than 1% of all bladder cancers.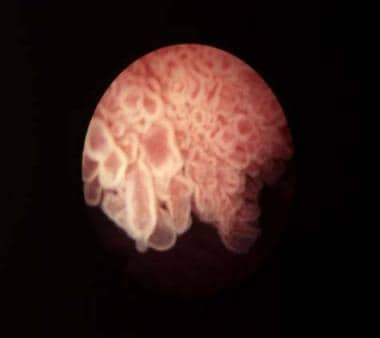 Papillary bladder tumors such as this one are typically of low stage and grade (Ta-G1). Courtesy of Abbott and Vysis Inc.
Carcinoma in situ
Carcinoma in situ consists of poorly differentiated transitional cell carcinoma cells confined to the urothelium. Carcinoma in situ may be papillary or flat in architecture. These cells demonstrate poor intercellular cohesiveness; thus, urine cytopathology is a very sensitive test. Carcinoma in situ may be present in more than 25% of patients with high-grade superficial tumors and, thus, can exist concurrently with cancer found elsewhere in the bladder. When found, partial cystectomy is contraindicated.
Urothelial carcinoma (transitional cell carcinoma)
At a consensus conference, pathologists of the WHO and ISUP preferred the name urothelial carcinoma to describe tumors formerly known as transitional cell carcinoma. [22] Histopathology is used to grade bladder cancer tumors. Although no uniform grading system exists, most grading systems are based on the degree of anaplasia of the tumor cells. Tumor grade strongly correlates with stage and prognosis. The most commonly accepted system [22] is presented below.
Papilloma (former grade 0) - Fewer than 7 epithelial cell layers and no abnormalities in histology, these tumors are considered benign

Papillary urothelial tumors of unknown malignant potential (former grade I) - Well-differentiated thin fibrovascular stalks with a thickened urothelium that contain more than 7 cell layers and exhibit slight anaplasia and pleomorphism; possible increased nuclear-to-cytoplasmic ratio and prominence of nuclear membrane; rare mitotic figures, some association with higher concurrent tumors

Low grade urothelial carcinoma (former grade II) - Moderately differentiated, wider fibrovascular core, greater cell disturbance with loss of cellular polarity, higher nuclear-to-cytoplasmic ratio, nuclear pleomorphism and prominent nucleoli, and more frequent mitotic figures

High grade urothelial carcinoma (former grade III) - Poorly differentiated, marked pleomorphism, high nuclear-to-cytoplasmic ratios, and frequent mitotic figures; cells that remain undifferentiated from basement membrane to surface
Squamous cell carcinoma
Histologically, squamous cell carcinomas are composed of keratinized islands that show various degrees of differentiation. Eccentric cellular aggregates known as squamous pearls also exist. Urinary cytopathology is less sensitive in detecting squamous cell carcinoma. Histologic tumor differentiation is less predictive of overall prognosis than it is for transitional cell carcinomas, although tumor stage shows a strong correlation with prognosis.
Adenocarcinoma
All histologic variants of enteric adenocarcinoma, including signet-ring and colloid variants, can be found in the bladder. Most adenocarcinomas are mucin-producing and are either papillary or solid in architecture. Signet-ring adenocarcinoma can produce linitis plastica of the bladder. Most adenocarcinomas are poorly differentiated and invasive upon presentation.
Staging
The American Joint Committee has designated staging based on the tumor, node, and metastases (TNM) classification.
The TNM system for the primary tumor (T) is as follows:

Stage TX - Primary tumor cannot be assessed

Stage T0 - No evidence of primary tumor

Stage Ta - Noninvasive papillary carcinoma

Stage Tis - Carcinoma in situ

Stage T1 - Invades subepithelial connective tissue

Stage T2a - Invades superficial muscle (inner half)

Stage T2b - Invades deep muscle (outer half)

Stage T3a - Microscopic invasion of perivesical tissue

Stage T3b - Macroscopic invasion of perivesical tissue

Stage T4a - Invades stroma of the prostate, uterus, and/or vagina

Stage T4b - Invades pelvic sidewall or abdominal wall

The following is the TNM system for the regional lymph nodes (N). Note that regional lymph nodes are in the pelvis; all others are considered distant lymph nodes.

Stage NX - Regional lymph nodes cannot be assessed

Stage N0 - No regional lymph node metastasis

Stage N1 - Metastasis to a single lymph node in the true pelvis

Stage N2 - Metastasis to 2 or more lymph nodes in the true pelvis

Stage N3 - Metastasis to lymph nodes that lie along the common iliac artery

The TNM system for distant metastasis (M) is as follows:

Stage MX - Distant metastasis cannot be assessed

Stage M0 - No distant metastasis

Stage M1 - Metastasis to distant lymph nodes, organs or tissues (i.e. bones. lungs or liver)
While overstaging is relatively uncommon, clinical understaging occurs in as many as 53% of patients.
What would you like to print?