DDx
Diagnostic Considerations
Pseudo–prune belly syndrome
Pseudo–prune belly syndrome, which is associated with prune belly syndrome uropathy, is characterized by normal abdominal wall examination findings and incomplete or absent cryptorchidism. In a study of 8 patients with this syndrome, 5 (63%) eventually developed renal failure. [16]
Prune belly–like variant
An abdominal wall defect commonly confused with prune belly syndrome has been termed prune belly–like variant. Some studies have reported abdominal wall defects without urologic anomalies. This defect involves only the abdominal wall muscles, in particular the internal and external obliques, as well as the transversalis muscles. In contrast with prune belly syndrome, the rectus muscles are not involved.
This defect causes weakness laterally, with bulging of the abdominal wall just below the rib cage. In such cases, CT scans of the abdominal wall reveal preservation of the rectus and obliques away from the area. The authors have surgically reconstructed two such defects in young male patients using a laparoscopic modification of the Firlit procedure, with excellent results. This syndrome may be associated with in utero distention of the abdominal cavity.
The patient pictured below had evidence of in utero megalocystis that resolved spontaneously.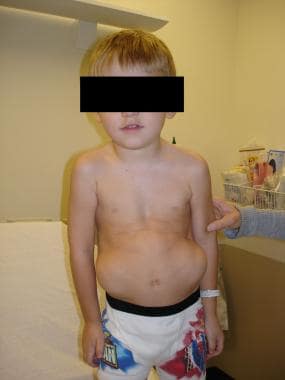 The lateral subcostal weakness in this patient is due to absence of the internal and external obliques subcostally.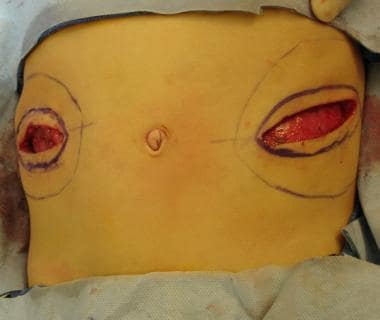 Bilateral subcostal incisions exposed the fascial defects.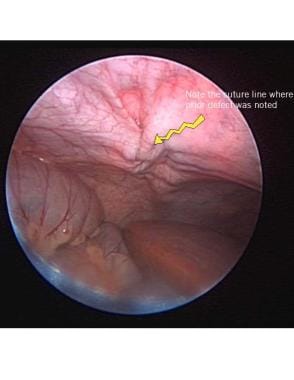 Note that the previously attenuated fascial defect has been covered by reapproximated muscle.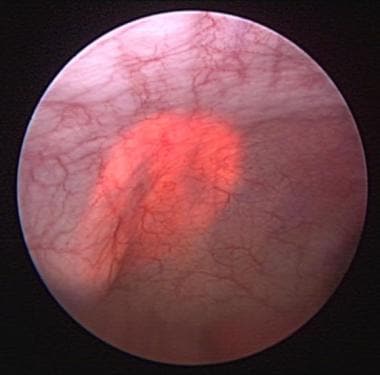 Laparoscopic view of the fascial defect transilluminated from outside the abdomen. Note that the defect is just a thin layer of attenuated fascia.
What would you like to print?